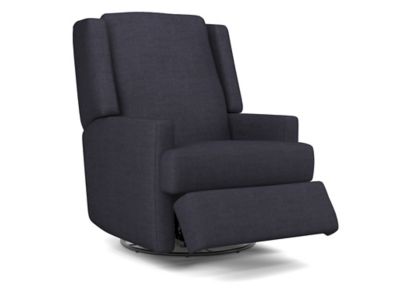 Best Chairs Ainsley Swivel Glider Recliner in Midnight Navy
$559.99
Get 20% off & earn 5% back in points with Rewards™+
Enroll Now
customer reviews
Showing 1 - 2 out of 2 reviews
Metal ball bearings falling out
BB&B Customer . 7 months ago
This chair is so comfy and I love it, EXCEPT - after having it for just over a year it started to make a thunking noise while rocking and I started to find tiny metal ball bearings on the floor - every toddlers dream to find and eat and a moms worst nightmare. I contacted the company and they are supposed to send me a new "mechanism" to fix the issue. I will say I am super disappointed with the cost of the chair to have something like this be an issue after less than 1 year of use. I am guilt ridden thinking about the chance my baby could've ingested a ball bearing if I had not found it and I am now constantly searching for them. The chair would be going to the curb if it wasn't so costly, but if it continues to be an issue it will definitely be trashed.

Originally posted on bedbathbeyond.com
SMALL
BB&B Customer . 1 year ago
We wanted a "slim" recliner for our small house. This one seems child sized. I am only 5'8" and my feet hang off the foot rest and hands hang off the arm rest. If you are TINY, it's a good chair.

Originally posted on bedbathbeyond.com
Showing 1 - 2 out of 2 reviews