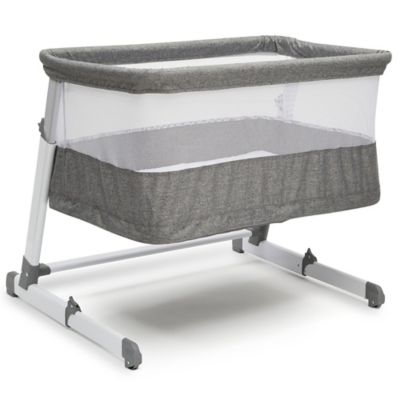 Beautyrest Room2Grow Bedside Newborn Bassinet to Infant Sleeper in Grey by Delta Children
$127.99
Get 20% off your entire purchase with coupon!
Enroll Now
Most Helpful Positive Review
Beautiful Bassinet
Livingratefully
.
5 years ago
I received this product and absolutely feel in love with how perfectly it looked in our master bedroom. Right now we are using it for a Bassinet and have zero complaints. We will eventually use it as an infant sleeper, and when baby outgrows that we will use it in our guest room for them, as something a bit nicer than a pack and play! Love it :)
Most Helpful Critical Review
We returned it
Chandler
.
5 years ago
After struggling with three other people to zip and snap the bottom up into bassinet mode, we decided to return this. We couldn't find a way to zip the bottom piece up that didn't result in the excess mesh being inside the bassinet, which felt unsafe. I thought this would be more functional than a mini crib for our small space, but as it only has two wheels and doesn't swivel/slide out with the baby in it, it didn't end up being the answer for us. We returned it for the Babyletto Origami mini crib, which will last us longer, pull up to the bed, still has two sleeping heights, folds flat for storage if needed, and looks much nicer in our home.
customer reviews
Showing 1 - 20 out of 54 reviews
Don't Buy - Trust Me
Lesley . 2 years ago
So many things wrong with the design of this. 1) It's incredibly deep - even in bassinet mode. I had a c-section, and for the first several weeks of use I was not able to place my baby into the bassinet because it caused too much discomfort. It gets worse in crib mode because in the event your baby is napping and you need to soothe him or her, the depth in which you have to bend over and stay in while you soothe the baby is incredibly uncomfortable. 2) The metal bars - we frequently heard our son roll and hit his head on the bars. Unless you block them with something like a towel, it is impossible to avoid this. It woke him many times. In addition, the metal legs of the crib stick out beyond the sides so my husband and I tripped often over them. 3) The horribly firm 'mattress' - crib mattresses should be firm, but this HAD to be uncomfortable. 4) It isn't suited for travel the way a pack and play is - once its put together, that's it. If you need to move this you pick it up as one solid piece and drag around. 5) It states it can be used as a playpen - I'm not sure what child they think will gladly play in this. It's big, but not THAT big. We are getting rid of this for our second child and purchasing a pack and play - we can't deal with this piece of equipment a second time. Save your money.
No good
BB&B Customer . 2 years ago
This is the biggest garbage created. Unsafe. If you have other kids do not buy. It will fall over. It's just horrible honestly. The zippers also brake. Not to mention it tilts to the right cuz the bar isn't safe and strong. Blah hate this thing. Moms don't buy trust me.
Great
Alina . 2 years ago
It's a nice looking, spacious and high quality crib/sleeper/pack'n'play. Big enough for our newborn twins.
Love the product
TearraB . 2 years ago
Absolutely love it, portable, versatile, and cute.

Originally posted on Ashley Furniture
Too Large
Andrea . 2 years ago
Odd to say this is almost too large - as my newborn grows I'm sure it'll be better but at that point I will have transitioned him to his crib. I wish this was built higher to slide over the bed as the rest of it is built to be able to do that. Also, because of its odd size it is challenging to find sheets for it. I've found that pack n play sheets are the closest fit. I do like how sturdy it is, probably because of its size though.
great buy
Meliza . 2 years ago
I use this in my room while baby is a newborn until I transition into nursery. Its compact cozy i love how when baby is pulling himself up you can drop it lower.
One Star for Beautyrest's Room2Grow
Moee . 3 years ago
We've had the Room2Grow bassinet for a year now. The idea of this growing with the baby is the reason why I purchased this. It's aesthetically appealing and because of the grey unisex color, it can be used for either a baby girl or boy. Bassinet was great for the first few months but as baby got heavier, one side started to tilt. Assembly was easy but received it with two small holes in the mesh. It now has two nickel size holes! There is a zipper, along with heavy duty buttons that secure the bassinet and once fully unzipped into the playpen, the entire bottom reaches the floor. If baby falls, it's easy for baby to hit their head on the legs of the bassinet. Because of this, we now use it as toy storage. Overall, I do NOT recommend this product.
Great to have baby sleeping next to you.
Annie . 3 years ago
I love that the height is adjustable and there is a removable mattress cover. I like that the bottm of the bassinet is raised up but the bottom of the bassinet,if you drop it down it hits the floor and unpractical. I would only use this for up to 6/8 mos.
Not Happy
ThomasU . 3 years ago
The bar on the bottom, that gets 4 screws in it is flimsy, cheap, and is a pain when your trying to move it, cause the bar gives way and we have to screw in the bolts again. Very cheap material!!!!

Originally posted on Ashley Furniture
Cute Modern Bassinet
Patrice . 3 years ago
I love this bassinet! The style is very modern and goes with the decor in my bedroom, which was important to me. Not only that, but it was very easy to put together. Love that it grows with baby too so they can sleep in your room longer!
YOU WONT BE DISAPPOINTED
Tiffany . 3 years ago
This bassinet is everything! We love it so much it's very convenient you can put it anywhere bedroom living room. The most thing we love about it is that it can grow with our daughter so once she's older we just unzip around the sides drop it down & boom you Technically have a pack & play! Worth every penny!

Beat basinnet
Misha . 3 years ago
This is the best bassinet for baby to grow . It ja so easy to assemble and you can kee this bassinet anywhere you are in the home . I am in love with this and i recommend everyinw to buy this
Great features!
Jenicad . 3 years ago
So happy with my purchase, great look easy to assemble and plenty of room to grow.
Great!
HP . 3 years ago
This is perfect for a growing baby to sleep right beside you and especially great since you can drop it down so you can use it for a long time! It's def worth every penny!
Nice product
Key2020 . 3 years ago
This product is perfect for our small room! Love how my son can use it until he is 1 years old which is really nice.
Amazing quality
Isabelp . 3 years ago
I love this bassinet! It's very sleek and modern. I love how easy i can move it from room to room. My baby loves it and sleeps so well In it right next to my bed. Would definitely Recommend to anyone
Money saver grows with baby
theodorekhi . 3 years ago
This product was awesome to have as it grew with our baby. It was quick to assemble, easy to store, easy to clean, and very durable. It matches our home decor well. It saved us time and money rather than having to buy two separate sleeping arrangements for our little one. Theodore 100% recommends and so does his mama!

Must have baby item!
hayliv . 3 years ago
This is the perfect bassinet and sleeper! You will not need anything else. Grows with your baby. easy to assemble and easy to move all over your house. Perfect for when I need to lean up without a little one undoing everything I just did!
Easy to assemble
Kristy . 3 years ago
I am in love with the "Simmons Kids Room2Grow Newborn to Infant Sleeper by Delta Children" and I cannot wait to use it when our baby arrives in August. It is so beautiful and looks great with the neutral colors. I like that the baby can grow in it and we will not have to purchase addition bedding as our baby grows. I would definitely recommend this sleeper to any expecting parents.
Incredible purchase
Emily . 3 years ago
You can't beat this bassinet. The price is great, it's easy to assemble and it's on wheels which makes it so easy to move from room to room. It's design makes it perfect for rolling up to the side of your bed so that your infant is easily visible. It grows with your baby so you won't need to purchase a second product which is a HUGE plus for me as I love saving money. If you're looking for something both cost efficient and great for long term use this is what you need.
Showing 1 - 20 out of 54 reviews