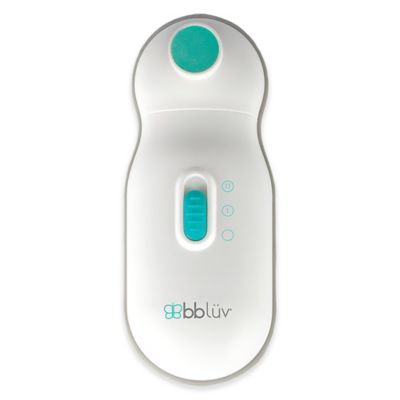 bblüv Trimö Baby Electric Nail Trimmer
$23.99
Get 20% off your entire purchase with coupon!
Enroll Now
customer reviews
Showing 1 - 20 out of 51 reviews
A must have
Alyssa . 2 months ago
I have used clippers on my babies for years. With my seventh baby I went ahead and bought these as my eyes are not as good as they once were. I wish I had this for all of my kids. Just a few seconds and all the nails are done with no worries of accidentally clipping them. I just wish it was easier to find the replacement discs.
Not working as expected
BB&B Customer . 2 months ago
I am unsure if this is a flaw or the product or not but I have had more success with an Emory board. The rotating discs isn't generating the desired results with my twins. A few snags here and there (nothing painful) . I think this may perform better as they twins grow and their nails are stronger.
nail trimming made easy
Laurensmom . 2 months ago
Awesome product. Works great for my squirming baby
FTM nail trimming fears gone!
Alina . 6 months ago
I was terrified of having to trim my newborn's teeny tiny nails! I've had many fur babies who all hated getting their nails cut/filed and it needed to be done so carefully to avoid getting down to the quick that it's left me with some PTSD. I was even scared to try this trimmer but I really didn't have to be! My baby was totally chill the entire time for all 10 fingers and toes! I'm thankful I don't have to subject her to permanent mitten wearing lol.
Perfect size!
Gabrielle . 8 months ago
I took forever deciding on a nail trimmer/file for our new baby and finally chose this one based on the size. Other options were so large for such a little baby! I'm so happy with my choice. Not only does this trimmer fit perfectly in my hand, but the carrying case keeps everything together and neat. I love the smaller size (takes up less space in the many drawers of baby items) and feel confident it will do its job.

Originally posted on bedbathbeyond.com
Discs dull quickly
Kj . 1 year ago
Love the concept, but the discs dull quickly and I stopped using this once baby was 2 or 3 months old with bigger nails. I use a cuticle trimmer to cut her nails instead- works so much better. I felt like this kind of just bent the nail down instead of actually making it shorter, if that makes sense. Stopped some super jagged nails from immediate scratching, but a couple days later they seemed as though they had never been trimmed.

Originally posted on bedbathbeyond.com
Easy to use
Maddie . 1 year ago
I am a first time mom & terrified of doing anything that would hurt my little one. Even the thought of cutting his nails worried me. Using this trimmer is such a gentle, nearly foolproof way to make sure his nails aren't sharp & he doesn't scratch himself.
love it!
FTMofBabyBoy . 1 year ago
Cute and chic! Easy to use and don't have to be scared about hurting baby
awesome
chelle . 1 year ago
this product is very easy to use and its an awesome product. very happy.

Gets the work done
BBB Customer:) . 1 year ago
It's an efficient tool Only drawback is that sometimes the edges are not too smooth when trimmed so when they grow back they are really sharp.

Originally posted on bedbathbeyond.com
Worry free way to maintain baby's nails
Bhavna . 2 years ago
Our kiddo ended up with a few nicks, some blood and a lot of tears when we cut his nails with a regular baby nail cutter. After two or three times of this we needed to find a better solution and this is it. Super easy on the baby's nails, he does not fuss at all with the electric emory board and this takes the sharp edges of his nails.
Best nail filer ever.
Lou . 2 years ago
I'm so glad I found this electric nail filer. It's expensive but worth the money. I'll always recommend this product to friends and family with babies!
BEST INVENTION EVER!!!
Ashley . 2 years ago
Buy it!!!! So worth it. Makes cutting nails so easy
Worth It!!
Jodie . 2 years ago
The first time I clipped my babies nails I accidentally punched her skin and didn't want to clip them again. I purchased the BB Luv electric nail file and do not regret it. I've been using it for over a month. My baby doesn't mind it at all and it actually works! Definitely worth the purchase!

Originally posted on bedbathbeyond.com
Works great and easy to use
BB&B Customer . 2 years ago
I was nervous to use a nail clipper on my babies tiny fingers so this is a great alternative.

Originally posted on bedbathbeyond.com
Works Great
Kran . 2 years ago
I bought this after accidentally cutting my daughter's finger while trimmer her nails. This trimmer works great and gives me peace of mind. It is very gentle on her fingers and she doesn't mind when I use it.
totally love this product!
rebecaMaRo . 2 years ago
This is a must have!!! With the regular nail clipper I did cut my daughter twice and since I'm using this product I haven't cut my daughter again!!!
Vanessa . 3 years ago
Love this product, easy to use and gentle on baby.
the best
Maria . 3 years ago
Filing my little one's nails was almost impossible with a traditional nail file. This electric nail trimmer has been great and he actually sits to let me file his nails! I highly recommend this electric nail trimmer!
Satisfied
Grandma PD . 3 years ago
After hurting my grandson while cutting his nails, I was eager to find something else to bring me peace of mind. This was my saving grace. He relaxes as if in a nail spa while I buff his nails. Happy grandma.
Showing 1 - 20 out of 51 reviews