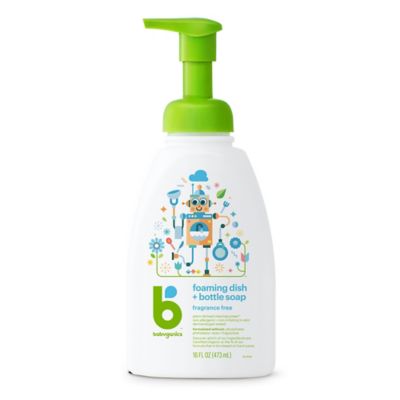 Babyganics® 16 oz. Fragrance-Free Foaming Dish & Bottle Soap
$4.79
Get 20% off your entire purchase with coupon!
Enroll Now
customer reviews
Showing 1 - 20 out of 84 reviews
Doesn't smell the greatest
Chelsea . 3 months ago
I don't care for the smell of the soap.
Nice scent and not harsh
Annalisa . 3 months ago
We love this dish soap for our baby, the scent is really mild and it doesn't feel harsh on hands as well. Also because it's a foam soap It lasts longer.
Great
Shavonya . 6 months ago
Great product. Gets the job done. No strong smell.
Gets the milky residue out
Ed . 9 months ago
Wonderful foaming product helps get the milky residue off
Delivery bad services
Blender Store . 10 months ago
I don't understand why if the product doesn't come all together, I received 1 of this product for long time after I received the rest that I bought , and when it came the product came all broke and it was inside of one bag to protected that it was throwing the liquid.
Perfect
BB&B Customer . 2 years ago
I actually use this dish soap to clean my Invisalign aligners...I love that it's dye-free and fragrance-free. It rinses off wonderfully so I don't end up tasting soap. And it keeps my aligners crystal clear and clean! A small pump goes a long way.
love this product
Ashley . 2 years ago
Cleans my bottles so well! Love this product!

Originally posted on bedbathandbeyond.ca
Enjoying the product
DDCC . 2 years ago
Does what it's intended to do.

Originally posted on bedbathandbeyond.ca
Patricia . 2 years ago
I love this product, i used all the time.
Love this Stuff!
dana . 2 years ago
Great dish soap, works well and has a nice big pump. We use this for all our baby products since they can't go in the dishwasher. We keep it stocked so we never run out!
Product look
Liliana . 2 years ago
i didn't get this product, it was paid but it didn't reach its destination
Great but...
Abagail . 2 years ago
Really like this product, especially for the price but unfortunately when it came in the mail today it had leaked everywhere in the box! Not worth the price when half of it can't be used.
Works great
Jen B . 3 years ago
This foaming soap makes it much easier to clean my baby's bottles, pacifiers, etc. With liquid soap, sometimes the soap will stick to the items. This soap washes clean.
Love it!
Simplynancee7 . 3 years ago
Works well to wash bottles, pacifiers, breast pump accessories. One pump goes a long way. The soap scent is gentle enough for a baby and does a great job at getting everything off the bottles. This is the second time around that I buy this soap. Used it with my previous baby and now with my newborn. I'm so glad that Buy Buy Baby carries thos product since I had a hard time finding it elsewhere
Beautiful and Strong
Melissa . 4 years ago
This feels like it will last forever! its gorgeous and made from very strong material. Worth every penny and so pretty!
Love it!
ShelbyAnna . 4 years ago
A little bit goes a long way!
Great canopy
Michellemama . 4 years ago
I bought this a month ago and so happy I did. It fits the car seat perfectly. It keeps the sun out of my babies eyes and so soft.
Amazing product!
sixashleys . 4 years ago
[This review was collected as part of a promotion.] The foaming action of this soaps makes cleaning a breeze for the many parts of bottles & pumps! No remaining residue like other cleaners! This is the only soap we use! I highly recommend using it! Clean and residue free!

Originally posted on babyganics.com
Sticky and wet
Martino626 . 4 years ago
Love babyfabics products but this was a fail. It's watery and not foamy at all. It's sticky and has to return it.
Only Soap I Use For My Son's Bottles
SaraJP . 4 years ago
I've been using this soap since my son was born & I love it. one pump foams up enough to wash 3 bottles. the quantity is amazing for the price! It leaves no residue & gets everything really clean.
Showing 1 - 20 out of 84 reviews