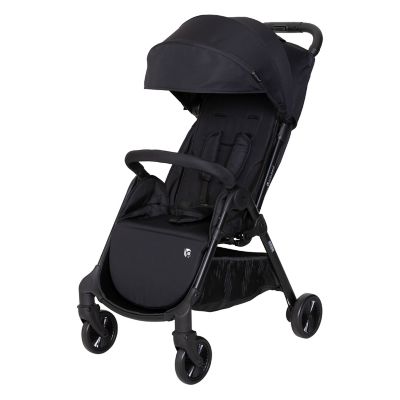 Baby Trend® Gravity Fold Stroller in Black Stone
customer reviews
Showing 1 - 13 out of 13 reviews
excellent stroller
boymom . 2 weeks ago
I had this stroller for exactly 1 year yesterday and it finally is on its last limp but I still recommend the stroller. My only complaint is that the weight Capacity should maybe change because my son is only 1 and weighs 23lbs 8oz so mostly I guess the wear and tear got to the stroller of everyday use. But a pro is that it is easy to fold and transport. Plus another pro is that it is very convenient and worth the price I paid.
HATE
KellyD . 4 months ago
I hate this stroller. I really wanted the Baby Jogger City Tour but it was sold out for months before my baby shower so I threw this on the registry. It feels so incredibly cheap. The wheels are clunky plastic. The sun shade is useless. It barely reclines and doesn't sit up straight enough. The storage basket is hard to get to. The fold isn't that small. I'm sad that I didn't just wait for the city tour to come back in stock because now I'm stuck with this piece of junk. Don't buy it.
Regret this decision.
Sarah . 9 months ago
I wish I hadn't put this on my registry. I should have tried to find a store that had this on display (my local store did not). By the time my son was old enough for me to use this with him, it was well past the 60 days to return. It's very awkward to fold down, despite the advertised promise to be easy to do. This stroller is also clearly made for taller people and is very uncomfortable for shorties like me. I absolutely hate it, but it is too late to do anything about that. I am stuck with this wildly uncomfortable stroller.
Perfect Stroller!
jesslwood . 2 years ago
[This review was collected as part of a promotion.] I have been in love with Baby Trend since I had my first child in 2016. I have purchased a ton of their products: baby carrier carseat, single jogging stroller, double jogging stroller, and a Sit N Stand stroller. The Gravity Fold is such a great product because it is super lightweight, a breeze to push, and you can fold and unfold it with one hand! Our 92 year old grandfather lives with us and he absolutely loves to take our son and daughter out for walks. He can navigate the stroller with ease! I love that it doesn't take up the whole truck and that I can easily get it in and out without a fight. I have yet to use the carrying bag but I can imagine that it will be very helpful when traveling in the airport! I love that I can throw just the stroller on my shoulder to carry it too. I highly recommend the stroller, I promise that you will love it!

Originally posted on babytrend.com
Great
Lo93 . 2 years ago
[This review was collected as part of a promotion.] It's a nice light stroller . Easy to wipe clean when there is a mess , glides smoothly. easily assembled. It is a nice looking stroller and so far I love it and baby seems comfortable. Also it doesn't take up make space

Originally posted on babytrend.com
Convenient and Precious
Rika . 2 years ago
[This review was collected as part of a promotion.] When I received this product, I was so excited and ecstatic to assemble it. My niece just had given birth to my great-niece and she fits in this stroller ever so perfectly. The ride is smooth and places her to sleep rather quickly. I love how easy it is to open, take it down, and storage is simple.

Originally posted on babytrend.com
Excellent, beyond our expectations
Areid . 2 years ago
[This review was collected as part of a promotion.] Wow is the first thing I would like to say about this stroller! I have to admit we were skeptical before the stroller arrived and when opening the box. Once we pulled the stroller out we could already tell the product was sturdy and well built. We use this stroller for our foster baby and he loves it! I love the incline and buckles. We have taken this stroller to great wolf lodge water park and it made for easy transport and have lots of storage room for my older kids water things. The wheels work perfectly in the grass and sidewalks. Fold up is so easy and folds up to save space. By far the best stroller we have ever had!


Originally posted on babytrend.com
Awesome Stroller!
branboo . 2 years ago
[This review was collected as part of a promotion.] I absolutely love this Gravity fold stroller! It is very well made and has a sleek look to it. My favorite thing is how easy it is to use and close and open. My little on is very comfortable in the stroller and provides her with a safe smooth ride! Very well made and a must have for baby gear!

Originally posted on babytrend.com
Gravity design is very clever
Rubicon . 2 years ago
[This review was collected as part of a promotion.] Such a unique designed stroller for baby. The stroller is a nice neutral grey color and comfy for baby whether reclining for an afternoon nap or sitting up looking at the world around him. Even has a sun visor on canopy to protect baby's sensitive eyes. Storage on bottom to hold all of baby's necessities. Great for everyday use or as a secondary stroller when grandparents visit for walks in the park. Even with arthritic hands they can operate the stroller. Stroller is easy to fold even with holding baby in other arm. The gravity makes it fold quickly and with little effort. Easy to steer and push. Fits easily in trunk. Great quality strollers for all families. Very highly recommended.

Originally posted on babytrend.com
Perfect features!!
LauraL . 2 years ago
[This review was collected as part of a promotion.] This stroller has it all.. it is very easy to fold (I can do with one hand and baby in the other) and throw in the back of your car, the visor is perfect protection from the sun while still allowing baby to see and look around! It is not bulky and heavy and rides great.. Effortless to push and I love the sleek look! Also love the reclining positions so when baby falls asleep you can easily recline them back!

Originally posted on babytrend.com
Best Safety and Smooth Rolling Stroller
bdonldsn . 2 years ago
[This review was collected as part of a promotion.] Gravity Fold Stroller I am happy to received, try and Review with my honest opinion "The Baby Trend Gravity Fold Stroller is the ideal travel and lifestyle stroller for quick trips to stores or family outings. The lightweight frame and streamlined design offer easy maneuverability and storage. With the innovative Gravity Folding Mechanism, folding the stroller is much easier with minimal effort. Simply unlock the stroller at the parent handle, then let go and allow gravity to fold the stroller. Use the optional latch mechanism to lock the stroller in its closed position. Equipped with Smooth Strolling Wheels, the Gravity Fold Stroller allows for a comfortable ride. Parents can enjoy the convenience of parking this stroller with just one single touch brake. Included extendable canopy with visor and multiple recline positions give your little one's the comfiest riding experience. To clean stroller frame and seat pad, spot clean using mild soap and warm water". I really like this for my grandson and he enjoys it also. I like that the Golding mechanism allows stroller to be folded quickly with minimal effort and it does not close up on you like the way the older strollers use to do. It is lightweight for easy moving and storage. It has a great streamlined design and the wheel pushes smoothly. I also like that it has Handy Parent Perks such as Lock the brakes using the one-foot latch for convenience; large storage basket for essentials and Exclusive Comfort Extendable canopy with visor that keeps child protected from the harmful sun rays. I defiantly recommend trying the Gravity Stroller out by Baby Trend also this stroller has multiple recline positions allowing child to find comfort at any angle. The Gravity Stroller Exceeds U.S. Safety Requirements and it is designed and engineered to meet and exceed high quality, ASTM Standards


Originally posted on babytrend.com
Stroller
Judithh . 2 years ago
[This review was collected as part of a promotion.] Baby trend is a great brand for baby stuff. I love this stroller it is very useful and not bulky. The stroller is lightweight and easy to assemble. I like the color and the style of the stroller. Has a big storage at the bottom.

Originally posted on babytrend.com
Great
LadyD . 2 years ago
[This review was collected as part of a promotion.] It was simple to put together. Easy to operate and it did not take space as we have a small living area. Overall it was just perfect for what we need for our day to day travelling with our little one.

Originally posted on babytrend.com
Showing 1 - 13 out of 13 reviews