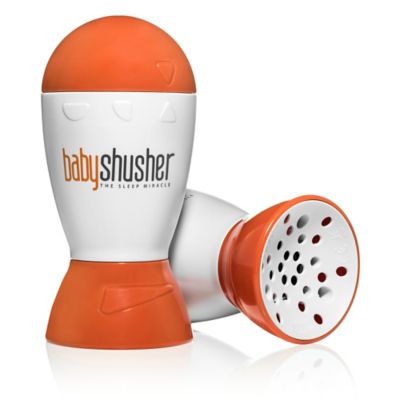 Baby Shusher: The Sleep Miracle
$27.99
Get 20% off your entire purchase with coupon!
Enroll Now
Most Helpful Positive Review
AWESOME!
Ashley86
.
8 years ago
We received this as a gift and didn't think it much of it. Well now that we have tried it, we don't leave home without it! My son is 3 months and occasionally has a major meltdown where nothing will console him. This is the ONLY thing that will calm him down. The rhythmic shushing is really calming and the volume control is a nice feature. My son also hates the car.. and again this is the ONLY thing that makes car rides doable. I just purchased this for my friend who will be having a baby next month. Everyone should buy this for a fussy little one!
Most Helpful Critical Review
Works great when it works!
Ktbug
.
8 years ago
We've had the shusher for a little over a month. It works great as a white noise machine and I like the fact that it is battery operated so you can easily take it with you if you travel. However, it only has two settings (15 mins and 30 mins) my husband and I find ourselves going back in to reset it. Also the machine has now started messing up to where it does tiny little shushes instead of long ones as it used to. Now after a couple minutes it starts sounding like a club in my babies room! Very frustrating when it's in the middle of the night and you are fighting with a little machine while trying to keep your little one asleep.
customer reviews
Showing 1 - 20 out of 151 reviews
Life saving product
KATHLEEN . 2 years ago
This is great . It really quiets the baby down and helps put them to sleep.
It is a little big
BesDadEver . 2 years ago
Product seems a little big to fit into my sons mouth, a little force is needed. Once it is inserted though you can't hear him cry or scream.
Works Great To Me!!
Robert . 2 years ago
Its an awesome product the sound keeps my daughter relaxed and helps her fall asleep.
stopped working after a month
Annie . 2 years ago
My baby is 4 months old and we just started using this around a month ago and it just stopped working. It got all staticky and just shut off one day. It won't turn back on and it's pretty pricey to have to buy another one after a month of use. If it would've worked longer than that I definitely would've given it more stars
Shhhh
vmiller . 2 years ago
Works great! My baby loves it! Love that there is a timer and volume control!
Portable & Loud, but Turns off Quickly
Haley . 2 years ago
I heard about this product from alot of people. It is certainly loud and is super portable and petite. My only complaint is that it turns off at 30 minutes. So I often have to rush to turn it back on so my baby doesn't wake up! We are used to her other sound machine being on the entire length of her nap.
Wasted Money
Chanel . 2 years ago
Don't waste your money. Use the air in your lungs and make the shushing noise for free.
Best white noise!
Brigette C . 2 years ago
Love this thing- worked very early on and we tend to put it on her stroller or car seat for drives and it relaxes her! Also love it doesn't go forever so it eventually shuts off. It either relaxes her when she is fussy or covers random loud noises/helps when we stop the car on long trips (she only really sleeps when the car moves), great product!
Refurbished -damaged product
Morgan . 3 years ago
very disappointed in my purchase, lovd the baby shusher but it wasn't working 100% when I took it out of the package.
refurbished and broken item
MORGAN . 3 years ago
very disappointed I just got this item and it was scratched and broken.
This is a must in your registry
Gladys . 3 years ago
This is amazing, it puts my daughter to sleep fast. If you are having a baby or have one already please do yourself a favor and buy this! You won't regret it.
Very portable
BB&B Customer . 3 years ago
I really like this product. It's definitely loud enough and very portable, easy to use. I also like that it turns off on its own after 15 minutes or so. Great for travel and using downstairs for naps.
Great product, but not great quality
Cari . 3 years ago
The shusher really helps soothe my son, but I've gone through 2 of them! The first one broke a few weeks after I got it, the second one came not working properly...
Short life span
CES . 3 years ago
This product really helped for about a month before it died. It started making quick shushes and then would turn off. Very disappointed as this little device is pricey. I hope I am able to get a replacement and that was just a fluke.
The greatest
Candice . 3 years ago
At first I thought it might be another superfluous baby item but, it proved to be one of my essentials. Portable and loud enough to drown out any noise you may need to suppress when baby falls asleep in public places. 10/10!
Great product!
Leelee . 3 years ago
The best thing I received at my shower! My baby fell asleep quick and stayed asleep! Especially when in the car or out and about.
Works well for a day I guess
Damianne . 3 years ago
We loved the results of using this when it works... But it really doesn't. It's essentially just a speaker that makes one single sound, so I don't understand what flaw creates this problem, but pretty shortly after we began using it, louder volumes would stutter, which then got worse and the louder volumes would skip worse and lower volumes started having the same.problem, and within a week it was unusable. Weird problem so we bought a new one... But then within two days it had the same problem. Extremely frustrating especially for something so simple that's also so frickin expensive Beyond that the 30 min max means that this isn't really useful as a noise machine but more as just... Making a shushing sound to get baby to sleep, which I guess is nice but half the reason I make that sound is that baby is close to my body and can feel my voice. Finally the weird design means it's a bit of a shenanigan to get it to be heard if it's on a flat surface, because the speaker is on the bottom and the only flat space so you need to either use max volume to overcome the table it's flush against (which quickly became a problem for us with the stuttering) or lean it on its rounded side all precariously I guess the expectation is that you have a convenient hook near baby on which to loop it, or you've got it on your wrist and are going to be actively involved in putting baby to bed but aren't interested in making a very simple noise yourself. Not worth the money, if you really want the shushing noise I understand there's a much cheaper app. Or you can just use a regular noise machine. Or you can use any of the many free noise apps that exist.
Baby Shuser
Jeannette . 3 years ago
AWESOME!! I bought this for my daughter..she took it to the hospital and it's definitely one of the best items! The nurses loved how it soothed baby and were so impressed..best gift ever!! Highly recommend!
Good but bad
Anabel . 3 years ago
I loved the noise and it really worked relaxing my baby to sleep however badly made, I used it for probably 3 months and it burned out, it doesn't work any more, if I turn it on it starts making the shush noise and in a couple of minutes it distorts the noise and wakes up the baby. Very disappointed.
Love!!! Works very time!
Brigette C . 3 years ago
This thing is great! I hook it on her car seat, her stroller and her bassinet pocket and it calms her when she starts to get finicky! My husband finds it loud so definitely be careful how close you put it to your baby! But it is great from louder atmosphere. I also like it for sleep when the white noise we use just isn't enough! It is a bit confusing at first how to turn it on so read directions, super easy once you do! Just not intuitive at first! All in all great product, 100% recommend!
Showing 1 - 20 out of 151 reviews