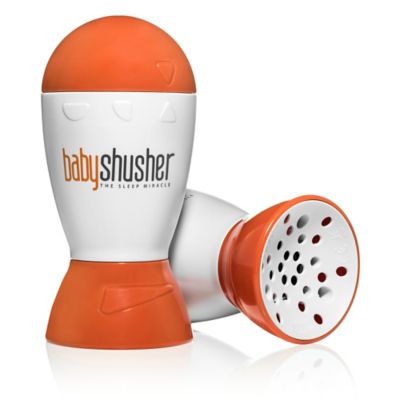 Baby Shusher: The Sleep Miracle
$27.99
Get 20% off your entire purchase with coupon!
Enroll Now
Most Helpful Positive Review
AWESOME!
Ashley86
.
7 years ago
We received this as a gift and didn't think it much of it. Well now that we have tried it, we don't leave home without it! My son is 3 months and occasionally has a major meltdown where nothing will console him. This is the ONLY thing that will calm him down. The rhythmic shushing is really calming and the volume control is a nice feature. My son also hates the car.. and again this is the ONLY thing that makes car rides doable. I just purchased this for my friend who will be having a baby next month. Everyone should buy this for a fussy little one!
Most Helpful Critical Review
Works great when it works!
Ktbug
.
7 years ago
We've had the shusher for a little over a month. It works great as a white noise machine and I like the fact that it is battery operated so you can easily take it with you if you travel. However, it only has two settings (15 mins and 30 mins) my husband and I find ourselves going back in to reset it. Also the machine has now started messing up to where it does tiny little shushes instead of long ones as it used to. Now after a couple minutes it starts sounding like a club in my babies room! Very frustrating when it's in the middle of the night and you are fighting with a little machine while trying to keep your little one asleep.
customer reviews
Showing 1 - 20 out of 151 reviews
still love
Sallyhazel82 . 4 weeks ago
My now 3 year old still uses this. He asks for it during bed time.
Jordyn . 1 month ago
My baby shusher came to the house broken after waiting over 2 weeks for it to arrive
Don't leave home without it!
Amanda . 2 months ago
I didn't think we'd ever need it or rely on a product as much as this one until it started being the one thing to stop the crying and fighting sleep in the car! Once we created the atmosphere for our baby's sleep time with a sound machine this became our go to in the car when fighting sleep or just needing attention. Calms them down Everytime it's almost unbelievable!
It really does work (sometimes)
Brianne . 4 months ago
Our baby seems to calm when we use this during mid-nap wake ups and it helps get him back to sleep.
used products shipped
momof2 . 4 months ago
My last 2 online orders from bbb seemed used. I will no longer purchase online and will check the in store products for quality.
So glad we go this!
Jennifer . 5 months ago
We didn't purchase this until our baby was almost 3 months old. We bought it for going on a trip thinking that it could be useful. We're so glad we did! Our daughter isn't fussy but this is just an extra soothing method/alternative "white noise" and she loves it. It helped in the car while traveling and when staying in a hotel. It's easy to operate and small. I would highly recommend this to other parents even if you think you might not need it.
Must have baby item!
kcminardo . 6 months ago
My daughter is four weeks old and she absolutely loves this sound machine. I love it portable size, if its great in the diaper bag. Very pleased and happy we got this!
it is bomb!
ilana . 7 months ago
As silly as it sounds to buy a monitor that shushes, it is a life savior. When my baby gets fussy, this is the first thing I turn to. I didn't realize how well it would've worked. It makes the infants feel as if someone is next to them. Every time I lay my daughter to nap or sleep, I always turn it on. It helps soothe and calm her to sleep. Try to use a coupon for this item because the price is a bit much for a shushing monitor.
Necessity
BB&B Customer . 10 months ago
A great help at sleep time
Sleep baby
Cynprezzz . 10 months ago
Love this shusher. I first tried the sound on YouTube before buying this and my baby enjoyed the sound so I then bought this device. It really is a sleep miracle. When my baby gets really fussy because he is sleepy I turn this on and he calms down and within a few seconds he is asleep. At first I didn't believe in this shusher but now that I have my first born I am a believer! I totally recommend this! Only thing is I wish it would last more than 30min playing the sound. So easy to use as well and compact.
Ugh.
RD123 . 10 months ago
We used the shusher constantly with our first son in 2018, and it was miraculous. We bought a new one late last year and received another one as a gift for our second son, and both make an extremely off-putting stuttering sound after being on for a few minutes. I'm not sure if something has changed regarding the quality of the machine or if we got our shushers from a bad batch. Regardless, we're super disappointed.
Great machine
Ashley . 11 months ago
This is perfect to carry on the go and soo helpful to get baby to sleep!
Didn't work properly
Becca . 1 year ago
This is a godsend when it actually works but most of the time it stutters or doesn't turn on. Will only work on the 15 minute setting and not 30.
Works like a charm
BB&B Customer . 1 year ago
My new born slept 6 hours when I used this product.
Worth a shot
Megan . 1 year ago
I was really skeptical after reading reviews, but wow this actually worked. My baby is 3 weeks old and is not wanting to go down for naps during the day and hard to get back to sleep at night. This product is going to save my sanity. Worth the money!
Broke after a week
Trey . 1 year ago
It worked great for me but it stopped working a week after I started using it. Now, if it works when I turn it on, I hear static and a few long shushes before it turns off. I've tried changing the batteries but it didn't help. It's a shame, I really liked it and debating getting another.
Recommend!
SC . 1 year ago
Super product but I wish it didn't automatically turn off
Baby loves it!
Maribel . 1 year ago
This really does soothe my baby. Only downside, it doesn't last very long. Turns off too quickly.
I wouldn't call it a "miracle"
pzarma . 1 year ago
I don't think this is really worth the money. If I didn't get in at my shower, I wouldn't have bought it. It's frustrating that it only lasts 30 minutes. Doesn't soothe me baby ad all.
My Go-To Gift for First Time Parents
Katherine . 2 years ago
Babies are used to sounds and sleep much better with the Baby Shusher!
Showing 1 - 20 out of 151 reviews