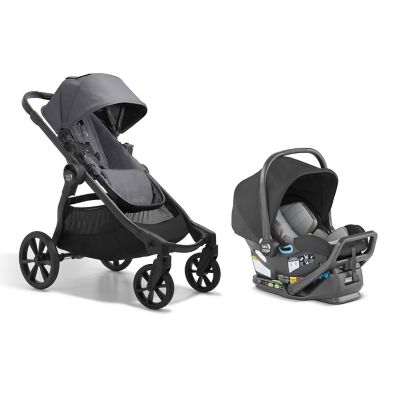 Baby Jogger City Select 2 Single-to-Double Modular Travel System in Radiant Slate
Most Helpful Positive Review
AMAZING experience with this stroller
Tweetsda
.
9 years ago
We looked into so many strollers for our twin baby girls. We found the City Select with the second seat and was hesitant because of the price. We looked around some more and went back to the city select. It is so smooth and easy to fold. The wheels are perfect for anything, we even took it on the hard sand at the beach. We bought the trays and use the stroller as a "high chair" for the girls when it's meal time and we're not home. We used the Britax car seats and the attachments for the stroller we so easy we just clicked in and strolled off. PERFECT stroller for twins!! I only rated the comfort of the child 4 stars because I wish the seats were able to lay down a bit more.
Most Helpful Critical Review
Nice stroller but.....
Leni
.
9 years ago
Had my stroller for 1 year. Love it but would wish a few things would be different...like: wish it could stand upwards when folded- in the house must always lay it flat which takes up so much space. Wish the wheels would lock when folded. Wish the closing mechanism was easier- very stiff, always break or bend my nails. Love how easy it is to interchange the seats and face them any which way. Tilts very easily back and or forth. Loved my bassinet too. Love the handles- go up and down to adjust to your height. Love the large storage. Nice smooth ride. Like the option of a double stroller
---
Thank you for your interest in our products. We apologize for the inconvenience you have experienced. You will be contacted shortly by a member of our Consumer Care Team.
customer reviews
Showing 1 - 20 out of 670 reviews
Good overall but a couple issues
BandB . 1 month ago
We've been using this stroller for almost 8 months and really like it overall. It's smooth and comfortable for us to push, has a great sized storage compartment underneath, and the quality of the materials feels really nice. I really like the shade with the little flap so you can peek in at your babe and it provides more circulation. I also love the parent storage compartment and drink holder. However, the main issue we have is around closing/folding the stroller. Firstly the side levers that you need to pull up to close it are extremely difficult to pull on. They are always stuck or stiff and I have to use both hands to do each side. The stroller doesn't fold up super compact which is ok, it's small enough for the car and we knew this before purchasing. The other main issue with folding is the unfolding. There isn't really an easy way to do it- it's clunky and difficult to do. We often lay it on the ground then open it which is not ideal in public. But once it's open I love it!

Originally posted on babyjogger.com
City Select ORIGINAL LACKING
MAMAX6 . 2 months ago
This is my third BABY JOGGER STROLLER. FORST PURCHASED IN 2010, so I am a loyal Baby Jogger Customer. I have the original city select, but CANNOT PURCHASE THE SECOND SEAT ANYWHERE!!! Not only that, but my basket underneath has come undone, where the stroller frame connects to the basket. Somehow the plastic piece, which seems to be very flimsy, broken in half off the basket. It's very upsetting because I can't even get a "replacement part" when I search my model on this here website.


Originally posted on babyjogger.com
Disappointed
Cmarie . 2 months ago
I would be very hesitant to purchase this stroller if you have hopes of expanding it with the 2nd seat in coming years. I invested in the original city select less than 2 years ago for my first baby, and now am expecting my second. However, I unfortunately just learned that they no longer make a 2nd seat for the city select and the 2nd seat for the city select 2 is not compatible. It appears that MANY people were left in this same situation. So I would not trust baby jogger, as they could easily update their design again at any time and leave you stuck with a very expensive single stroller with no options to expand.

Originally posted on babyjogger.com
Multiple parts broken in less than 1.5 years of us
Luna . 5 months ago
I have had this stroller less than a year and a half and I have already need to replace the brake system and the wheels. I didn't expect to pay this much for a double stroller to have it keep breaking. Very disappointing.

Originally posted on babyjogger.com
don't even think about it
gobblegobble . 7 months ago
Ok….. so this stroller was such a pain for us. It never worked properly. The adapters are so stiff and it's awful to try to get the car seat in and out of the stroller. And it folds so thin but it is a STRUGGLE and full fight with 2 hands to do so, ya know cuz you definitely have 2 free hands when you're standing outside of a car in the street with a small children in the heat. And no one could close it. Not my husband or in laws or strangers. It was so stressful and just not worth it for the price. Esp coming from a peg perego with our first which was SO SEAMLESS and a one hand close. I got so many compliments on that stroller. But we had another baby and needed and wanted a double stroller that offered a travel system. So besides those issues you would have if you used it for a single. The double feature…. HORRIBLE. The car seat was at the top and the companion seat for our older child was at the bottom. But they didn't fit…. Literally. It's like it was missing a whole 2 inches to the stroller structure to actually fit 2 seats. We had to put the bottom seat first and then force the baby seat on top and it wouldn't recline any longer because it was squished underneath the car seat. It also was hurting my toddlers head because it was squished SO BADLY on it. This also renders the basket entirely useless and you can't get anything in or out of it and then have to wrangle to get the car seat off just to get your purse out of it. And then force it back on with the crap attachments. Horrible. Abs awful. BUT thankfully buy buy baby is amazing and they returned it no problem and helped us to buy another peg perego that we wanted instead. Freaking hate this stroller have nothing nice to say. Save yourself!!!!!
No need to look any further
AshinKc . 9 months ago
I wish I would have purchased this stroller from the get go. It's AMAZING!! I will never need another stroller!

Originally posted on babyjogger.com
Flawed design causing safety issues
Elle . 9 months ago
I really wanted to like this travel system. Desperately. However the design is not intuitive to the point where it can put a baby in danger. After a family event, my husband and I arrived home late at night. We'd previously had difficulty clicking the car seat into the frame because we couldn't always hear it click into the adapters (why our Baby Jogger car seat requires an adapter for our Baby Jogger stroller is another question), but this time the car seat tipped over with baby in it. Luckily we caught it, but right then and there I decided we needed a new stroller. We're new parents so the point of investing in a travel system was to make moving baby around easier, even when we are tired. I'd say try this travel system out in person before purchasing to see if you have the same difficulty or not. On the bright side, the car seat is easy to use. We'll be keeping it just for the car and replacing the stroller with a different brand.
Love and definitely recommend
Peaches . 9 months ago
Love how light weight it is and easy to assemble, very easy to push with two kids

Originally posted on babyjogger.com
1st time. Baby jogger purchase
Whip06 . 10 months ago
I fell in love with the Baby Jogger brand when we rented one at Disney World. While I really like the configurations available, I was not as happy about the weight of the stroller. I also feel that a stroller that costs this much shouldn't nickel & dime you for accessories (the car seat adapter and the 2nd seat adapter should just come included)


Originally posted on babyjogger.com
Noisy
LindseyIzzy . 10 months ago
For being such a "high end" stroller it is so noisy! thought we'd try something different then our first UPPABABY because we now need a double stroller but this is NOT quiet! It rattles with every bump. so unhappy especially with it being so expensive!

Originally posted on babyjogger.com
City Select Double stroller
Jayash . 10 months ago
Best stroller I've found and used! It was easy to assemble on my own. I love how the seat is, my child is able to sit fully upright and be a part of whatever we're doing when we are out and about. I liked the ease of adding a second seat or infant carrier. I also like the fact that the handle extends as my husband is 6'3 and it is comfortable for him to push. It's also very smooth.

Originally posted on babyjogger.com
Buy in now
Mom1 . 11 months ago
FYI. I bought the City Select less than 2 years ago so that we could expand the stroller when baby number 2 comes. Well, we're rapidly approaching the arrival and our version has been discontinued. Extra parts too. We spent the extra money on it because it had options. Just putting this out there that if you're looking for a stroller that will expand with your family, you better buy the double now. Expansion parts won't be available a year from now. You'd think the company would have the decency to support their products for at least several years. Guess not.

Originally posted on babyjogger.com
city select 2
Jules . 12 months ago
We bought this 11/7/2021 for our 2nd baby (girl). We had baby jogger stroller for my 1st born, Britax, Chicco, Graco. We had a good experience with my 1st baby jogger and was exited with the select 2 until we bought it... it was so disappointed. The color and the material is good. It is a little heavier but my little one looks comfortable in the car seat. The problem every time we want to fold the stroller, both of the handle at the side always get stuck. We've tried so many times after we moved the car seats, both handle at the sides when we can't fold it. You can't pull up the handle at both sides and almost break my finger. I always get scared to go to my appointment and I don't feel secure to go by my self with my baby because every time always get stuck and we can't fold the stroller. I was hoping to get the replacement just for the stroller frame but I don't know where to go.
Love love love!
LaurenS . 1 year ago
I love this stroller! It's so smooth to push and looks so comfortable for my baby. I love how large the storage basket is.

Originally posted on babyjogger.com
Loved it until needed 2nd seat
Mattie15 . 1 year ago
Loved this stroller. But now I'm ready for a second seat and Baby Jogger discontinued my model and no adapters or seats are available. So the investment I spend is now useless as the expensive LUX I bought can't grow with my family. Very disappointed and wouldn't recommend.

Originally posted on babyjogger.com
Love the stroller for the most part
Cr22 . 1 year ago
I've had the stroller for over a year here are some points to consider. 1. Only negative was that the lever to fold the stroller is difficult to use. Uppa baby vista lever was easier to use. 2. Better price than other brands for compact stroller that can be single or double. 3. Very easy to attach/remove carseat (used city go 2 infant car seat) and stroller seat. 4. Solid stroller!

Originally posted on babyjogger.com
City select 2
JFick . 1 year ago
[This review was collected as part of a promotion.] Overall I have mixed feelings on this stroller. The Pros: It's very easy to assemble and break down. The wheels pop on and off very easy making it easy for travel. It's also very easy to push and maneuver. It has a very large storage area below which is great if you're out shopping or carrying lots for the kids. The Cons: This is being sold as a stroller that works for families with multiple children, but I was disappointed that it only came with the single seat. This is probably ideal for families with only one child, but for me it was a disappointment. The biggest downside of this stroller was that the standard seat was far too small for my 3 year old. Her head came above the top of the seat making the canopy unusable. I also didn't love how you needed two hands to fold it down. I've seen other styles that allow you to fold up the stroller with just one hand which is very handy when dealing with little ones. Because of these issues I likely would not choose this stroller over other options out there. I was given this stroller to try as part of the Stellar Product Testing Panel.


Originally posted on babyjogger.com
City Select 2
JYoung . 1 year ago
[This review was collected as part of a promotion.] This is our new FAVORITE stroller. I really don't think my son will use our original stroller because of how much he likes this one. It's much lighter than I expected, it folds down well and fits in the trunk of my Corolla very easily, has TONS of space underneath so you can haul so many things and it expands, and our favorite feature is the seat and how it can face forward or towards me. Another thing is it sits a little higher than I expected but that's a huge plus because my son can see everything and he stays happy the ENTIRE time I'm shopping or walking. I was curious how much I would like the 4 wheels because I've always used a 3 wheel but it glides like a champ! Very easy to jog with as well. Thank you Stellar Panel for sending me this stroller to try out, we may just get an extra to replace our other stroller for dad!!


Originally posted on babyjogger.com
Not a Select experience for us
KileyE . 1 year ago
[This review was collected as part of a promotion.] When I found out I was going to receive the Baby Jogger City Select 2 stroller from the Stellar Product Testing Panel, I was practically doing backflips. When I was pregnant with my daughter, I had eyeballed the City Select, but was wary of the price tag and wound up purchasing a different one. Fast forward two years, and I had some high hopes for "the one that got away" -- but unfortunately those expectations didn't live up to the reality. Out of the box, it wasn't the easiest to set up, although my husband was able to knock it out in about 30 minutes. Once put together, the stroller looked gorgeous -- the fabric felt luxurious, the canopy was great, the basket was HUGE (and the seat back pocket is genius), and the telescoping handlebar made it comfortable for both 5'3" me and 6'1" him. The ride was incredibly smooth, too, and although I'm definitely not a jogger, I could see where it would make a solid choice for a jogging stroller, sturdy enough to withstand bumps without jostling your kid to the next county. However, that sturdiness makes it VERY heavy, and it's not a small stroller by any means -- even folded, it's pretty big. Still, I liked that it could convert to a double, even if all the attachments, adapters, and accessories cost extra. But...then I put my daughter in it, and although she's only 2, she was FAR too tall for it. She couldn't rest back against the seat, because the canopy was level with the back of her head. She's a tall toddler, but for the price tag on this one, it should last FAR longer (especially since the directions state it's for use up to 40 inches in height, and she's still got another 4-5 inches to go there). We still took it for a spin, and while she didn't seem to mind riding in it for a short period of time, the seat was almost comically small for her (even though the stroller frame is huge). Ultimately, if you're a jogger with a big budget and a tiny baby, this might be a good bet. It really does seem like a nice stroller if you're needing something for a LITTLE little one and you don't mind hefting a giant frame around, and you don't mind shelling out for all the bells and whistles because this is JUST the stroller. But as a value-oriented mom with an on-the-go toddler and limited trunk space to haul a big stroller...the City Select 2 wasn't the right selection for us.

Originally posted on babyjogger.com
Built to last
Torali . 1 year ago
[This review was collected as part of a promotion.] I'm a mom with 3 kids and 6 strollers so I've (literally) been around the block when it comes to strollers and I was super excited when I was given the opportunity to try out the City Select 2 from the Stellar Product Testing Panel. The box was much smaller than expected, so I was nervous that that meant it would take a while to assemble. Nope, it just has a much smaller than expected folded size. The compact fold is great for when I have the stroller in my trunk. It leaves so much room!! The engineer in me loved how intuitive it was to put together and how solidly built it was. Every detail seems like it was made to last, even down to the thick lock clasp (the part that always broke first on other strollers). The color is absolutely gorgeous. It's dark enough to not stain, but much more interesting than just black. The basket is giant, I feel like I could fit my almost 5 year old in there. The ride is the most smooth out of any of my strollers - it even feels better to push than my running stroller! I love the magnetic peek a boo window on the sun shade. It keeps the sun out of my baby's eyes, but I can peek in when I want to check on him. The wheel lock is easy to use and, once again, solidly built. I can't express enough how this stroller is built to last. This is the stroller that you will use with all of your kids. I already am looking at getting a second seat for my two year old.


Originally posted on babyjogger.com
Showing 1 - 20 out of 670 reviews