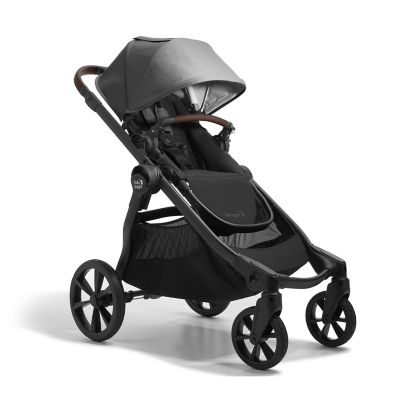 Baby Jogger® City Select Modular Stroller 2 Eco Collection Single-to-Double in Harbor Grey
$489.99
was $699.99
(30% off)
Most Helpful Positive Review
AMAZING experience with this stroller
Tweetsda
.
9 years ago
We looked into so many strollers for our twin baby girls. We found the City Select with the second seat and was hesitant because of the price. We looked around some more and went back to the city select. It is so smooth and easy to fold. The wheels are perfect for anything, we even took it on the hard sand at the beach. We bought the trays and use the stroller as a "high chair" for the girls when it's meal time and we're not home. We used the Britax car seats and the attachments for the stroller we so easy we just clicked in and strolled off. PERFECT stroller for twins!! I only rated the comfort of the child 4 stars because I wish the seats were able to lay down a bit more.
Most Helpful Critical Review
Nice stroller but.....
Leni
.
9 years ago
Had my stroller for 1 year. Love it but would wish a few things would be different...like: wish it could stand upwards when folded- in the house must always lay it flat which takes up so much space. Wish the wheels would lock when folded. Wish the closing mechanism was easier- very stiff, always break or bend my nails. Love how easy it is to interchange the seats and face them any which way. Tilts very easily back and or forth. Loved my bassinet too. Love the handles- go up and down to adjust to your height. Love the large storage. Nice smooth ride. Like the option of a double stroller
---
Thank you for your interest in our products. We apologize for the inconvenience you have experienced. You will be contacted shortly by a member of our Consumer Care Team.
customer reviews
Showing 1 - 20 out of 668 reviews
Good Stroller, Not a Travel System without Adapter
Webery . 2 weeks ago
The stroller so far seems well made. There is a little slop in some of the joints and latches, but nothing too bad. The worst part is that the ADAPTER ARE NOT INCLUDED for the City Go 2 infant car seat. After some research, I can see that the City Mini 2 stroller comes with the adapters. Why not include them with this one too? It would really make this a great value as a travel system if they were included.

Originally posted on babyjogger.com
Worth the price
Mama2020 . 2 months ago
Love the product, used it much more than other stroller due to convenience of this stroller.

Originally posted on babyjogger.com
Multiple parts broken in less than 1.5 years of us
Luna . 3 months ago
I have had this stroller less than a year and a half and I have already need to replace the brake system and the wheels. I didn't expect to pay this much for a double stroller to have it keep breaking. Very disappointing.

Originally posted on babyjogger.com
Not great for uneven surfaces
Mom of two . 4 months ago
Unfortunately regret this purchase. The stroller looks great, but for what we need not very functional. We bought this as we need a double stroller. This is an expensive stroller and on top of that you have to buy a bunch of accessories to make it work as a double stroller. Second seat, and adaptors for second seat/baby seat are not included. This model also does not fit the toddler seat which is bizarre to me, why? You can buy the glider as another extra, which we did, but this does not work well when you have two seats on the stroller, as the child standing on the glider, has no where to put their head, or makes it really awkward for the person pushing the stroller. We went with this stroller as liked that the kids would sit behind each other, making it easier to get in and out of doors while walking, but the main reason this stroller is terrible choice for us, is that we mostly use it outdoors which is it not really good for. If the surface you are pushing it on is uneven (leans to one side) like a side walk or paved trail, this is awful, to pulls to one side. We have our toddler in the front seat and our baby in the baby seat up in the back and the weight of the toddler (only 26lbs) in this heavy stroller pulls it very hard to one side. It is a lot of work on the person pushing the stroller to keep it on the path. I wanted to love this stroller as looks awesome, has a great big storage area, works great in a mall or flat surface, any rough or unlevel surface it is hard, awkward and disappointing to use. I wish we were still in the 90 days to return it.
No need to look any further
AshinKc . 6 months ago
I wish I would have purchased this stroller from the get go. It's AMAZING!! I will never need another stroller!

Originally posted on babyjogger.com
Love and definitely recommend
Peaches . 7 months ago
Love how light weight it is and easy to assemble, very easy to push with two kids

Originally posted on babyjogger.com
Baby jogger city select eco
Nicole10 . 7 months ago
The new eco model is very nice and light. Folding the frame and lifting it is so much easier then the older version. I like how much room there is between the two seats and I like the feel of the material.

Originally posted on babyjogger.com
Not compatible with existing accessories
Kathy L . 7 months ago
New version of City Select stroller is nice. Bought it for my daughter to replace single stroller when she just had her second child. However, Baby Jogger should have made accessories interchangeable with the new version but did not. We had to buy new adapter for Baby Jogger car seat she already had. Also tray and another accessory she had from original stroller would not work with the City Select 2.

Originally posted on babyjogger.com
1st time. Baby jogger purchase
Whip06 . 7 months ago
I fell in love with the Baby Jogger brand when we rented one at Disney World. While I really like the configurations available, I was not as happy about the weight of the stroller. I also feel that a stroller that costs this much shouldn't nickel & dime you for accessories (the car seat adapter and the 2nd seat adapter should just come included)


Originally posted on babyjogger.com
Noisy
LindseyIzzy . 8 months ago
For being such a "high end" stroller it is so noisy! thought we'd try something different then our first UPPABABY because we now need a double stroller but this is NOT quiet! It rattles with every bump. so unhappy especially with it being so expensive!

Originally posted on babyjogger.com
City Select Double stroller
Jayash . 8 months ago
Best stroller I've found and used! It was easy to assemble on my own. I love how the seat is, my child is able to sit fully upright and be a part of whatever we're doing when we are out and about. I liked the ease of adding a second seat or infant carrier. I also like the fact that the handle extends as my husband is 6'3 and it is comfortable for him to push. It's also very smooth.

Originally posted on babyjogger.com
Buy in now
Mom1 . 9 months ago
FYI. I bought the City Select less than 2 years ago so that we could expand the stroller when baby number 2 comes. Well, we're rapidly approaching the arrival and our version has been discontinued. Extra parts too. We spent the extra money on it because it had options. Just putting this out there that if you're looking for a stroller that will expand with your family, you better buy the double now. Expansion parts won't be available a year from now. You'd think the company would have the decency to support their products for at least several years. Guess not.

Originally posted on babyjogger.com
Needs a cup holder
Carolynn . 10 months ago
The stroller is amazing! I love it. I am only giving 4 stars ⭐️ because I cannot find an attachment for cup holder or something like the parent console. The one on the website doesn't work for this stroller.

Originally posted on babyjogger.com
Love love love!
LaurenS . 11 months ago
I love this stroller! It's so smooth to push and looks so comfortable for my baby. I love how large the storage basket is.

Originally posted on babyjogger.com
Not an all inclusive travel system
Chapin . 11 months ago
I really like this set but am a bit disappointed now that I received it. Based on photos online, it shows multiple pictures of the stroller being used with just the car seat. After receiving the eco stroller and the city go 2 car seat, the car seat does not fit into the stroller. You have to buy connectors for it. Now I have to come up with more money to buy those. I am just glad I purchased this weeks ahead so I can get prepared. They should really state something about this in the description so people know.

Originally posted on babyjogger.com
Love this stroller!
Surprise5 . 11 months ago
I love the height of this stroller. I'm 5'7", he's 6'2", and on baby #5 we finally have a stroller with a high enough handlebar that we're not hunching over or having to walk so close to the stroller that we're kicking it when we walk. The all-black, matte frame and the leatherette handlebar are so sharp looking. I can't wait for some warmer months so we can take it outside more! My only complaint is that it doesn't stand up on its own when folded. I don't think I've ever had a stroller that does that and it would be really nice.

Originally posted on babyjogger.com
Love this stroller
DaDz . 11 months ago
Bought this stroller for our first baby and are loving it. Love the basket underneath, there is so much room to put everything I need in it and more. We bought this stroller to use with multiple children but currently are only using it as a single stiller.

Originally posted on babyjogger.com
Best Stroller Out There!
Aly12 . 11 months ago
I bought this stroller after owning an older model for my nanny kids. I have always been a baby jogger fan and when I saw the new stroller I knew I had to have it. It collapses so small and the leather accents are to die for. This stroller pushes so nicely compared to other high end models that are similar and believe me when I say I've used them all as a nanny.

Originally posted on babyjogger.com
Loved it until needed 2nd seat
Mattie15 . 11 months ago
Loved this stroller. But now I'm ready for a second seat and Baby Jogger discontinued my model and no adapters or seats are available. So the investment I spend is now useless as the expensive LUX I bought can't grow with my family. Very disappointed and wouldn't recommend.

Originally posted on babyjogger.com
Versatile
CharlestonMom . 11 months ago
We love our baby jogger City Select stroller! Smooth ride for baby, light weight for mama, and tall enough for dad!


Originally posted on babyjogger.com
Showing 1 - 20 out of 668 reviews