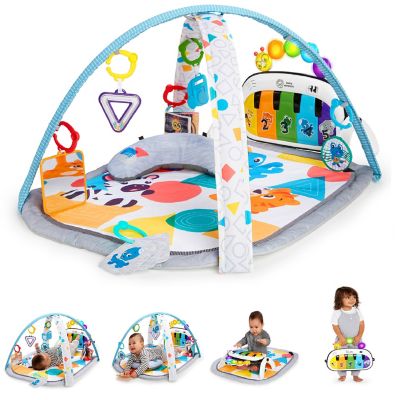 Baby Einstein™ 4-in-1 Kickin' Tunes Music & Language Discovery Gym
$47.99
Get 20% off your entire purchase with coupon!
Enroll Now
Most Helpful Positive Review
Baby loves it!!
AmyMH
.
2 years ago
My baby loves the colors and different toys he can play with while he is on his back or tummy. I like that the piano is sensitive when pressed so it is easy for baby to touch and learn. I really love Baby Einstein products so I have multiple toys for my baby. The only downfall on this product is the piano doesn't have a switch to set the language like other products they have. It simply plays through all the languages when you have the color or animal setting instead. That is my only complaint as the rest of it is great!
Most Helpful Critical Review
Malfunctioning piano
Norma
.
2 years ago
We purchased this play gym a few months ago. The piano portion was hardly used due to baby being entertained by hanging toys. About a month ago baby has begun to show more interest in the piano but it keeps malfunctioning. We've changed batteries multiple times and it continues to malfunction. Do yourself a favor and go a different route.
---
Hi, this is Sarah from Baby Einstein. Thank you for providing feedback. Please reach out to our Consumer Services team at 800-230-8190 Monday -Friday 8 am -5 pm EST. We want to see how we can help!<!--[if ReviewResponse]><![endif]-->
customer reviews
Showing 1 - 20 out of 184 reviews
Fun Land
BB&B Customer . 1 month ago
My daughter enjoys playing while laying. She like to challenge herself trying to pull off the different ring if toys every time she is playing.

Piano
Kc29 . 2 months ago
Piano has stopped working. My baby loves the piano and I wish I could find a replacement for this as I only need that part and not the whole mat.

Originally posted on kidsii.com
exactly like the pc
quality . 3 months ago
My son lov it good quality
Instant baby entertainment
Aloki . 3 months ago
I love this mat, or rather my kid does, so much so that I had to come write a review. I got it when my son was 2 months old and he was somewhat interested in the piano part. Over the last month and a half he has really developed a fascination with the piano and he's also started grabbing at the overhanging toys. At first I bought it because I wanted him to have more tummy time entertainment, but it's easily becoming a staple for us in all regards. He just stares at those lights on the piano. Once his legs start going, I love placing it close to his feet so he can kick the keys. The piano is also removable and I recently brought in on a road trip since he hates the car. It definitely helped when he was really upset during the travel. And it also was a great item to bring for our stay out of town in case he needed entertainment. I'm surprised how great this turned out to be. Definitely worth it!

Originally posted on bedbathbeyond.com
piano legs keep coming off
deelo . 3 months ago
Great toy for entertaining my 5 month old but the legs on the piano constantly come loose
Kaitlin . 4 months ago
My baby loves this thing. We have added more toys to it but she sits and plays for hours with this.
eh
Ange . 5 months ago
It's nice but came with 2 big dirty marks on the matt, I did scrub them off but it was just weird getting something new but stained
Baby loves it- high quality
Nicole . 5 months ago
In my opinion best baby matt on market- lots of other brands are flimsy or don't have interactive enough toys. This is wonderful
smaller than expected
Sophie . 5 months ago
The actual mat is really small, way too small than expected. Don't bother to return.
look nice
leonidas . 5 months ago
Just like the pic very satisfied
Needs padding
Gmom . 6 months ago
The mat needs padding, colors c and keyboard are great.

Originally posted on bedbathbeyond.com
Didn't last long.
Baby kicker . 9 months ago
The keyboard didn't last more than 3 months and we only used it for the music when baby was doing back/tummy time. I have called a few time for warranty two times I've called they have been closed for staff meetings and a few other time is extremely long wait time so we just end up hanging up. I have also filled out a warranty claim and no one has gotten back to me.

Originally posted on kidsii.com
Doesn't always play/light up
Riss . 9 months ago
even with brand new batteries, sometimes it doesn't play/light up when we touch the keys.
Amazing
Happy and in love . 9 months ago
My baby absolutely loves this product for tummy time & just playing with.
Dangerous
Aisha . 10 months ago
I wouldn't have had any issue with this product except today it almost poked my son's eye out. He was rolling around on the floor (he's 7 months) and reached for his play mat, when he pulled it towards him a plastic spike stabbed my son in the face.

piece of junk
salamamama . 10 months ago
There is no padding whatsoever in the sheet, the plastic rips through the support bars, and the piano only sometimes works. Waste of money. Get the Lovevery one instead
Fun purchase for my granddaughter
Pamela Preston . 11 months ago
It offers fun activities and the keyboard is removal to be used anywhere
My son loved it!
BB&B Customer . 11 months ago
I got this for my son and he absolutely loved it!

Originally posted on bedbathbeyond.com
Works Great, Baby Likes it But...
Octavia . 11 months ago
Everything is great and many toys included. He especially likes the little shaker. The ink on the keyboard is smearing. It's coming off which will affect the resell value. Kind of cheap if you ask me...

Originally posted on bedbathbeyond.com
Really nice quality
ED . 11 months ago
This is an excellent play mat gym for a growing newborn! I love everything about it except not having the option to turn off the lights but still play the music. When my newborn plays with it, it engages her so much that she gets drained and then falls asleep. But especially at night time, the lights are all blaring in her face. Other than that, we love it and she absolutely loves it! The quality is so nice! I put a waterproof mat over it just so it doesn't get stains on it, if anything does slip, I clean it up right away because it is way too nice to ruin it over time. It will definitely be well used but I want to keep it as nice as it came. The quality of this product is definitely one that can be passed down for generations and keep up if you keep it clean! But I would love to save something like this for my grandkids just because it is built to last!

Originally posted on bedbathbeyond.com
Showing 1 - 20 out of 184 reviews