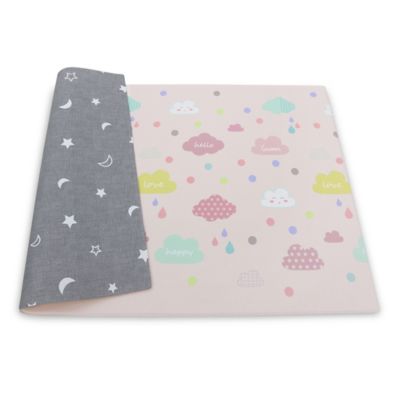 BABY CARE™ Reversible Happy Cloud Playmat
$127.99
Get 20% off & earn 5% back in points with Rewards™+
Enroll Now
Most Helpful Positive Review
Great size.
Cindy
.
3 years ago
My 9 month old and 3 year old Grandchildren play on the play mat all the time.
Most Helpful Critical Review
Worst experience ever
Sandra
.
3 years ago
I ordered this item and the tracking was not updated. The item was delayed and arrived late and I had no idea whether it was going to come or not because the date that it was projected to arrive came and went and I hadn't received the item. I tried to speak with customer service and called three days in a row, waited anywhere from an hour to two hours on the line each time, and never got to speak with anyone. When the item finally arrived, it was in good condition and I unpacked the item, which was packaged very well. It looks exactly as pictured and described, except it has a very strong chemical smell. I tried to air it out over the course of a week and it still smells. I tried wiping it with a mild soap and water and it still smells. I've had this item now for more than a couple weeks and the smell is still extremely strong. I want to exchange the item but I'm sure customer service will be impossible to reach and I refuse to waste more hours of my life trying to get assistance. Will probably end up throwing this back away. Definitely won't be ordering from buy buy baby again after this terrible experience.
customer reviews
Showing 1 - 20 out of 163 reviews
great play mat
ToddlerMom . 3 weeks ago
I purchased this almost a year ago, and it is still in Perfect condition. We walk all over it every single day and it looks exactly like the day we bought it. It's very easy to clean. My only issue with it was the chemical smell when we first bought it. It would be a good idea to buy early and let it air out (both sides) before use. The smell was strong, but it's completely gone now.

Fantastic Playmat!
BB&B Customer . 2 months ago
Not only is the playmat functional and easy to clean, but it's also aesthetically pleasing! We are using it on hardwood floors and it makes a soft area to play. There was no smell and I would highly recommend.
Totally Worth It!
BB&B Customer . 2 months ago
This playmat is very pretty and a good size. It is also the right kind of firm, which was the most important thing that we were looking for - something where our baby can practice walking but also something that can break their fall. The baby has just started taking their first steps and this is perfect since they fall a lot :) This mat is also very pretty both sides so you can have a change by turning it over. It is a overall great buy! Totally worth it, specially over those foam playmats which disassemble either when the baby falls or sometimes the baby just pulls the pieces apart.
Great mat
Catherine . 3 months ago
Great map for baby to play on. Good thickness so they are not on the floor.
Heavy duty and soft
newmom . 4 months ago
Everyone keeps saying this is really smelly… mine has a light smell but nothing that is noticeable. I'm really excited to use this in place of a rug in a play area. My house is all hardwood floors and it'll be easy on the knees
Smells bad
BB&B Customer . 5 months ago
The package says after a few days the odor will go away. It's been almost 10 days and still smells very bad. Worried about my baby's health and want to return it if possible.

Originally posted on bedbathbeyond.com
Good quality!
MC . 7 months ago
The mat is great quality and easy to clean. We like that it is reversible; our baby loves playing on the mat. The shipping was quick too.
Still very bad smell after half a year
Pan . 8 months ago
This may still have very bad smell after half year of use. I'm really concerned about my baby's health now
Very soft and has a nice grip
BB&B Customer . 8 months ago
My grandaughter loves it as it is very soft and has a nice grip
$$$ but so worth it!
YIGl . 9 months ago
This mat is just so beautiful and has such a great quality! We have had it for 2 years now and it is still like new. I got it because one side is very neutral (we have a boy) and the other has a light pink color in case we had a girl. The mat is super comfortable too.

Love this! Easy clean, good cushion and no smell!
Alex . 1 year ago
This mat is large, easy to clean, and did not need to off-gas any fumes or odor. It's nice and thick Soni don't worry too much if baby takes a spill on it.
Terrible smell
xxx . 1 year ago
Don't buy it!! It smells terrible and I almost throw up.
AMber . 1 year ago
I have now had this mat for 3 years and two kids and it is still in near perfect condition. it is perfect if you have wood or tile floors.

Originally posted on bedbathbeyond.com
Repurchase
Kaity . 1 year ago
I purchased this mat before but I ruined it by mistake with a vacuum cleaner. It is super cushy and I always liked this mat. This mat is much, much better than the SKIP HOP mat which is very flimsy and not even on par with a yoga mat. This is a very nice mat though the design means it can only be used during young childhood years. So keep that in mind.

Originally posted on bedbathbeyond.com
Perfect
Marissa Franz . 1 year ago
Perfect for the park and beach days
So far so good
lina . 2 years ago
This carpet is safe for our baby's tummy time etc. Easy to clean. You need to air out the carpet before you use it. Definitely heavy.
Cute Playmat
JENNIFER . 2 years ago
We bought this mat wanting something thick for our baby to play on. Previously we had a rug that we'd had since our 5yr old was a toddler, but we knew it was time for change. We are so not disappointed with this purchase. Our 3 kids love playing on it. It provides the right amount of cushion for them not to feel the hardwood floors and play for long periods of time. The perk is that it's super easy to clean! You can just pass a swifter wipe on it and bam! It's clean! I will say it is heavy if you ever roll it up to get out of the way (which we do often).
Great quality, easy to clean, great buy!
BB&B Customer . 2 years ago
I bought this to put in our media room, we wanted a space where our 1-year-old can have her toy chest and play. We love how easy it is to clean and how comfy it is to sit on, making play time with her all that more fun. Don't try to save money by buying a thinner, cheaper mat with unknown chemicals for your kids. 10/10 would recommend.
Smell bad
Sally . 2 years ago
I don't know why it smells bad when I put my nose near the mat. Is it harmful for my baby?
Lovely mat
LIZ . 2 years ago
Through the years and with two young kids, I went through three different mats. The ABC/123 from Imaginarium was really cute and the kids can learn their alphabets and numbers. It can be moved around easily. Another one is a block foam tile which you can buy a few to do any shapes (square or rectangle). These are great to easily move around the apartment. Now, this mat is beautiful. I like the color and the ability to change it for another design by turning it around. Also it is good for my 6 years old to jump on it and do gymnastics or stretches. Big enough for her to lay down and read. It is padded enough instead of sleeping on hardwood floor in her sleeping bag.

Originally posted on bedbathbeyond.com
Showing 1 - 20 out of 163 reviews