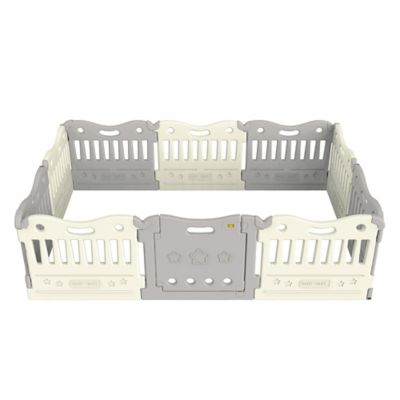 BABY CARE™ Funzone Baby Play Pen
$215.99
Get 20% off your entire purchase with coupon!
Enroll Now
Most Helpful Positive Review
Great Versatility!
braidedpink
.
5 years ago
Loving this playpen! Our baby hated being in a pack 'n play, but in this one she stays happily in even by herself while we're cooking etc. She loves being able to see through the bars, and now she's starting to practice standing up against it! Easy to put together, clean and move around as needed. Also love that we can either use it together with the same company's playmat, or make it smaller by using only six of the pieces!
Most Helpful Critical Review
Safety Hazard
GDO07
.
5 years ago
My 11 month old started standing on the panels, as she liked to look over the top. She would hold onto the top and put her foot into one of the slits. Well, one day her foot slipped through and her leg got stuck. It was so stuck my wife had to call 911 to help get her leg out. Fortunately, my neighbor rushed over and was able to get her leg unstuck after putting ice and water on her leg. The quality and look are great but "Buyers Beware"!!!!!
customer reviews
Showing 1 - 20 out of 104 reviews
Best thing ever!
Alyssa . 2 years ago
We absolutely love this play pen! Can't believe we didn't buy this sooner!!!
Fence holes are too large and it's a dangerous
BB&B Customer . 2 years ago
I'm currently watching my 11month old granddaughter and tonight had a harrowing experience I hope no one else has to experience but I'm afraid someone has. Baby's like to climb out of things and the holes in the plastic fence are too large and my granddaughters leg went trough and got stuck luckily I was nearby and after trying to pry her leg out I grabbed a knife and cut her little leg loose. She could have broken her leg had she twisted it. The product needs to be updated and the holes in the fence need to be made smaller or children will get injured. I will be contacting the manufacturer.
A must!
Ashley . 2 years ago
We love this playpen and get so many compliments. Get the mat that matches it. You won't be disappointed.
Baby playpen
Chet . 2 years ago
I love the overall quality and size of the playpen. Both parents and baby/child can hang out inside with plenty of room to lay down together/play. The only con I have is that the suctions don't stick on laminate flooring, so when baby/toddler gets to that stage of pushing/leaning onto the playpen, it will move.
Great playpen
Sally . 2 years ago
We have used it since my baby was 4 months old, good quality and very durable . My baby is 10 months old and still enjoy playing in it, strongly recommended it
My 9 month old son gets his leg stuck.
Dads of boys . 2 years ago
This is a decent product, my son doesn't love to be in their alone but it keeps him in one place. The only real problem is he keep trying to climb up onto the walls and gets his leg stuck in the slots of the plastic walls. The gaps are a weird size, I'm not too sure how they could improve the design but my son gets a leg or arm stuck almost everyday. Left a bruise on his leg near his knee. It would be hard for me to recommend this product after my experience.
Easy to build
Jessica . 2 years ago
I like this gate! Very easy to build and has a gate door that works well. There are suction cups at the bottom of the gate to help keep it attached to the floor.

Funzone playpen
Shelly . 2 years ago
I like that it is big and easy put together the down side is the small part that conects each panel pops off easy
Ok
Alexis . 2 years ago
I wouldn't buy this again but it does the job. Other companies have gears and toys attached to the sides. The pieces used to lock the playpen in place don't keep the sides secure.
Love it
Esorelle . 2 years ago
Absolutely love it for the following reasons: 1. Really cute colors and design 2. Good quality 3. Easy to put together. 4. You can make it as big or small as you want using the pieces they give you. You could even make it into two separate small play pens. 10/10 recommend.

So dangerous! Shame on Bedbathbeyond for selling
BB&B Customer . 2 years ago
I cannot believe all the positive reviews and the fact that Bed Bath & Beyond would carry this product. I too just had my 13 month old get her leg stuck in this fence, fire department had to be called fence had to be cut off. So very dangerous the space in the wholes cut in this fence are the perfect size for an average size one year old to easily slip their leg through and not be able to get back out. Thank god the fence was cut off before too much swelling and serious harm was done. I will be filing complaints with both this retailer and the manufacturer. DO NOT BUY THIS.
Baby playpen
SB . 3 years ago
Love this playpen. The quality and size is perfect, enough room for baby to crawl/walk around in. Parents can even lay down in playpen too while baby plays. Only downside to the playpen would be the suction not staying in place on laminate floors so if baby does lean against it, the playpen will move and you'll need to readjust. Overall, I love this playpen and would recommend.
Yay! I can step out of the room now!
Nicole . 3 years ago
Easy to set up. I'm using 8 of 10 panels, so I have some room in my living room. A little pricey, but worth it. Keeps baby in and pets out.
DANGEROUS!!!!! Use with extreme caution
SHAN . 3 years ago
I find out that I experienced the same thing with one family's review posted a month ago. My 8 month old stuck in the slots BETWEEN panels last night. This happens all a sudden even with guardian around. Those slots are narrower compare with the slots on the panels. He seldom cries but screams and cries for 10 minutes after we help him out. I need to take him to the urgent care today. The slots should be made LARGER!!! I truly feel like this product should be recalled.
Love it!!
Vany . 3 years ago
I was hesitant because I really didn't want to spend that much money on an item and take a chance that my son hated it but he absolutely loved it in there. It's a great size, enough space for him to crawl and play. It's easy to assemble. My son is 9 months old currently. Very happy I decided to purchase this particular item.
DANGEROUS!!!!! Use with extreme caution
Joyrina . 3 years ago
I loved this product for a while. Now that my little one is walking I put him in there when I need to run and use the bathroom or make him lunch, etc. Today while I was using the bathroom I rushed out to my screaming child whose legs were stuck in the slots. He had been holding on for what looked like dear life with his arms, had he let go... he 100% would have broke both legs. He has two bruises where his legs were stuck. I truly feel like this product should be recalled. It's not safe.
Solid gates
TerriD . 3 years ago
Look brand new after 4 years of use. Just passed on to my brother for their child. It's expensive but holds up to toddlers and will likely be used for several babies in our family. Thick, rounded edged plastic - not cheap sharp edged plastic
Fits the Baby Care Play-mat
Nathan . 3 years ago
Pros: Very sturdy and simple to put together. Helped our little one learn to walk faster by holding onto the rails. Also easy to clean. Great for putting your kid in to do a few household chores. Cons: Once in a while our little one would stick his leg through the holes and get stuck. Takes a little maneuvering to get kid unstuck. After a month or 2 after our kid learned to walk, the kid realized that this playpen is actually a baby jail and screams to get out every time we close the door.
Great Buy!
Mary . 3 years ago
My baby just turned 1 year and we have hard wood floors. I was always scared of her falling as she explores our house. Then last week she did fall. After that, I purchased this along with the soft mat. This helps keep baby safe in a controlled environment where she can still play with her toys. She loves her freedom and her play area now! I wish I would have bought this sooner!
Love it
Suzanne . 3 years ago
If you have tile or wood floors you will love how this suctions to the floor. Also def recommend the mat that is an exact fit. It's padded nicely!!! He rarely cries when he falls. I would buy both again!!
Showing 1 - 20 out of 104 reviews