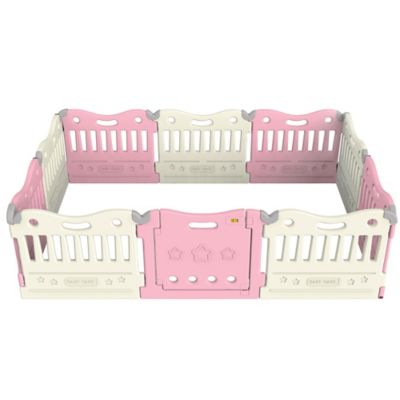 BABY CARE™ Funzone Baby Play Pen in Pink
$215.99
Get 20% off your entire purchase with coupon!
Enroll Now
Most Helpful Positive Review
Great Versatility!
braidedpink
.
4 years ago
Loving this playpen! Our baby hated being in a pack 'n play, but in this one she stays happily in even by herself while we're cooking etc. She loves being able to see through the bars, and now she's starting to practice standing up against it! Easy to put together, clean and move around as needed. Also love that we can either use it together with the same company's playmat, or make it smaller by using only six of the pieces!
Most Helpful Critical Review
Safety Hazard
GDO07
.
4 years ago
My 11 month old started standing on the panels, as she liked to look over the top. She would hold onto the top and put her foot into one of the slits. Well, one day her foot slipped through and her leg got stuck. It was so stuck my wife had to call 911 to help get her leg out. Fortunately, my neighbor rushed over and was able to get her leg unstuck after putting ice and water on her leg. The quality and look are great but "Buyers Beware"!!!!!
customer reviews
Showing 1 - 20 out of 101 reviews
I really wanted to love it
MarcosMom . 6 months ago
I purchased this along with the mat for my son around 8months due to him starting to crawl as well as pulling to stand at the same time. We have tile floors and wanted a softer space for him to learn and discover safely. From the start he was using the slits in the gate to pull to stand and would some time miss and get his arm stuck if this also happened while falling it would turn his arm very unnaturally. Luckily no serious injury but easily could have easily resulted in a break. Now he's 13months and fully walking and climbing, he's figured out how to get his toes into these slits and pull himself all the way up, one mistake and he's gonna end up head first on said tile floors. At this point it feels safer for me to just let him roam the house. Suction cups don't stick well so it has never kept its shape. For the price of this thing I expected much more. I would not recommend. One star for being cute but definitely not safe at any mobile stage.

Originally posted on bedbathbeyond.com
BB&B Customer . 6 months ago
Great product, at the store in otay ranch customer service Juan did a great job
Great until standers
StatenIsland BBB Customer . 11 months ago
This playyard is attractive(it's the 1st thing seen when you walk in the door), easy to assemble, easy to clean, but expensive. Spacious enough for an active baby, but not a toddler— once the baby can stand and pull him/herself up , they try to climb out and get dangerously stuck in the slats or lower holes. Even the 5Star reviewers stated that. The openings should be no lower than 18" from the floor! My grandson climbed over at 11 months and fell out— fortunately he held on and his head barely hit the floor. I was 2ft away working in the computer. So we never leave him out of sight, but when he's in, it is an occasional lifesaver for my back.

Originally posted on bedbathbeyond.com
Perfect for 17 month old
WKL . 12 months ago
Purchased this for my 17 month old to replace a different playpen. This was very easy to assemble and is short enough so my son can look over the gate without straining but is very safe. Its large enough for my son to practice walking (and "running" in circles). 2 of the panels had cracks in them but after contacting the company, their customer service responded the same day and has replacement shipped to me for free.

Originally posted on bedbathbeyond.com
Confidence in baby's safety
Kelly . 1 year ago
This play area has given us a lot of confidence that she is safe. She has so far bumped into the edges many times and it doesn't faze her in the slightest. The door is super easy to open and stays shut when it needs to be shut. The colors are nice and neutral. We did not notice any weird smells. It is super easy to put together.
ABSOLUTELY LOVE!
Yolanda . 1 year ago
Extremely easy to put together! Gives us the peace of mind of safety. Purchased with a reversible mat. Again, LOVE it!

Originally posted on bedbathbeyond.com
Unsafe Product
BB&B Customer . 1 year ago
My granddaughter and grandson can climb up it (they're 8 1/2 and 10 1/2 months old). The slats are dangerous because their arms get stuck. I would not suggest due to safety concerns and I am reporting to hopefully recall this product.
Nice play pen
BB&B Customer . 1 year ago
It is the most beautiful play pen with neutral colors. Blend in nicely in the house setting. However, it is a little pricier.
Has some safety issues
Baby A . 2 years ago
Pros: easy to set up, easy to clean, can be reconfigured to fit your space Cons: my child got her arms and legs stuck in the openings multiple times. I'm actually somewhat surprised that it hasn't been recalled. Suction cups did not stick to my wood floors, and the plastic caps were always popping off, so it didn't hold the rectangle shape very well. The door didn't close well, I always had to push the bottom shut and make sure it clicks. Better for infants, my two year old could easily climb over the top.

Originally posted on bedbathbeyond.com
Safety First
EliShmee . 2 years ago
While the chunky design of this playpen isn't the most chic option on the market, it took one look at photos of scratched baby noggins from the "other" styles to convince me the price of this was worth it. Now that I have had it over a month, I can say it's absolutely an awesome product. I know it will keep my little lady safe from injury and allow her a nice, big space to play her heart out. It was easy to clean and put together, and it's also easy to break down to relocate it to another room or for cleaning. I paired it with a Baby Care mat, which is soft and easy to clean also. I have no regret about this purchase, and have decided on buying a second for Grammy's house. It's also nice that the colors are neutral and don't make my house ugly. Big win!
Missing Pieces & Hole in Box
Austin . 2 years ago
This is one of the more expensive playpens on the market, so you would expect there not to be any issues...but the box had a large hole in the side and once I opened the product it was missing 4 pieces that are essential for building the playpen.
Life saver
Jennelle . 2 years ago
This is perfect for babies learning how to walk to keep them contained in one area. Also, gives them more space to learn to walk and crawl without pulling up on furniture.
Excellent product
BB&B Customer . 2 years ago
This playpen has been great for our one-year-old twins! They can play and crawl and practice standing up inside :)

Originally posted on bedbathbeyond.com
Ok
Amanda . 2 years ago
This product is ok and does its job of penning in my active 10-month old child. The suction cups however do not stick whatsoever to my wood floors. My child is able to bow out the joints (by pushing against them) of this play pen and create a lot of (previously non existent) floor space between the mat I placed on the floor and the pen walls. Perhaps this would be better on a different textured floor. It's just meh. I'd buy something else if I had a do-over.

Originally posted on bedbathbeyond.com
Great play pen
Cassidy . 2 years ago
This playpen is almost perfect - it was easy to set up, is a great size, and with coupons priced okay. However, if your baby is a climber or becomes one, beware because they will fit their feet in the holes and try to boost themselves out.
Love it!
BB&B Customer . 2 years ago
I love the size of this playpen, it has so much room for the size an option to make bigger with the extender. I can see my daughter inside so I enjoy the design of this playpen. I also bought the playmat from buy buy baby, playmat could be found way cheaper elsewhere but not the same brand or colors so I stuck with it. Both are easy to clean and safe.
Great product, great customer service
BB&B Customer . 2 years ago
I bought one for my 9 month old granddaughter so she has a safe place to play when she comes to visit. She has one in her home and is very comfortable playing in her space. She stands up holding onto the sides and there are grip holes for her to grab and securely pull herself up. I needed a replacement part and not only were they very polite but efficient as well. I literally got the parts a few days after calling. I am very happy with the product and the company that stands behind.

Originally posted on bedbathbeyond.com
Steady
Siyuan . 2 years ago
We bought the playpen in Nov. 2020, and we've been using it for two months. It's very steady and we are happy about it. It's large enough for our son to stay in it and play for a little while when we are busy with other things. The product has double-sided tapes to secure the pieces together. At first, we didn't use the tapes because we were moving soon. The playpen was not very steady (pushed by our 9-month old son and the playpen would be out of shape.) After we moved, we used the double-sided tapes and the playpen is steady enough.

Originally posted on bedbathbeyond.com
Best thing ever!
Alyssa . 2 years ago
We absolutely love this play pen! Can't believe we didn't buy this sooner!!!
Fence holes are too large and it's a dangerous
BB&B Customer . 2 years ago
I'm currently watching my 11month old granddaughter and tonight had a harrowing experience I hope no one else has to experience but I'm afraid someone has. Baby's like to climb out of things and the holes in the plastic fence are too large and my granddaughters leg went trough and got stuck luckily I was nearby and after trying to pry her leg out I grabbed a knife and cut her little leg loose. She could have broken her leg had she twisted it. The product needs to be updated and the holes in the fence need to be made smaller or children will get injured. I will be contacting the manufacturer.

Originally posted on bedbathbeyond.com
Showing 1 - 20 out of 101 reviews