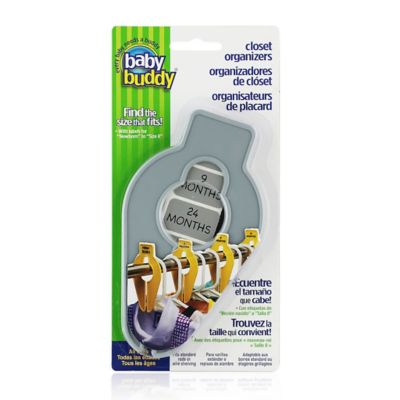 Baby Buddy 5-Piece Size-It Closet Organizer Set in Grey
$4.31
Get 20% off your entire purchase with coupon!
Enroll Now
customer reviews
Showing 1 - 20 out of 39 reviews
when they charge you $5.99 but sticker says 1.99
Richelle . 2 months ago
So I ordered it. And it did the job but I paid full price for it and when it was delivered it was clearly clearance for $1.99. At least remove the sticker, refund me or send me 5.99 worth of these things buy buy baby lol.
Closet Organizers for the Win!
marsha . 6 months ago
I wish I'd invented these! So easy to use and make life so less stressful.
Keep sizes separate
Katherine . 2 years ago
If you are like me, you have almost more clothes than your baby can wear. These organizers help make sure that we wear everything before it gets too small.
Very Handy
Christina . 2 years ago
We have a set in both of my kids' closets, they're so handy to keep different sizes organized. I took off 1 star because I've had a problem with some of the stickers coming off.
cheap
AmandaA . 2 years ago
These are so small and barely fit on my closet rods, I ended up not using them
BB&B Customer . 2 years ago
Perfect for newest great grand baby
good
nay89 . 3 years ago
Just as described. The top is too tall for my closet as I have a wooden plank on top of rod but aside from that is perfect.

Originally posted on bedbathandbeyond.ca
Love it
Aneisha . 3 years ago
I love to buy all different size clothes for my baby so this is just perfect for me
Simple is best
Gretter . 3 years ago
I love how inexpensive and cute these closet organizer tags are, & how you can continue to use it as baby grows. truly recommend them.
It's the little things
Happy Nana . 3 years ago
Hanging clothes with these dividers makes life much easier lol
These are great!
Laura . 3 years ago
I bought these for my new granddaughter's closet. They make it easy to see which sizes are where. It's a good idea!
Size does matter
Erika . 3 years ago
This is a great product, my only issue is that it should be made a little wider to fit all closet poles.
Closet Organizers
Sammy . 3 years ago
I got this for my son's closet, didn't even fit in the closet.

Originally posted on bedbathandbeyond.ca
Closet Organizers
Grandmom . 3 years ago
Not only can they be used to separate clothing by sizes but can be used at a later date by relabeling in colors rather than sizes , for instance, red, yell, blue, green helping your children learn to organize their clothing by colors creating less stress as well as learning how to color organize themselves. We've been organizing our clothing by colors for two generations, and losing electricity from the storms we have every year it helps to be able to reach into your closet in the dark and know what you want.
Love them
crazydazz . 3 years ago
Great way to organize!
Love these
Jenn . 3 years ago
Great for organizing sizes! Easy to use and come with pre made labels.
Organizational genius
firstimemom . 4 years ago
This is such a great way to organize nursery clothing by size. I ordered 2 packs to have extra. Each set comes with 2 stickers for each size (so you can have the size on both sides of the dividers. Really happy with this purchase.
Perfect
Cole2018 . 4 years ago
Exactly what I was looking for. The pre-labeled stickers worked perfectly AND they give plenty of blanket labels if I needed to make my own. You could also use a label maker to label each one. Helps so much when sending my husband or family to get an outfit in his room or put something away.
Not big enough
Dc1013 . 5 years ago
The big opening in these is exactly the size of my closet rod, so they do not slide from side to side. Not a huge deal, but somewhat annoying.
Doesn't Fit
mandy . 5 years ago
The top of these dividers sits too high and does not fit on the rack in the closet. They sit at a diagonal since they bump into the shelf above. We also received these completely open and all over the box and in other products - not the manufactures fault but shipping.
Showing 1 - 20 out of 39 reviews