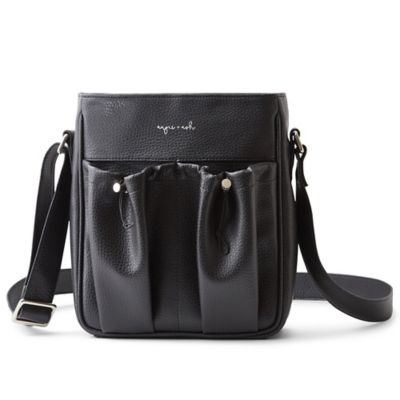 Anjie+Ash Crossbody Parent Diaper Bag in Black
$79.19
Get 20% off your entire purchase with coupon!
Enroll Now
customer reviews
Showing 1 - 19 out of 19 reviews
Very handy.
Ashley 2021 . 2 years ago
Great bag. Pretty easy to have it ready to go and get up and leave for a couple hours .

Originally posted on bedbathbeyond.com
BEST BAG EVER!!
Bed Bath and Beyond Customer . 3 years ago
Such amazing quality, I can't say enough great things! I have it black also, and now I need a third one in pink! I use this bag everyday and now I don't have to take my Large diaper bag everywhere I go!
Amazing quality
Bed Bath and Beyond Customer . 3 years ago
The crossbody diaper bag is perfect for on the go. I managed to pack all the essentials for My son inside (diaper, wipes, snacks and my new changing mat ). It's soft , super easy to clean, very compact and amazing quality. So I don't have to carry a huge diaper bag and a toddler around everywhere ! I definitely recommend!!!

Overall good quick grab and go bag
nikki . 3 years ago
pros: -small -looks like a purse! and a nice one at that! - room for sippy cup and bottle. thank god. pockets are nice and deep and have a draw string, which I think adds to the class and style as well as being practical. -enough room for wippes, a few diapers, cell phone, keys etc... exactly what i was looking for when going into a restaurant with my boys. I always feel like I am moving in with my diaper bag, car seat, or stroller. lol. cons -zipper is really rough. i have rings with stones that are sensitive to scratches, so I have to be very careful when putting something in or taking something out of the bag. Not easy to do when handling #2under2. -would be nice if the bag had feet to stand up better. this is a nice to have. Maybe version 2.0? -Bag had an odor when i first opened it. But has dissipated since then. overall would recommend!

Love this bag!
rosiemommy . 3 years ago
When you don't need to carry the whole nursery with you and look stylish, this bag is it! I love the double pockets for drinks. It can fit: wipes, 2 diapers, changing pad, hand wipes, baggy snack, and coin purse where I place my credit cards. In the back pocket I place my cell phone for easy access. It's light, comfortable, and very stylish!
From Playdates to date Night
Bed Bath and Beyond Customer . 3 years ago
Love this bag! Perfect size with so many pockets and doesn't look like a diaper bag! So I can use all the time
Wonderful handbag/diaper bag!
Bexlebs . 3 years ago
This is the cutest bag perfect for still looking trendy with an outfit but being practical! Great quality too!

Simple, easy, great on the go
perri . 3 years ago
This bag is awesome - enough room to carry what I need but not so much that my stuff turns into a jumbled mess. Also, everyone keeps asking where I got it. Love it!
Great bag! Perfect for quick trips & park days!
cjanebemama . 3 years ago
As my kids are getting older and becoming more active, I realized carrying a diaper backpack around at park while chasing after them wasn't the way to go. In steps in this bag! Holds my kids' water bottles in the front, a couple of diapers, wipes, my wallet & keys, and a couple other mommy items. Great concept, great design! Functional and cute!

Great bag for baby and every day!
Lee Lee . 4 years ago
I have to admit, this clever bag that any parent would be happy to carry with their baby's paraphernalia, also works for the variety of everyday things we ALL take with us. It's smart, stylish and attractive and now that I've had it for weeks I can say that people actually stop me on the street to ask where I got it. Great bag! Great design!
Cute & Functional
SGL19 . 4 years ago
I love the functionality of this bag - but the stylish look is what really does it for me. It's perfect for days when you have kids with you and don't want to lug around a big diaper back or backpack!
Perfect for the park!
Jojobabyface . 4 years ago
I've been looking for a smaller bag to use for quick outings such as the park or running errands. Now I don't have to lug around my huge diaper bag. It fits all the essentials I need for my babies and is still lightweight!
Not just a diaper bag!
Patty . 4 years ago
I have kids in elementary school and this bag is just what I was looking for! Stylish, lightweight and carries everything I need for any outing. Hand wipes, bottles waters, snacks and more.....
Grandma needs this bag, too!
Anne . 4 years ago
This bag is so stylish and functional. It holds everything I need for an afternoon outing with one of my grandkids! Most importantly it leaves my hands free for all those wonderful hugs!
Happy Mom! Just what I was looking for!
Sissy81 . 4 years ago
I've looked everywhere for a smaller bag (not a backpack girl) that could hold the basics. So glad to have found this! The drink pockets are A+++. I was shocked how much fits inside. I love that the bag is lightweight. It's gorgeous too. Yay!
Chic and Practical!
Rachel T . 4 years ago
I don't even feel like I'm carrying a diaper bag! I love all of the compartments for things like diapers, wipes, snacks, and water bottles. The bag is nice and sturdy, has a really slim design (nothing I hate more than a bulky diaper bag that bumps into everything), and makes me feel like a cool mom.
Best bag ever!
Bed Bath and Beyond Customer . 4 years ago
I absolutely LOVE this bag! It fits all my needs for my two kids under two! I love using this bag for quick trips and even as my everyday purse. Fits my daughters comotomo bottles and my sons sippy cups in the front pockets. I can fit both kids diapers, wipes, burp cloth, and my wallet PLUS I still have room for more. It's perfect!
Stylish Diaper Bag
Jael . 4 years ago
Super trendy but also very functional! Stores everything you need for baby without being big and bulky.
Great for traveling with or without Baby!
Lee Lee . 4 years ago
This is the 6th Anjie+Ash product I've bought and I trust this company for its integrity and eco-friendly consciousness. I will use it when babysitting but also when traveling for business or pleasure as it doubles as a lightweight, easy-access travel bag that holds all the important documents and items I need on hand. It is wonderfully conceived! It also happens to be more stylish than most of the bags I already own! Brilliant!
Showing 1 - 19 out of 19 reviews