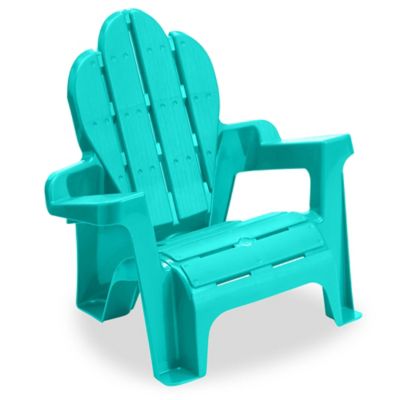 American Plastic Toys® Adirondack Chair in Teal
$10.39
Get 20% off & earn 5% back in points with Rewards™+
Enroll Now
customer reviews
Showing 1 - 13 out of 13 reviews
Patio chair
Phyllis . 2 years ago
My granddaughter loves these chairs.
Little Cutie
denise . 2 years ago
A cute little chair, safe and useful. The kids LOVE it.
Damaged
Abbey . 2 years ago
I ordered this online and it came damaged. The chair is not usable in its current format. This is the second time I've had something damaged in shipping in the last month.
cracked!
Stacey . 3 years ago
This is the second time in one week I've received something from buy buy baby that has been damaged. First the water table now this. Opened it today and came cracked. I live to far away from the actual store so I cannot return it. Very disappointed.
Cheap Plastic Chair
trice . 3 years ago
I ordered this online and it came damaged. The plastic is bent and cracked in multiple places. The box it came in provided no packing material whatsoever so it is no wonder it was damaged.
Adirondack chair( American plastic toys
Bed Bath and Beyond Customer . 4 years ago
I bought this a month ago and my grandson loves to sit on this chair.
Child's Adirondack chair
AuntbunnyJ . 4 years ago
I ordered this on Saturday and it arrived at my house the following Tuesday. I couldn't be happier with the product. It's just the right size for my two year old grandson.

Originally posted on bedbathbeyond.com
Great Chair
Divagirl . 4 years ago
I viewed this item online and the website stated the store in Livingston, NJ carried the item I wanted in red so I ordered for pick up. I received a call from BuyBuy an hour later stating the item was not available for in-store pick up. Then I received an email stating I can order the chairs on-line with my order number and receive free shipping so I did. The item was shipped and received quickly. My grand daughter loves the chairs and drags them everywhere she go.
A123 . 5 years ago
I like the chairs but I had got three of them, two for my nephews a red and blue one and also one for my daughter which was the turquoise color and the image looked different for the turquoise one and I was ok with that but when the chairs had arrived all of them look the same especially the turquoise chair which showed a different image online.Overall my nephews and daughter love the chairs.
Very good product
Mariano . 5 years ago
The baby enjoyed so much, thanks

Originally posted on bedbathbeyond.com
Loves his chair
Karikakes . 5 years ago
My little guy is almost 2 years old, and he loves his chair. We have one for outside on the patio, and one for the living room. High quality and durable too.
Cute chair!
Kathy . 5 years ago
Very cute, little chair. Reason for 4 stars it is actually a lot smaller than I thought, my one year old barely fits! But if your child is on the smaller side, then I would definitely recommend.

Originally posted on bedbathbeyond.com
Kids Adirondack chairs- red
Ische4 . 5 years ago
Drastically faded...still in one piece though. Wish I could add a picture. The chairs are stacked. The bottom one is still perfectly colored red. Top one, with exposure to the Florida sun, is horribly faded. I bought similar ones (a bit larger) from Target. They have not faded at all. I believe I paid about $12 for each one, I bought 3, all red. So, I'm not sure if the other colors fade. They are sturdy. So if you want to keep the vibrant colors, keep them out of the sun. I'd recommend the Target ones before these.

Originally posted on bedbathbeyond.com
Showing 1 - 13 out of 13 reviews