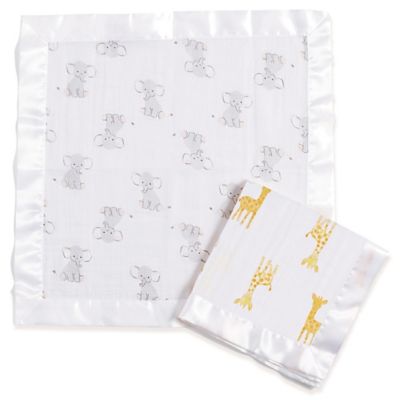 aden + anais™ essentials Issie Safari Babies Security Blankets in White (Set of 2)
$13.59
was $16.99
(20% off)
customer reviews
Showing 1 - 14 out of 14 reviews
What happened to the old tags?
Sony . 9 months ago
These are my daughters favorite things. I went to buy a bunch more and the old grey loop tags have been replaced with non loop blue tags. She puts her fingers through the loops and it's a huge part of the elephant and giraffe lovey appeal to her. Any way to get the old tags back? She won't accept the new tags (she's 3). Thanks!

Originally posted on adenandanais.com
Wish they were available still
Boymom35 . 9 months ago
My son LOVES these blankets. We have a ton, but they are getting older and I was trying to replace them. Now they are impossible to find. What happened to the security blankets?!

Originally posted on adenandanais.com
Christina p . 1 year ago
We love these. Just disappointed that there isn't a variety anymore. What happened to all of them?

Originally posted on adenandanais.com
Security blanket
Lovey . 1 year ago
I ordered these for my grandson. When he first touched one, he said that it wasn't going home with him. After I washed it and some of the stiffness went away, he was more opened to it. It would be nice if we could replace his "lovey" with one that is like the one he has, but it is discontinued. Why would you market it as a security blanket if you cannot get a replacement?

Originally posted on adenandanais.com
Light weight
BB&B Customer . 2 years ago
Small and easy to take
Grandson loves these!
Wwaugh . 2 years ago
My grandson loves these! They are the perfect size, high quality and super soft. I have purchased 3 sets so he can have a couple at home, at my house, and at preschool. I highly recommend them!

Originally posted on adenandanais.com
Soft and sweet
BB&B Customer . 2 years ago
My son never took a bottle or a paci so I wanted something that could soothe him while I'm gone.. he wasn't into them for the longest time but I just kept giving them to him and now he knows it means nap/bedtime.. I bought these at 3 months and he's now 10 months.. they're small, light, and soft which is great for all ages!
Princess Kacy . 2 years ago
So soft! Perfect size for infants up to toddlers! Highly recommend! ❤️

Originally posted on adenandanais.com
Stick to the known brands for quality
L Strunk . 3 years ago
Very poor quality for a high price. To thought I would give the brand a try because I liked the giraffe print. Also the size for the price is not what I expected. Would not recommend.
Super soft
BizzyB . 3 years ago
My son loves these! He ends up rubbing his face so I like they have the silky satin edging. He uses these to fall asleep.
Love these
carly . 3 years ago
I love the full size aden +anais receiving blankets. So soft, breathable and great designs. Since my son tends to wrap his blanket around his neck, these are perfect. They also are easy just to grab and use as a security blanket. They don't take up much room in your bag, so you can always have one on hand.
Best ever
LizBee . 4 years ago
I thought the blankets were a little rough at first, but with washing they have softened up. Our daughter carries BOTH everywhere. She's also been chewing on them constantly due to teeth. Love them!
Safe Lovey
Katie . 4 years ago
I feel comfortable using these as lovey's to help my son sleep since they are breathable.
The sweetest little blankets
LErl . 5 years ago
I bought these silky blankets for my new little one. They are soft and great quality! Exactly what I was looking for! Wish Aden & Anais made stroller or swaddle blankets with silky trim.
Showing 1 - 14 out of 14 reviews