Whether you've always dreamed of your baby's nursery or are just beginning to gather ideas, all the paint colors and techniques available today provide endless possibilities for making your special room truly unique.
When thinking about color, remember...
Pale and deep navy blues pair together well with white and can be accented with primary red or yellow.
It's easy to go too sweet with pink so stay to the dusty side or even coral. Pair with white for a classic look or for a twist, try a slight off white.
Color selection for gender-neutral nurseries can range from traditional greens to yellows. These are calming colors which will compliment wood tone furniture.
A classic black and white combination of warm white with small accents of black create a graphic backdrop alone or versatility to add other colors as the baby grows.
In small doses, trendier orange, red and white combinations offer a lively atmosphere to the nursery and work well with white furniture.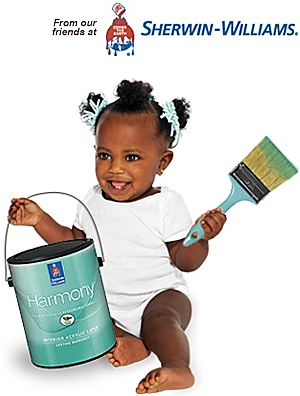 ---
Once you've chosen your color palette, make sure to choose a paint with zero-VOC's, like Harmony Interior Latex by Sherwin-Williams. And don't forget you will need about 1 gallon of paint for every 350 square feet of wall you are painting.
Click on an image below to learn how to achieve that look: