UPPAbaby® Vista Stroller in Navy Taylor Is Not Available For Sale Online.
This item may be discontinued or not carried in your nearest store. Please call your local store to check in-store availability before heading there. For informational purposes, the product details and customer reviews are provided.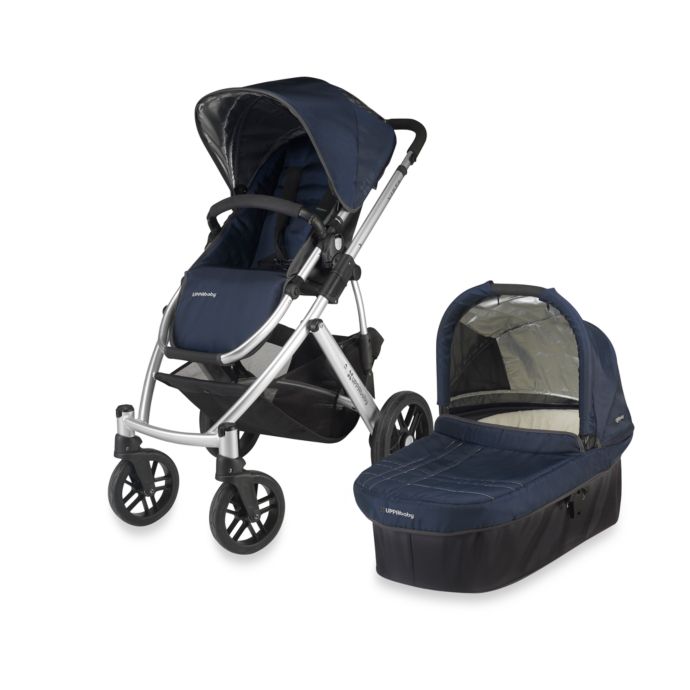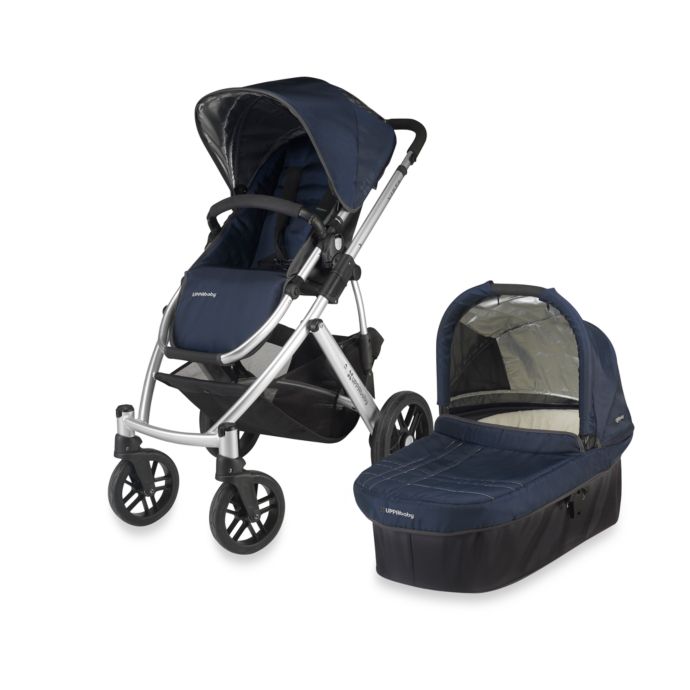 UPPAbaby
UPPAbaby® Vista Stroller in Navy Taylor
Current Location pathname : undefined and pageIdentifier PDP
Previous Location pathname : undefined and pageIdentifier
Recently Viewed cookies : undefined
This item is no longer for sale online
UPPAbaby® Vista Stroller in Navy Taylor
is rated out of
5
by
9
.
Rated

1

out of

5
by
MommaluvsMakeup
from
Poor Quality
I have been very disappointed with this stroller. We were first time parents and talked away from other high priced strollers to this one. Starting right around the 7 month mark the stroller would not fold easy. It takes multiple attempts to have it fold flat- which is one of the most important features considering that is a big selling point of this stroller. I was sold to this stroller because it could fold with the stroller seat attached (forward facing only). Many times the wheels get tangled and can not fold flat. This also makes it incredibly heavy to lift and turns out not such a big deal if I would have had to separate the seat from the stroller. There are no adult/parent drink holders and this a huge inconvenience once living with the stroller. The added accessories didn't help much as these we very poorly designed and would interfere with folding the seat down or not holding the drink correctly. I contacted Uppababys customer service about the very poor and undependable 1 attempt fold and was told to add wd40 which isn't good advice but they didn't want to be bothered and was a very poor customer service experience especially considering the price of this stroller and the low quality. The only pro is that this pushes well and easy on pavement or other smooth services. The back wheel base is pretty wide so it makes it a harder stroller to shop with. The basket is large but everything in your basket is easily exposed. Honestly, I have no idea why the stroller is marked as high as it is because me and my husband and other family members having to use this have been very disappointed and very inconvenienced especially by the folding of the stroller. We found ourselves not wanting to take this stroller because it was so inconvenient. This is a pricier stroller and I think it's very overpriced considering the quality. I wish I would have gone with my first instincts and not been talked into this stroller. I talk to many other parents that share this opinion of the Uppababy Vista stroller but hardly see a review that points out all the negative aspects of this stroller once a family has spent 9 or more months with it. I hope this helps others that are considering this stroller.
Date published: 2014-10-10
Rated

5

out of

5
by
Ange
from
Great Stroller System
I love this stroller so far! It is super sleek looking and highly functional. The bassinet is nice and the sun shade does a good job at keeping most of the light out. The netting on the side of the shade makes it a little difficult to keep it out from all angles. The bassinet is nice as a stand alone as well; although, a few times the back part collapsed about an inch or two. The one critique I'd give is that the bassinet is only able to be flat, which is a problem with babies with GERD. Some other high end strollers of adjustable inclines which help with that problem. Collapsing the stroller is a little tricky at first, but once you get the hang of it it's easy. I love how it folds in half which makes it easy to store. The basket is huge! Great if you have multiple things to carry and a huge purse or coat.
Date published: 2014-09-23
Rated

5

out of

5
by
EJ129
from
Excellent Stroller
1st time mom here. I did a ton of research on strollers and talked to a couple moms that had various strollers before deciding to spend the near $1000.00 on this one. Pros: it's SUPER easy to push and steer. It pretty much drives itself. It's easy to fold once you get the hang of it. It's not as easy as the Britax - but I think you'd be hard pressed to find something easier than that. The bassinet is super easy to snap in and out of the stroller, and our daughter loves being in it. It came with a bug shield and rain shield which is nice. It's a taller stroller so when we go to restaurants she's at table height which will be nice when she fits into the toddler seat. The under basket is HUGE so we can fit the diaper bag there as well as any shopping bags or coats. Nice to have hands free. Cons - it's heavy and large. This wasn't an issue for me but for some people I can understand it being a deterrent.
Date published: 2014-08-15
Rated

5

out of

5
by
abc123
from
LOVE!!!
We absolutely LOVE, LOVE, LOVE our vista. The ONLY downfall is the price, but it is SO worth it. It is so easy to use, turns very easy, folds easy. We haven't gotten to the toddler seat yet, but my friend's little ones said they liked it and like to sit in it. The bassinet is wonderful. We also bought the bassinet stand, which makes life so much easier. The clipping mechanism is very easy to use and makes transportation so smooth. We can easily go on a walk and bring baby inside and clip the bassinet right on the stand and let her sleep. No moving baby around. The basket is large on the bottom and there is no problem fitting everything you will need. It even has a few pockets, which come in handy. The carseat (mesa) fits in with it's own clips, and makes going out with baby easy. Just take the stroller frame and clip in the carseat and go. One other con besides the price is the size - even folded up it takes up a good deal of room in a car trunk. Not a big deal at all, but just takes planning if you need a ton of trunk space for other things while out.
Date published: 2014-07-14
Rated

5

out of

5
by
SuperMomJo
from
Great Height
I bought this stroller with my first child and I love it! We have traveled to Disney world with it and take it with us in the trunk wherever we go. I love the height because I don't like having to lean over much to put my kid in the stroller and while walking I don't have to lean over to push it. I'm only 5'8" but I still like things tall like my kitchen counter tops. It comes with a bassinet that I used when my baby was newborn in our bedroom and I would purchase the bassinet stand if you can (I love that now they come with a sun shade on the bassinet too, which mine didn't have). I didn't go out much in the beginning because I had a c section and was not up for walking outside for a few months. I ended up using my car seat the Chicco Key Fit 30 with the adaptor and popping it easy into the stroller from the car whenever I had to go out. I had two problems happen with my stroller. I had a faulty zipper on the canopy on the bottom that broke right away when we got it and the wheels on the front were not level. UppaBaby customer service people are great and sent me out replacements right away. They were even willing to send me a new stroller if sending me the wheels did not work. Since then I have even cleaned my stroller (had a soda explode at the zoo) with a baby wipe. It was very easy to clean! My daughter (now 2 years) doesn't like car seats or riding in shopping carts, but she does love to ride in this stroller. Which I need her to when shopping or she'd be everywhere in the store. We are going to purchase the rumble seat for her and eventually the standing bench, because we are having another baby. She does like to push the stroller when we let her and it is very easy to steer. Overall it is easy to fold, easy to lift, easy to steer, the height is great and adjustable, customer service is wonderful, the product is sturdy and worth the price! Even if you don't get the vista I would recommend their less expensive strollers.
Date published: 2014-07-02
Rated

5

out of

5
by
Julz
from
Beautifully made stroller!
This is the perfect stroller. We are expecting our first baby, a boy. After trying many different strollers at the store, my husband and I kept coming back to this one. It's incredibly sturdy, smooth riding, loads of storage, easy to operate, stylish and very cool in this black/gray finish. We also bought the uppababy car seat, which clicks right into this stroller with ease. I can't wait to have my son so we can stroll around!
Date published: 2014-04-16
Rated

5

out of

5
by
Natesmomma
from
Smartly made and easy enough for first timers!
We got this as a gift from a very generous family member and we love it!! Yes, it is pricey, but the bassinet is a life saver and great to use those first couple months. We strolled thought the neighborhood while the baby fell asleep, and we could leave him safely in there when we returned. All attachments easily pop in and out and the adapter for our maxi cosi infant seat were so easy to use!! Snap and go!
Date published: 2014-03-01
Rated

5

out of

5
by
LAW85
from
Worth The Money!
Originally I was dead set on purchasing the orbit baby G2 series stroller. However, the sales associate sold me on the UPPAbaby. What an amazing stroller! It handles with incredible ease, and it is easy to change out the bassinet with the seat. The storage underneath is perfect! It is enough to fit a diaper bag, plus more which is ideal for a shopping trip! I recently went back to finish my registry and was introduced to the UPPAbaby coordinating carseat. It also installs with ease, but if your heart is set on a different brand carseat, UPPAbaby offers an adapter for most brands. The stroller was easy to assemble, and stores nicely in the back of my vehicle. I highly recommend this stroller to anyone on the fence. Clearly a well thought out product! UPPAbaby got it right!
Date published: 2013-07-31