Pipette 6-Piece Baby Essentials Kit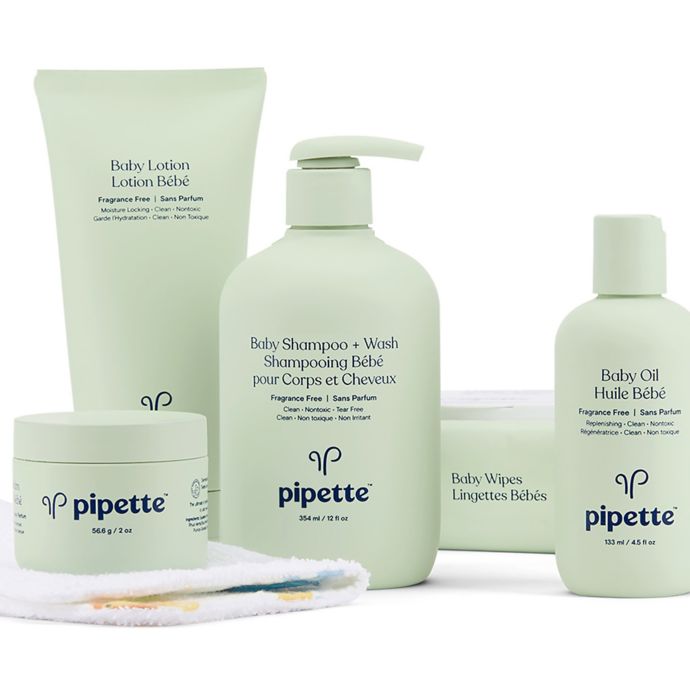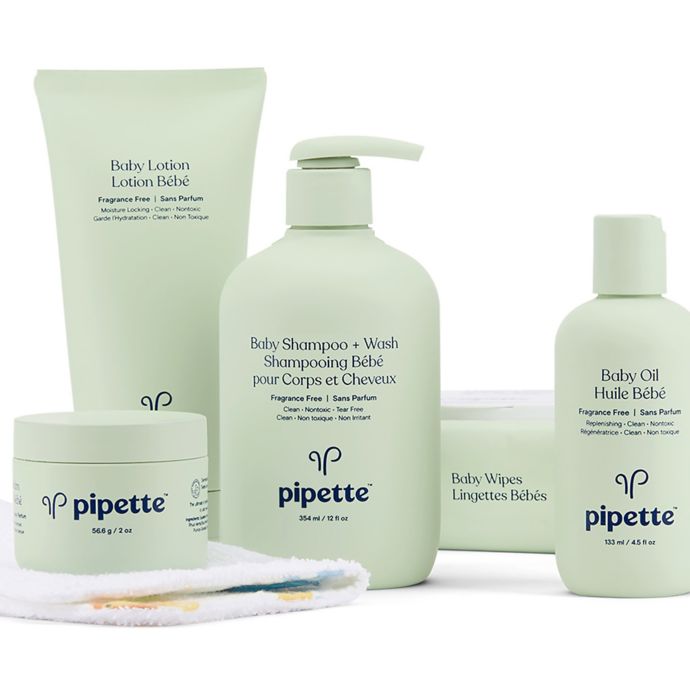 Pipette
Pipette 6-Piece Baby Essentials Kit
29979 people have this in their cart
Easy Returns
Items can be returned to any store or buybuybaby.com
You have up to 90 days after the in-store purchase, order pickup, or ship date to exchange or return, unless noted in the exceptions in our policy.
See return policy for details
Details
Consider this your handy survival kit to get you through baby's first few months: Our Baby Essentials Kit includes all the baby care items you need for bathtime, diaper changes, bedtime baby massages, and beyond.
Set Includes:

12 fl. oz. Fragrance Free Baby Shampoo & Wash
10 fl. oz. Fragrance Free Baby Lotion
50-Count Baby Wipes
4.5 fl. oz. Baby Oil
2 fl. oz. Baby Balm
100% cotton wash cloth

Tear-free Baby Shampoo & Wash balances the natural moisture of baby's hair and skin without irritation using gentle plant-derived cleansers and emollients
Lightweight, everyday Baby Lotion gives instant, long-lasting hydration
Lightweight and multipurpose Baby Oil locks in moisture for bedtime baby massages
Baby Balm provides deep, gentle moisture for baby's sensitive spots
Baby Wipes gently cleanse while plant-derived emollients like glycerin and squalane keep skin moisturized
Hypoallergenic
Dermatologist-tested
EWG Verified + Cruelty Free
Made in USA
Manufacturer
Amyris Clean Beauty, Inc.
Emeryville, CA 94608
Indications
N/A
Directions
Apply a pea-sized amount of Baby Shampoo & Wash to wet hair and body, lather, and rinse. Follow with a small amount of Baby Lotion, applying from top to teeny toes for rich and long-lasting hydration. To lock in additional natural moisture, share a sweet moment with baby and massage Baby Oil all over skin. Apply Baby Balm to sensitive spots like diaper line, and swipe our Baby Wipes wherever needed (they're gentle enough for all-over use). Close wipes firmly after use to seal in moisture.
Ingredients
Baby Shampoo + Wash, Fragrance Free, 12 fl oz Water: Pure, simple product baseLauryl Glucoside: Sugar-derived, sulfate-free cleanser that won't dry baby's skinSodium Lauroamphoacetate: Extra-gentle, plant-derived sulfate-free cleanser Glycerin: Plant-derived moisture attractorGlycolipids: Sugar-derived emollient cleansers that help support baby's developing skin moisture barrierSqualane: 100% sugarcane-derived, pure and sustainable moisturizing agent compatible with baby's skinMagnesium Chloride: Naturally occurring mineral that helps keep skin replenished.Sodium Gluconate: Naturally-derived ingredient that helps boost preservative effectivenessSodium Dehydroacetate: Organic salt preservativeSodium Benzoate: Food grade preservativeCitric Acid: pH adjustor that ensures perfect pH balance with baby's skinBaby Lotion, Fragrance Free, 6 fl ozWater: Pure, simple product baseGlycerin: Plant-derived moisture attractorSqualane: 100% sugarcane-derived, pure and sustainable moisturizing agent compatible with baby's skinPunica Granatum (Pomegranate) Sterols: Antioxidant-rich superfruit known to help defend against environmental stressors and increase moistureCeramide NP: Helps form an effective barrier against moisture loss and comforts sensitive and dry skinCaprylic/Capric Triglyceride: Skin-replenishing emollient derived from coconut oilCetearyl Olivate: Plant-derived skin softenerSorbitan Olivate: Plant-derived skin softenerPhytic Acid: Plant-derived pH adjustor that ensures the perfect pH balance with baby's skin Sodium Dehydroacetate: Organic salt preservativeSodium Benzoate: Food grade preservativeSodium Carbomer: Thickener to keep lotion smooth and uniformBaby Wipes, 50 ctWater: Pure, simple baseGlycerin: Plant-derived moisture attractorSqualane: 100% sugarcane-derived, pure and sustainable moisturizing agent compatible with baby's skin.Sorbitan Oleate Decylglucoside Crosspolymer: Plant-derived stabilizerSorbitan Caprylate: Sustainable preservative boosterSodium Benzoate: Food grade preservativePotassium Sorbate: Food grade preservativeCitric Acid: pH adjustor used in low amounts to ensure perfect pH balance with baby's skinBaby Balm, 2 fl ozSqualane: 100% sugarcane-derived, pure and sustainable moisturizing agent compatible with baby's skin.Hydroxystearic/Linolenic/Oleic Polyglycerides: Natural, plant-derived mix of polyglycerides rich in fatty acids that help provide gentle moistureJojoba Esters: Hydrating, plant-derived skin softeners Rhus Verniciflua Peel Cera: Berry wax that gives our balm its soft, velvety textureGlyceryl Behenate/Eicosadioate: Plant-derived ingredient that helps with texture and spreadabilityPunica Granatum (Pomegranate) Sterols: Antioxidant-rich superfruit known to help defend against environmental stressors and increase moistureTocopherol (Vitamin E): Antioxidant vitamin that helps defend against environmental stressorsBaby Oil, 4.5 fl oz Squalane: 100% sugarcane-derived, pure and sustainable moisturizing agent skin compatible with baby's skinLinoleic, Oleic and Linolenic Acids: Plant-derived essential fatty acids that helps lock in moisture and soften skinCeramide NP: Helps form an effective barrier against moisture loss and comforts sensitive and dry skinAçaí Berry Sterols: Antioxidant-rich superfruit that helps support and maintain moisture in the skinCaprylic/Capric Triglyceride: skin-replenishing emollient derived from coconut oilTocopherol (Vitamin E): Antioxidant vitamin that helps defend against environmental stressorsLecithin: Sunflower-derived skin softenerWashcloth (ingredients not applicable)
Warnings
N/A
Drug Interactions
N/A