Pipette 4 oz. Belly Butter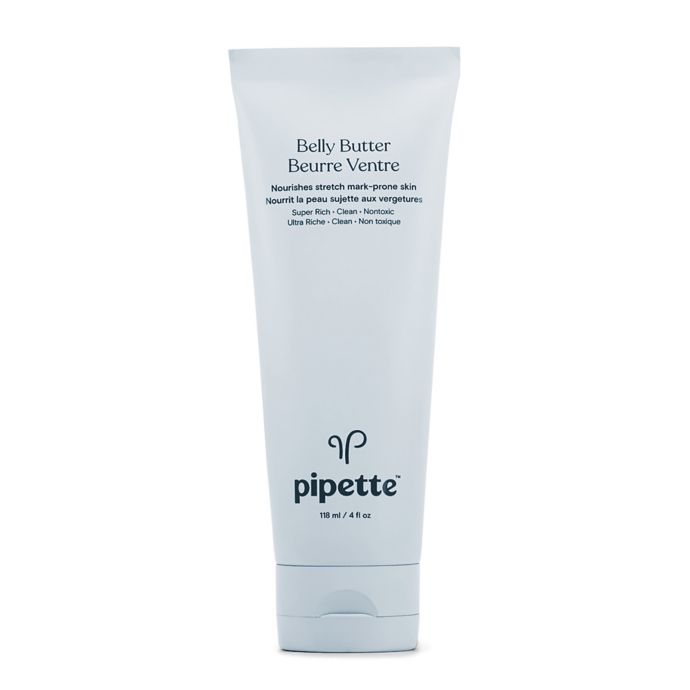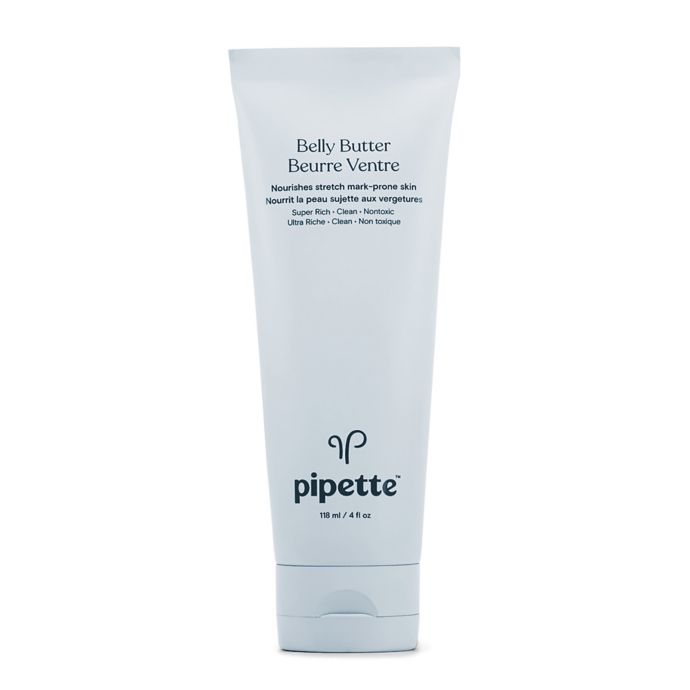 Details
Moisturize your growing belly with Pipette's Belly Butter to help nourish and hydrate skin. The combination of shea butter and plant-derived peptides help reduce the appearance of stretch marks as skin grows.
Ultra-rich Shea butter and peptide formula helps minimize the appearance of stretch marks
Hydrating, plant-derived glycerin and ceramides help retain skin's moisture
Sugarcane-derived squalane adds weightless moisture to help to balance hydration levels
Ultra-rich formula to help support growing belly
Hypoallergenic
Dermatologist Tested
Ophthalmologist Tested
EWG (Environmental Working Group) Verified
Cruelty-Free + Vegan
4 oz.
Made in USA
Manufacturer
Amyris Clean Beauty, Inc.
Emeryville, CA 94608
Indications
N/A
Directions
Massage into skin to keep it moisturized, morning and night. Use pre- and post-partum with Belly Oil for extra support.
Ingredients
Water: Pure, simple product baseSqualane: 100% sugarcane-derived, pure and sustainable ingredient that adds weightless moistureGlycerin: Plant-derived moisture attractor Palmitoyl Tripeptide-5: Peptide that helps reduce the appearance of stretch marksCeramide NP: Helps form an effective barrier against moisture loss and comforts sensitive and dry skinButyrospermum Parkii (Shea) Butter: Antioxidant-rich, plant-derived moisturizerCaprylic/Capric Triglyceride: Skin-replenishing emollient derived from coconut oilCetearyl Olivate: Plant-derived skin softenerGlyceryl Stearate SE: Plant-derived emulsifier to keep lotion smooth and uniformSorbitan Olivate: Plant-derived skin softenerJojoba Esters: Hydrating, plant-derived skin softenersPunica Granatum (Pomegranate) Sterols: Antioxidant-rich superfruit known to help defend against environmental stressors and increase moistureSodium Hyaluronate (Hyaluronic Acid): Super-hydrator that helps hold moisture in the skinPanthenol: A moisturizing form of vitamin B5 that helps keep skin suppleCetyl Palmitate: Plant-derived skin softener Sorbitan Palmitate: Plant-derived emulsifying agent that leaves a light, non-greasy finishMarrubium Vulgare (Horehound) Extract: Herbal extract that helps calm skinPotassium Sorbate: Food grade preservative Carbomer: Thickener to keep skin smooth and uniformSodium Gluconate: Naturally-derived ingredient that helps boost preservative effectivenessSodium Dehydroacetate: Organic salt preservativeSodium Benzoate: Food grade preservativeTocopherol (Vitamin E): Antioxidant vitamin that helps improve skin suppleness Linalool: Naturally relaxing aromatic compound derived from orange peel oilCitrus Aurantium Amara (Bitter Orange) Peel Oil: Naturally aromatic essential oil from bitter orange peelLimonene: Naturally aromatic ingredient from citrus fruit rindGeraniol: Naturally aromatic ingredient from orange peel oil
Warnings
N/A
Drug Interactions
N/A
Related Categories
Related Searches