Mommy's Bliss® 4 oz. Gripe Water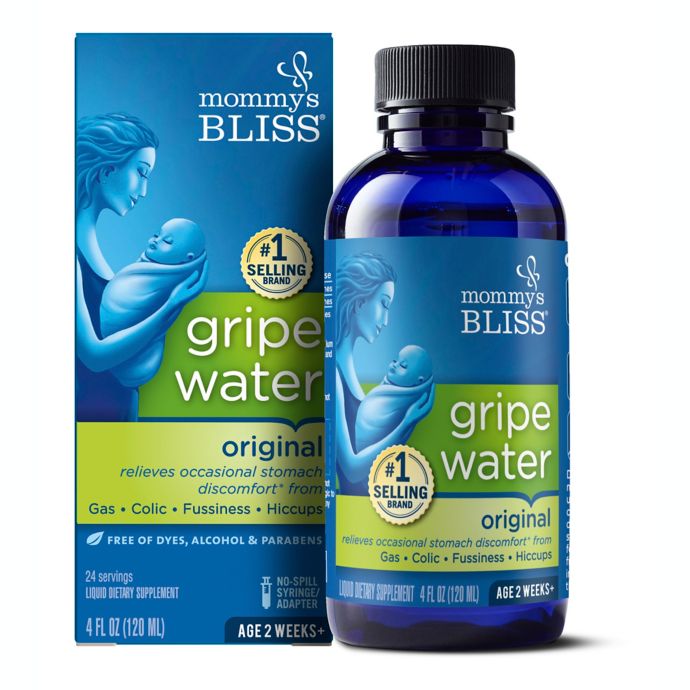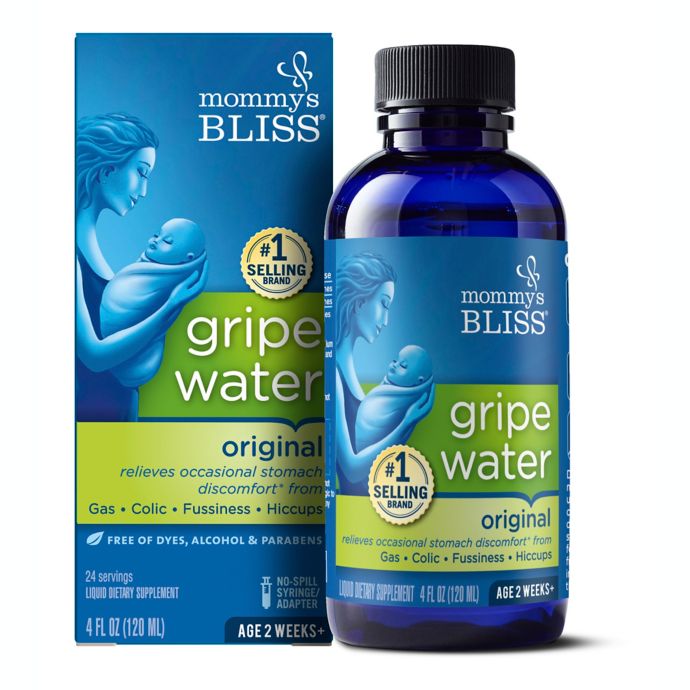 Details
Mommy's Bliss Gripe Water Original is a safe and gentle liquid herbal supplement used to ease baby's tummy troubles. Our #1 selling formula contains organic ginger and fennel, to aid in digestion, relieve gas, and calm the tummy.*
Manufacturer
Mom Enterprises
San Rafael, CA 94903
877-457-4955
#1 selling gripe water for infant gas and colic relief
Designed by moms for baby's sensitive palate
Made with organic ginger and fennel
No added sugar, no alcohol, no artificial flavors or colors, and free of the top 8 allergens
NSF Certified: Independently tested and certified to meet standards for quality, safety and label claims
*These statements have not been evaluated by the Food and Drug Administration. This product is not intended to diagnose, treat, cure, or prevent any disease
Directions

Shake well. Sediment is normal. May be taken directly by dropper or teaspoon up to 6 times in 24-hour period. We recommend discarding 6 weeks after opening. Recommended Dose; Babies 2 weeks to 1 month of age: 1/2 teaspoon (2.5 ml); Infants 1 to 6 months of age: 1 teaspoon (5 ml); Children 6 months and older: 2 teaspoons (10 ml); Adults: 2 tablespoons (30 ml). Store at room temperature.
Ingredients
:
Deionized Water, Vegetable Glycerin, Sodium Bicarbonate, Citrus Bioflavonoid Extract, Citric Acid, Potassium Sorbate and Natural Fennel Flavor
Warnings:

Tamper Evident: This product has a safety seal for your protection. Do not use if seal is broken or missing. Keep this and all supplements out of the reach of children. Do not exceed dosage. Since infants have immature immune systems, a possibility exists that an infant may have a rare allergic reaction. Always consult your healthcare provider prior to giving this or any supplement to an infant.