MAM Orthodontic Perfect Night Size 6+ Months 2-Pack Pacifiers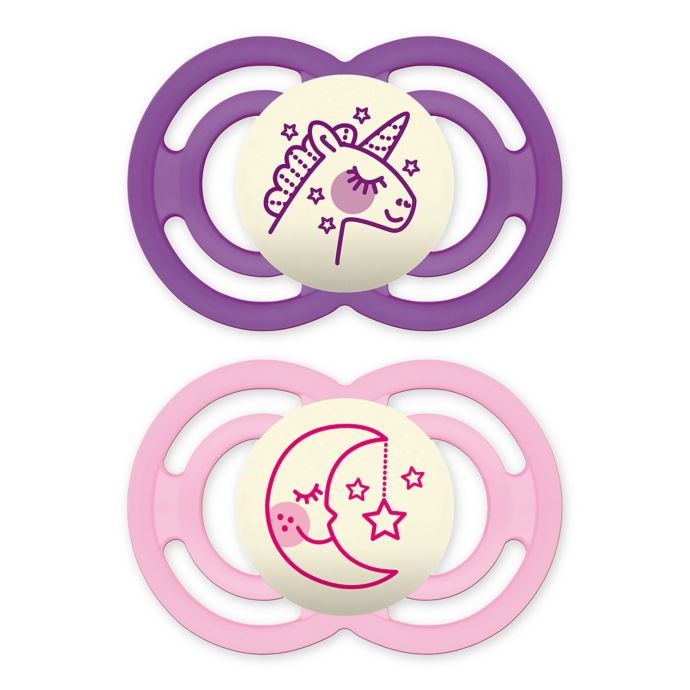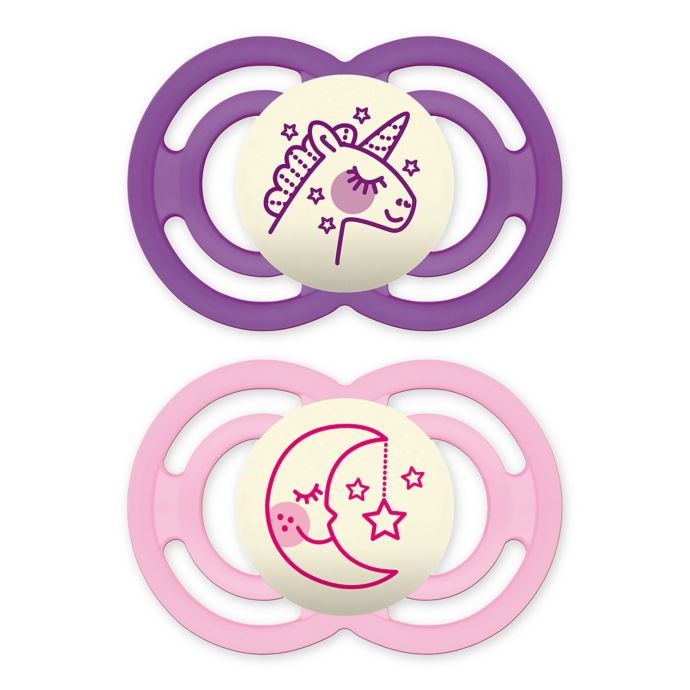 MAM
MAM Orthodontic Perfect Night Size 6+ Months 2-Pack Pacifiers
Current Location pathname : undefined and pageIdentifier PDP
Previous Location pathname : undefined and pageIdentifier
Recently Viewed cookies : undefined
8 people have this in their cart
MAM Orthodontic Perfect Night Size 6+ Months 2-Pack Pacifiers
is rated out of
5
by
59
.
Rated

5

out of

5
by
Pasa
from
Great pacis!
Baby loves these great they glow in dark and baby can find in own if he wants. I like that their reduced size for sucking so it doesn't affect teeth as bad as others
Date published: 2018-07-03
Rated

5

out of

5
by
Mama of 7
from
Great
My son prefers the mam perfect pacifiers over the others it slimmer. He is three months old uses a 6 month size he chews on them also due to him teething early. It keeps him satisfied and me happy!
Date published: 2018-05-18
Rated

5

out of

5
by
Mamabear1617
from
Both my sons only take mam
The brand is so amazing both my son take strictlly mam and i am very excited for the new perfect fit bc my oldest is two and look to his paci for comfort so this will prevent me from having to take it so early on now he can wait till he is ready
Date published: 2018-05-01
Rated

5

out of

5
by
Cristin
from
One of Baby's Favorites
My son will take a couple of kinds of similarly shaped pacifiers, but MAMs seem to be his favorite. I love that this one attaches it easily to a clip if needed (although we don't do that often since it needs to come off for sleep anyway) and that it has good airflow, since my son suffers from eczema and his skin gets irritated easily. They're also easy for my 7 month old to hold, although not quite as easy as the MAM Air style. These are a little pricier than some binks, but definitely glad we have some in the rotation!
Date published: 2018-01-09
Rated

5

out of

5
by
blablabla
from
Great Product
Great product. Happy baby and very useful that you can see it in the dark
Date published: 2017-12-30
Rated

5

out of

5
by
ConniT
from
Best Tried & True Pacifier
I have to start out by saying our family is a big fan of every MAM product we've ever tried. And that trend continues with their Perfect Night pacifier. I love the research that has went into their development of the nipple in order to ensure that their product is safe on baby's oral development. We've tried other brands, but our little one always goes back to the MAM pacifiers and this holds true with the Perfect Night pacifier. I believe this is due to the nipples texture and the comfortable design of the faceplate area. The faceplate area on the MAM pacifiers doesn't leave indention marks around her mouth as compared with other brands. And I love how MAM makes part of the packaging a sterilizing travel case. I found the glow-in-the-dark feature to be a bit gimmicky as I've never had to hunt for it in her crib (once she's asleep she doesn't wake up when it pops out), but if you find yourself having to give the pacifier over and over in the dark then I could see how this feature might be a huge advantage. As always a huge thank you to the weeSpring Parent Panel for sending us this new pacifier by MAM!
Date published: 2017-12-28
Rated

3

out of

5
by
SweetScrubby
from
Good Product, but Not Right for My Twins
I received the MAM Pacifier through the weeSpring Parent Panel and had high hopes after just looking at the unique design. It was really light, with glow in the dark features on top so it could be easily found at night. It also comes with a nice, clear case, so you can easily store the paci, keep it clean, and it also makes it easier to locate in a diaper bag or purse. The nipple design is a little flatter than what my twin girls have been used to since birth, they have used a more rounded nipple. Unfortunately my girls didn't care for this product and would almost immediately rip it out, throw it across the room, and whine until they got their old pacifiers back. I do not believe this is an issue with the product, it is simply what my girls have gotten used to, and are perhaps a bit stubborn. I believe if I had started them off with a nipple of similar shape, they would love this pacifier, but they are little creatures of habit.
Date published: 2017-12-26
Rated

5

out of

5
by
ekaylenem
from
Perfect paci!
I recieved this pacifier as part of a Weespring parent panel and I loved it! We've only ever used MAM paci's. We love the shape and how well they stay in baby's mouth. But this MAM paci has been our favorite! We love the skinnier base, it makes it easier to keep in baby's mouth and sits much more naturally in his mouth. He loves it! And I'm not worried that it will change his bite line. Also the glow in the dark feature is awesome! Sterilizing case is convenient and easy to use but we sterilize all our binkies at the same time in one bowl so we didn't really use it. But over all we love the new design! Thank you weeSpring!
Date published: 2017-12-24