Joovy® Airnoogie 2-Pack Pacifiers in Lime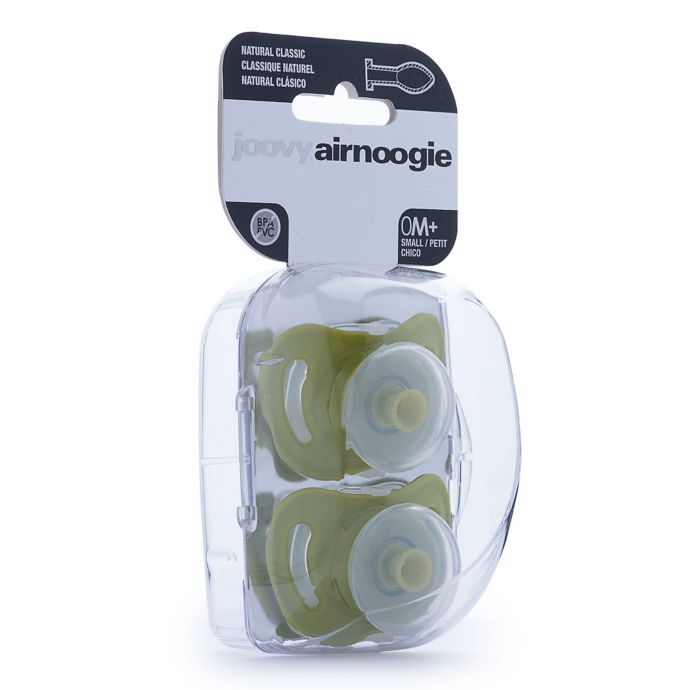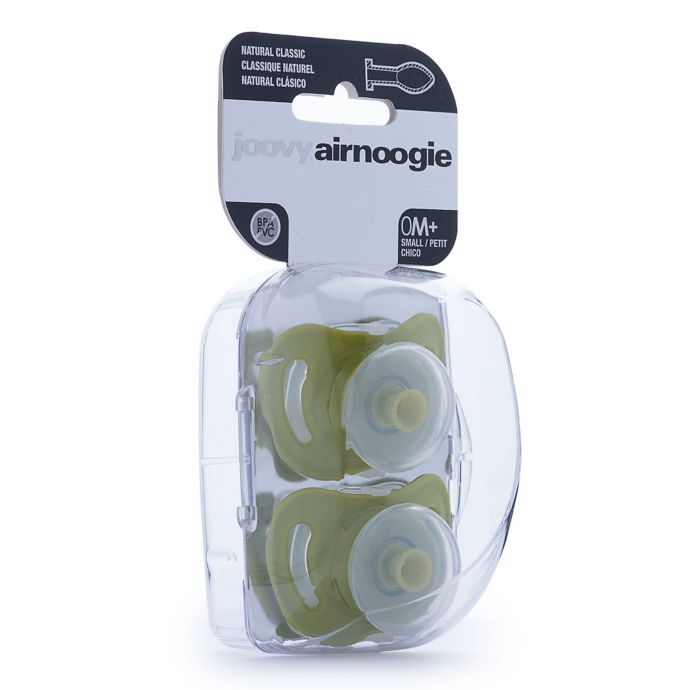 Joovy
Joovy® Airnoogie 2-Pack Pacifiers in Lime
Current Location pathname : undefined and pageIdentifier PDP
Previous Location pathname : undefined and pageIdentifier
Recently Viewed cookies : undefined
Joovy® Airnoogie 2-Pack Pacifiers in Lime
is rated out of
5
by
7
.
Rated

5

out of

5
by
Lauren R
from
My son loves the Airnoogie!
We have the 6m+ Airnoogie and my son loves them! I like that there is not only the protective "air" feature, but it also seems that this allows him to get an easier grasp on it to put it back in his mouth at night (thankful mom!) So far so good and I love that there are simple color options as well!
Date published: 2018-09-17
Rated

5

out of

5
by
Kimberly H
from
My Baby Loves It!
Hello. I received 2 of these pacifiers at the Chicago Baby Show and when I gave it to my baby she refused to take another pacifier. Its her favorite. In fact I tried Nuk and another brand before this one and she didn't even like pacifiers before the AirNoogie. She Loves it! I hunted this website down because I didn't recall the name or brand. Sent an email to the person in charge of Baby Show so I can buy the product. Thank God I thought outside the box. My Khloe will be so happy. :)
Date published: 2018-03-14
Rated

5

out of

5
by
Wyoming Mama
from
Favorite pacifier
I have five children, and my 3 month old is the first one who wants and will take a pacifier. The Airnoogie is the one she loves best. I love the soft handle (which she will eventually be able to grab) and the fact that it always lands upside down so a quick drop doesn't mean I need to find a new paci! When I boil it occasionally, I simply squeeze the handle and shake it to get all the water out and it does great. We will be getting another - highly recommend!
Date published: 2017-11-23
Rated

5

out of

5
by
AW11
from
Great binky!
I was almost sure our little girl wouldn't take to these because she refused so many others and only liked MAM but she loves these as well! The little ball makes it easy for her to grip. When washing don't submerge them in water, just brush it clean while it's damp. Soapy water can get in the teat part but if you run it under water and keep squeezing, it comes out. Also like the little cases for them! All around great pacifier!
Date published: 2017-07-06
Rated

5

out of

5
by
Neely
from
The only one to get
Our little boy is very finicky about pacifiers and he loves this one! Its been a dream for cranky moments. 100% would gift to anyone!
Date published: 2017-06-27
Rated

1

out of

5
by
MomofAaaa
from
Price
Although it might be a great product it's way to expensive. It doesn't cost that much to make a reasonable price would be like 5.99 for 2
Date published: 2017-04-27
Rated

1

out of

5
by
Maria
from
Dont recomend this pacifiers
I bought these pacifiers and when I sterilized them in the baby breeza sterilizer. When it finished, the product was completely wet from the inside, I don't know how water got into them.
Date published: 2017-03-28