Honest® Small Diaper Cakes in Rose Blossom Pattern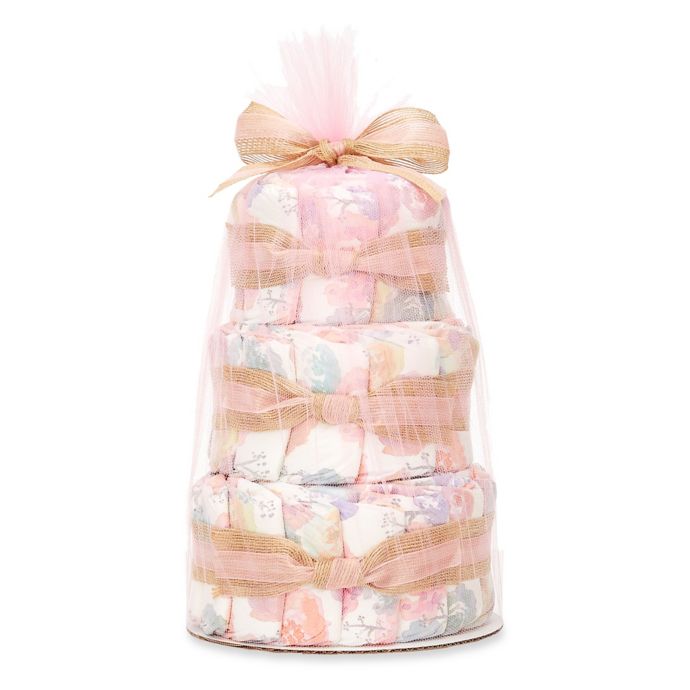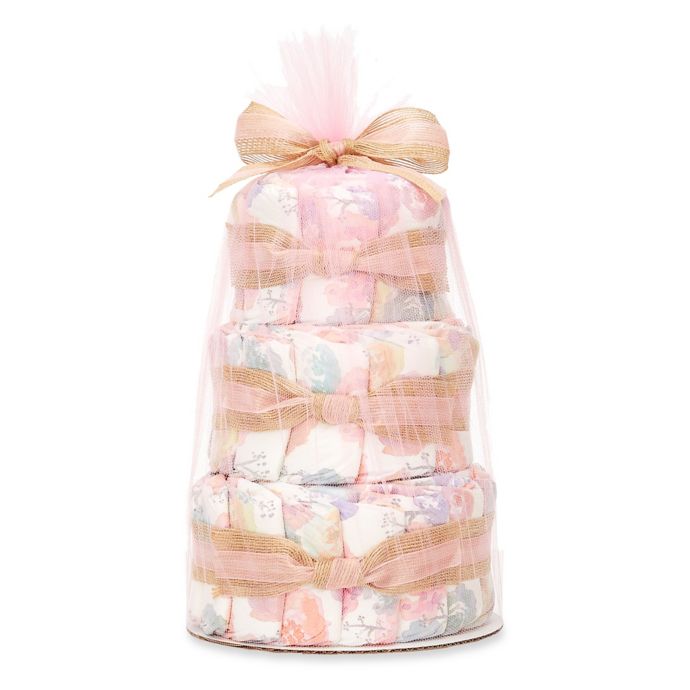 19984 people have this in their cart
Easy Returns
Items can be returned to any store or buybuybaby.com
You have up to 90 days after the in-store purchase, order pickup, or ship date to exchange or return, unless noted in the exceptions in our policy.
See return policy for details
Details
The Small Diaper Cake is packed with ultra-absorbent, diapers that are extra soft, hypoallergenic and free of chlorine. Includes a delightful surprise of 5 essential baby care items made with non-toxic ingredients.
Small Diaper Cakes are packed with super soft, ultra absorbent diapers, and inside are 5 baby basics and nursery essentials.
Each Small Diaper Cake includes:

35-count Size 1 Diapers – premium, ultra soft, ultra absorbent, gentle, and disposable diapers
0.75 fl. oz Shampoo + Body Wash – gentle 2-in-1 formula designed to cleanse the body from head to toe
0.75 fl. oz. Face + Body Lotion - naturally derived botanicals leave skin feeling soft and hydrated
0.75 oz Organic All-Purpose Balm – all-purpose ointment for dry, rough, or sensitive skin
2 fl. oz Laundry Detergent – powerful stain fighter in a gentle, plant-based detergent
10-count Wipes – premium, plant-based baby wipes in the perfect travel size
Ingredients: Diaper Cake Shampoo +Body Wash ALOE BARBADENSIS (ALOE) LEAF JUICE, WATER, SODIUM LAURYLGLUCOSIDES,HYDROXYPROPYLSULFONATE, SODIUM METHYL COCOYL TAURATE, COCAMIDOPROPYLHYDROXYSULTAINE, SODIUM LAURYL GLUCOSE CARBOXYLATE, LAURYL GLUCOSIDE GUAR HYDROXYPROPYLTRIMONIUMCHLORIDE, CALENDULA OFFICINALIS FLOWER EXTRACT, CHAMOMILLA RECUTITA(MATRICARIA) FLOWER EXTRACT, CITRUS AURANTIUM DULCIS (ORANGE) PEEL OIL, VANILLAPLANIFOLIA FRUIT EXTRACT, CITRUS TANGERINA (TANGERINE) PEEL OIL, COCOS NUCIFERA(COCONUT) OIL, TRIETHYL CITRATE, HYDROLYZED JOJOBA PROTEIN, HYDROLYZED QUINOA,GLYCERIN, DISODIUM COCO-GLUCOSIDE CITRATE, SODIUM CITRATE, CAPRYLHYDROXAMICACID, CAPRYLYL GLYCOL CERTIFIED ORGANIC INGREDIENT Warnings: For external use only.Avoid contact with eyes. If any adverse reaction develops, stop use and contactyour physician.  Ingredients: Face + Body LotionWATER, CAPRYLIC/CAPRIC TRIGLYCERIDE, BUTYROSPERMUM PARKII (SHEA) BUTTER,CETEARYL ALCOHOL, GLYCERYL STEARATE, CETEARYL OLIVATE, GLYCERIN, SORBITAN OLIVATE,CALENDULA OFFICINALIS FLOWER EXTRACT, CHAMOMILLA RECUTITA (MATRICARIA) FLOWEREXTRACT, ALOE BARBADENSIS LEAF EXTRACT, OENOTHERA BIENNIS (EVENING PRIMROSE)OIL, OLEA EUROPAEA (OLIVE) FRUIT OIL, SIMMONDSIA CHINENSIS (JOJOBA) SEED OIL,ANTHEMIS NOBILIS (CHAMOMILE) FLOWER OIL, CARTHAMUS TINCTORIUS (SAFFLOWER) SEEDOIL, CAPRYLHYDROXAMIC ACID, HYDROXYETHYLCELLULOSE, XANTHAN GUM, CAPRYLYL GLYCOLCERTIFIED ORGANIC INGREDIENT Warnings: External use only. Avoidcontact with eyes. If any adverse reaction develops, stop use and contact yourphysician. Ingredients: Healing Balm HELIANTHUSANNUUS SUNFLOWER SEED OIL, CERA ALBA BEESWAX, OLEA EUROPAEA (OLIVE) FRUIT OIL,COCOS NUCIFERA (COCONUT) OIL, BUTYROSPERMUM PARKII (SHEA BUTTER), CALOPHYLLUMTACAMAHACA TAMANU OIL, CALENDULA OFFICINALIS FLOWER EXTRACT, ANTHEMIS NOBILISCHAMOMILE OIL, TOCOPHEROL NON-GMO CERTIFIED ORGANIC INGREDIENT Warnings: External use only. Avoidcontact with eyes. If any adverse reaction develops, stop use and contact yourphysician. Ingredients: Bubble Bath  WATER,LAURYL GLUCOSIDE, DECYL GLUCOSIDE, COCAMIDOPROPYL HYDROXYSULTAINE, GLYCERIN,ALOE BARBADENSIS (ALOE) LEAF JUICE, CALENDULA OFFICINALIS FLOWER EXTRACT,CHAMOMILLA RECUTITA (MATRICARIA) FLOWER EXTRACT, CITRUS TANGERINA (TANGERINE)PEEL OIL, COCOS NUCIFERA (COCONUT) OIL, HYDROLYZED JOJOBA PROTEIN, HYDROLYZEDQUINOA PROTEIN, GLUCONOLACTONE, CITRIC ACID, SODIUM BENZOATE CERTIFIED ORGANICINGREDIENT Warnings: External use only. Avoidcontact with eyes. If any adverse reaction develops, stop use and contact yourphysician Ingredients:4-in-1 Laundry PacksSODIUM CARBONATE (NATURAL SODA ASH TO SOFTEN WATER & FABRICS), SODIUMCARBONATE PEROXIDE (SOLID FORM OF HYDROGEN PEROXIDE BONDED WITH NATURAL SODAASH TO CLEAN & BRIGHTEN), SODIUM METASILICATE (MINERAL-BASED CLEANSER &SOFTENER), SODIUM SULFATE (MINERAL SOFTENER), LAURYL GLUCOSIDE (PLANT-BASEDCLEANSER, C9-11 PARETH-3 (CLEANSER), C12-15 PARETH-7 (BIO-DERIVED CLEANSER),SODIUM CITRATE (CITRUS-DERIVED CLEANSER), TETRASODIUM IMINODISUCCINATE(BIODEGRADABLE WATER SOFTENER), ALPHA AMYLASE (STAIN-REMOVING ENZYME), ALPHAPROTEASE (STAIN-REMOVING ENZYME), CELLULOSE GUM (NATURAL SOFTENER), SILICA(ANTI- CAKING MINERAL), CALCIUM SILICA  ANTI- CAKING MINERAL,POLYVINYLALCOHOL BIODEGRADABLE, WATER-SOLUBLE FILM Warnings: Avoid contact with eyes. Incase of eye contact, flush with water for 15 minutes. Do not ingest. Ifswallowed, drink water, and consult your physician. Keep out of reach ofchildren and pets. Ingredients: Wipes:PURIFIED WATER,CITRIC ACID (FRUIT-BASED STABILITY AGENT), SILVER DIHYDROGEN CITRATE (ALLNATURAL, WATER-SOLUBLE PRESERVATIVE), DECYL GULCOSIDE (SUGAR-BASED CLEANSER),SODIUM CITRATE (CORN-BASED ANTIOXIDANT), PUNICA GRANATUM (POMEGRANATE FRUIT)EXTRACT, GLYCYRRHIZA URALENSIS (LICORICE ROOT) EXTRACT, CHAMOMILLA RECUTITA(CHAMOMILE) EXTRACT, CUCUMIS SATIVUS (CUCUMBER FRUIT) EXTRACT, PEUCEDANUMOSTRUTHIUM (MASTERWORT LEAF) EXTRACT Compostability: Will Compost in MunicipalIndustrial Facilities According toISO, ASTM, and EN Regulations Warnings: External use only pleasediscontinue use if prolonged irritation or redness occurs. To avoid risk ofchoking or suffocation, keep away from children. To Use: Peel back tape and usewipes as needed. Close lid firmly after every use to keep moist. Store at roomtemperature