HALO™ Bassinest® Twin Sleeper in Sand Circles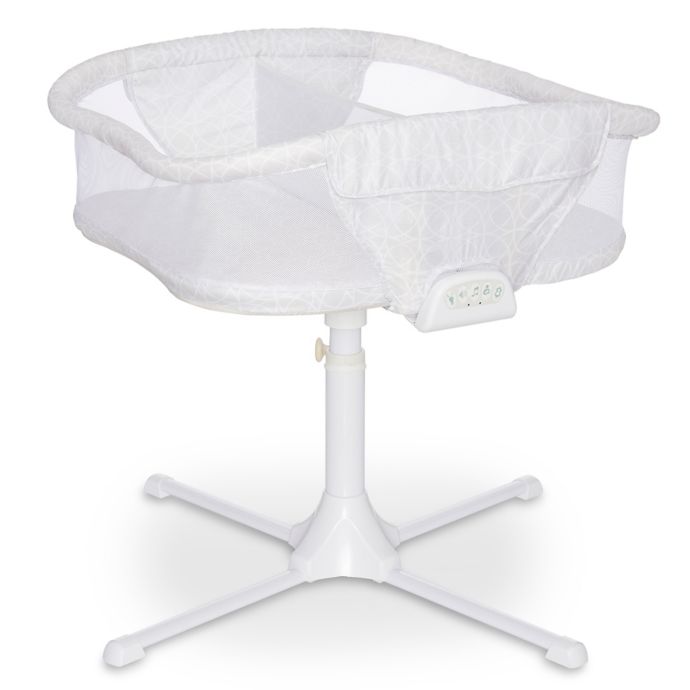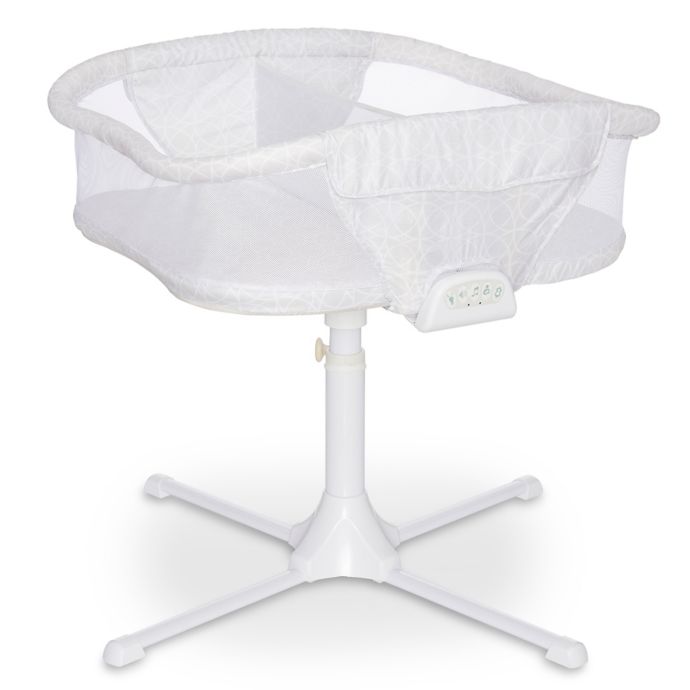 HALO
HALO™ Bassinest® Twin Sleeper in Sand Circles
Current Location pathname : undefined and pageIdentifier PDP
Previous Location pathname : undefined and pageIdentifier
Recently Viewed cookies : undefined
45 people have this in their cart
HALO™ Bassinest® Twin Sleeper in Sand Circles
is rated out of
5
by
13
.
Rated

1

out of

5
by
Ashley
from
Lowered on its own
Ours would lower slightly every time it swiveled. Then one day it dropped at least six inches. We had the settings correct and tight.
Date published: 2019-08-20
Rated

1

out of

5
by
disappointed
from
whoops.
In anticipation of my twin grandchildren we ordered the halo twin bassinette. Obviously this was ordered and delivered and set up before the chikdren were born. Within 60 days of their birth the mechanism intended to position the bassinette at the height of a bed mattress and allow the bed to turn, would not maintain the height through the night. Of course that meant that this bassinette would not turn because it was now against the mattress, not just above it. Readjusting the bassinette simply meant it started at mattress height when they laid down. And then repeated the process of not being able to use the turning function of the bassitnette which was the principle reason behind its purchase. My daughter's first efforts to resolve were met with BB&B explaining that returns or returns for exchange were required to arrive unused, with all original packaging. Had we realized that I would have preseved all the packagjng and not allowed the twins to sleep in it. Then we could have searched through the ten cubic yards of trash we woukd have saved from all the baby supplies delivered over the many weeks before the twins arrived. The logic behind original packaging materials being saved would have applied to more than just the bassinet, right? Of course we would not have needed to return or replace it because without ever having had any weight in the bassinette, I am reasonably sure the height would have been maintained without any loss of altituude while my daughter and son-in-law were (intermittently) sleeoing. The unused and reasonably stable bassnette would have made a wonderful addition to our preparation. We would have been ready for anything except babies sleeping in the bassinette. We did envounter some sympathetic BB&B employees who seemed to recognize the lack of logic associated with not disposing of the original packaging and not using the bed to avoid this experience. Eventually a manager at the local retail store set up my daughter's return. It took considerable effort to make that happen. So they received the bed back for their evaluation on August 4. Because the return was going to take several days, and who knew how long the evaluation was going to take, and the babies were going to be using at least temporary sleeping arrangements for an indeterminate time, we had elected the return as my option. Any faith in going for a replacement was blocked by two things. First, we would have been saving the original packaging, until perhaps the kids' third or fourth birthday. At which time the then unused bassinette could be re-packaged and returned? But if the replacement had been out and in use, then we coukd be stuck in the dilemma if not having an unused bed, so it would have been ineligible for return. How many days shoukd babies sleep in temporary ciscumatnces? As each day and now weeks has passed the whole rationale for bassintettes is being invalidated. The parents have not had the convenience intended by this novel, exoensive, and dis-functional product. It has been over two weeks and no word from BB&. So if you are setting up a nursery for an expactant mother, and buying the items you feel are needed from BB&B, be sure to keep all the original packaging and make sure the moms and babies don't use anything until you confirm the items are functional for the period you know you need them. Let me know how that goes, OK? And if you expect twins or even more at one time, I would suggest bassinette mattresses in cardboard bankers boxes in lieu of a $500, double, height adjustable, bassinette that spins. if you already have other kids they could decorate the boxes to welcome their siblings. and at the end of the day you'll have some great storage boxes full of memories. and you'll save about how many dollars? Placing the boxes on a banquet table would put the babies at a convenient height. As is these parents and twins have been part of their next routine using a crib for sleep for a couple extra weeks now. Anything that would have made these early months easier woukd have been worth $500. Now they stumble in the dark to meet the kids needs. The last thing they'd have time for would be even assembling a replacement bassinette and storing the boxes and not letting anyone near the bassinette. .
Date published: 2019-08-18
Rated

5

out of

5
by
twinmama
from
A Necessity for Twins!
We purchased after doing extensive research on safe sleep practices for twins. I knew that I wanted the best product for my own peace of mind. The Twin Halo Bassinest was the answer and I have zero regrets. Our twins slept "like a dream" and so did we. I loved that they each had their own designated space but that the mesh divider allowed them to feel "together". The other features were just added bonuses - it spins, it vibrates, it plays music, the sides drop down, it has a nightlight and a caddy for essentials. This is a MUST HAVE - you will not regret having this!!!
Date published: 2019-07-31
Rated

5

out of

5
by
Charityisacat
from
The only way to twin sleeping
I'm so thankful for this bassinet! I can finally rest easy knowing my babies are safely asleep beside me. Not to mention all the cool features, 360 degree rotation, lullabies and white noise, vibrating mattress, let down sides. There's even an alarm automatically set at 30 minutes to remind you to put your baby back. Before the halo sleeper, co sleeping while breastfeeding was so much more challenging. Not anymore!
Date published: 2019-06-25
Rated

5

out of

5
by
Twinboymomma
from
Peaceful sleep
Finding a way to maximize our space when adding two more babies to our family was a must. I also wanted to make sure I'm keeping my boys as safe as possible. The bassinest checks both of those off my list. The babies can sleep close together but are safely separated. The footprint is small enough to allow us to keep the bassinest close to my bed, and I can rotate it to easily get in and out or swivel which boy needs me at the moment. I love that the weight limit is higher than the other tandem sleepers so I can maximize the amount of time it can be used. The simple white color is also very aesthetically pleasing and I'd like to think, keep the boys from getting distracted when trying to sleep.
Date published: 2019-06-18
Rated

5

out of

5
by
Twin Bassinet
from
Great for twins
I did a lot of research when I was pregnant with our twins. I'm glad I picked this bassinet. Our twins are 4 months now and w plan on keeping them in her up until the weight restriction! Our bed is pretty tall and this clears the mattress so I can have them overlapping the bed. It is sturdy yet the swivel mechanism is smooth enough that I can rotate babies without fear the movement will wake the other one. It also has 2 vibrate features if you chose to use it as well as a light which I've used on occasion.
Date published: 2019-06-14
Rated

5

out of

5
by
LizR
from
Absolutely love this twin bassinet!
I'm so glad we found this and had it before our twins early arrival. It allowed us to sleep so close while keeping our babies safe in their own spaces. A must for overnight feeds!
Date published: 2019-06-13
Rated

4

out of

5
by
BandEsMom
from
Great twin sleeper
Awesome product for twin parents. The babies have separate spaces but are next to one another. Its easy for parents to get at both kids and has additional features to support sleep. Only negatives are that it is large and you need to make sure you have enough room for it. Also, the sound machine is music which I would prefer white noise and the vibration is quite subtle (not sure if the babies even feel it). Overall awesome product though!
Date published: 2019-06-10