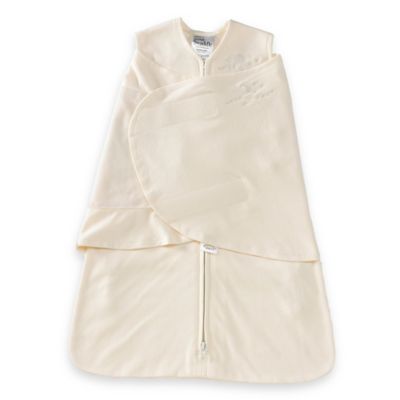 Alternate image 1 for HALO® SleepSack® Newborn Organic Cotton Swaddle in Cream
Alternate image 2 for HALO® SleepSack® Newborn Organic Cotton Swaddle in Cream
Alternate image 3 for HALO® SleepSack® Newborn Organic Cotton Swaddle in Cream
Watch the video for HALO® SleepSack® Newborn Organic Cotton Swaddle in Cream
The only 3-way adjustable swaddle, HALO SleepSack Newborn Swaddle allows for swaddling arms in, hands-to-face and one or both arms out for baby's comfort and to ensure an easy transition to the HALO SleepSack wearable blanket when it's time to stop swaddling
In addition to being safer and eco-friendly, it helps babies sleep better, too
Unzips from the bottom allowing baby to stay swaddled for easy diaper changes
A warm cuddly blanket they can't kick off; ensuring baby sleeps soundly throughout the night
Use over regular sleepwear to take the place of loose blankets
100% organic cotton interlock
Size newborn fits 6-12 lb.; Size small fits 10-18 lb.; size medium fits 16-24 lb.
SKU # 17321072