Graco® FastAction™ SE Travel System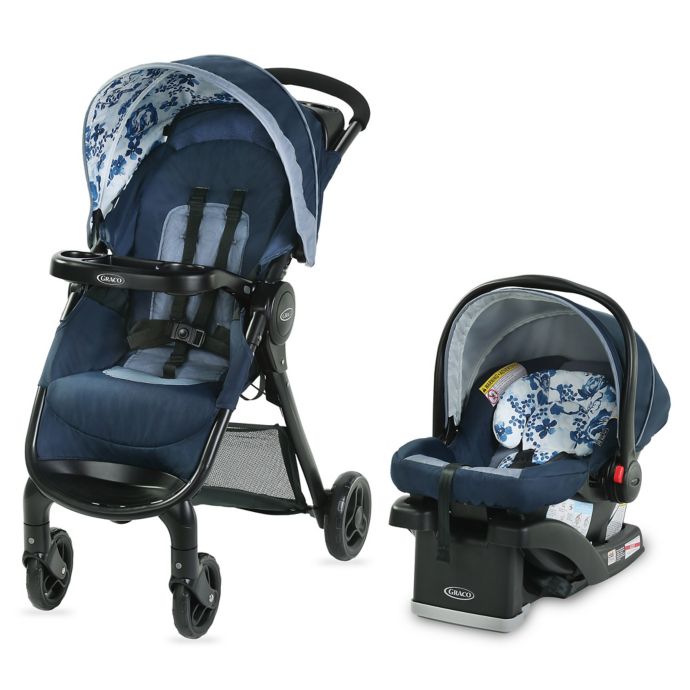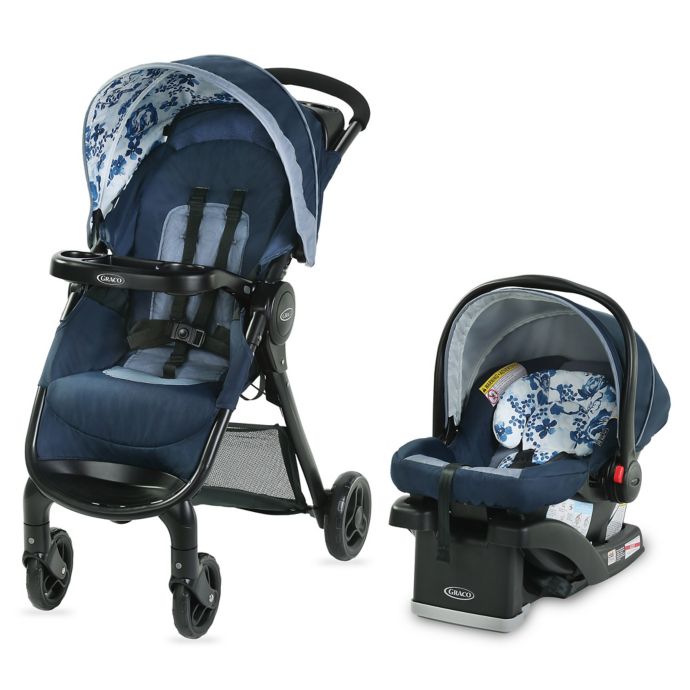 Graco
Graco® FastAction™ SE Travel System
Current Location pathname : undefined and pageIdentifier PDP
Previous Location pathname : undefined and pageIdentifier
Recently Viewed cookies : undefined
17 people have this in their cart
Graco® FastAction™ SE Travel System
is rated out of
5
by
31
.
Rated

5

out of

5
by
Jessica711
from
Super quick and easy.
We got this as a gift for our baby shower and it's so perfect. The car seat and base click together so easy and make traveling a breeze. Also the stroller folds so easily and fits perfect in the trunk. Clicking the car seat into the stroller is simple and it's so secure! [This review was collected as part of a promotion.]
Date published: 2019-10-18
Rated

5

out of

5
by
GGIRON
from
Tessa stroller
It wasn't really as easy to assembly as others I've had before, but overall, the quality looks ok. I wish the flower design would have been pink or purple as it's a bit confusing that it's blue even though it's flowery. Maybe that can be fixed.
Date published: 2019-10-16
Rated

4

out of

5
by
Lc22688
from
Great for Travel
If you are looking for a compact stroller, this is it! It takes up less trunk space than any other I have tried, which makes it a great option for traveling and for just having in the trunk for around town errands. It doesn't fold up as much of an umbrella stroller of course but I would still choose this one over an umbrella stroller any day for a few different reasons (i.e. better ergonomics when pushing because you don't have to hunch over, moves easier, has bag storage). Some other parts that I love about this travel system are: *The dual cupholders (for baby and for mom/dad) *Rear wheels lock and front wheels swivel and it seems to work well on both paved and lightly rocky areas *So easy to put together which as a fellow new mom, the importance of this can't be underestimated. It comes as pictured out of the box and only needed minor assembly – took me ~15 minutes to assemble *Stands up on it's own when folded *Cute gender neutral design (Carbie fashion is the one we tried) Along with all these pros, there are some cons to consider. They may not be important to some people but they are worth mentioning: *I love the car seat overall EXCEPT for the fact that you need 2 hands to release the handle. There is basically 1 red button release on each side. I'm all about one handed items because parents already have to juggle a baby, diaper bag, etc. so this was a definite con for me *The car seat is easy to connect to the stroller but keep in mind the main stroller seat does not remove. This was not an issue for us but may be for some. *A smaller stroller means a smaller basket underneath. So yes I love that it has one at least but the slope of the basket also makes it difficult to fit our backpack style diaper bag. It is however fine for smaller items such as a purse or snacks *If you are looking for something to fold one handed, this is not it. When receiving this, I was excited because it looked like it would be able to be easily opened/closed with one hand. However, when pulling on the release handle (on the seat as pictured) you still need a 2nd hand to push up/down on the push handle to fully open/close the stroller. Despite needing 2 hands, it is pretty easy to open/close all in all *Although the car seat cover removes for washing, the stroller seat does not. I really wish it did because you know how messy kids can be at any age! *I like the fact that the stroller seat reclines, but it's not super easy to do either. The buckle also sticks a little so definitely requires 2 hands to unfasten *The canopy feels like a very flimsy plastic when opening/closing Overall, my favorite part of this stroller is how slim it folds which makes travel and storage easy. We also fly often so this is slim and light enough for that. Our other stroller takes up way more space in the trunk (see pic attached). Thank you to the WeeSpring parent panel for allowing us to try this travel system and review!
Date published: 2019-04-28
Rated

3

out of

5
by
DenverMama
from
Lightweight affordable option, but has some issues
I was excited to try out a new travel system for my little man but this one left some things to be desired. To start I could not get the car seat to connect to the stroller for the life of me, there is an elastic band over the adapter where the car seat clicks in and it was impossible to get it secure under such a tight covering (this was without a baby in the seat so I can't imagine how difficult it would be with an infant strapped in!). So I've only used this product as a separate carseat and stroller. The stroller is super easy to fold with one hand and I love that the snack tray doesn't have to be removed in order to fold it. The adult beverage holder is a nice feature as well. The stroller was very light, but sometimes this made for a bumpy ride. I appreciate how compactly the stroller folds up, especially nice for smaller living spaces and cars. The carseat is also very light which was a welcome change from my old one. My little one seemed quite uncomfortable in his other infant seat, so we thought we were going to have to move up to a convertible sooner rather than later, but he seems pretty content in this one and has room to grow. One thing that seemed odd to me on the carseat was the release for the straps is under the fabric, so you have to reach your finger in through a hole in order to loosen them for loading and unloading baby. Overall I liked the weight and compactness of both the stroller and carseat, but it did not work as a travel system for me. Thanks to the weeSpring Parent Panel for providing me with this Travel System.
Date published: 2019-04-26
Rated

4

out of

5
by
Sarah v
from
So easy for solo outings or single parents
This is a great, safe, easy to use travel system. It is well crafted, and everything has a nice clicking sound to lock it into place and let me know we're ready to roll. The stroller itself is smaller is size which is great for maneuvering the aisles of the market, a crowded zoo, walking about the neighborhood. This things turns on a dime and doesn't sacrifice any comfort for baby even though the design is compact. My favorite feature is how light, yet study it is to one-handed collapse and place in my trunk while holding baby (in her car seat safely). I don't drive a big SUV so for my small sedan it's perfect. Baby is comfortable with the padding and the angle options are so nice for her preferences and as she grows. She can see the world or fall asleep for a relaxing snooze. The car seat is easy to take from car to outing without much fuss and for me to make solo trips and ensuring my baby is always in my grip and I can safely set up my stroller. Easy to install the base into the car too. The fabric and padding is really nice quality as well so we just look great about town. Thanks to the weeSpring Parent Panel for providing me with this Travel System to review.
Date published: 2019-04-24
Rated

5

out of

5
by
Sarah A D
from
Thoughtfully designed and easy to use!
My new Graco travel system arrived at the perfect time- I was about to leave on a road trip with my four-month-old daughter and wasn't looking forward to lugging her heavy car seat around each time we needed to stop. Well, the Graco FastAction SE Travel System solved that problem for me! It arrived in one large box and required a small amount of assembly. I was pleasantly surprised at how simple it was to securely snap on the wheels, and after a few other steps, the stroller was completely ready to use. Both the stroller and car seat are notably lighter than those I'd been using before, without seeming flimsy. It took a few tries to get the hang of putting the car seat in and out of both the base and the stroller, but after that, it was quick and easy. The one-handed folding feature of the stroller honestly seemed too good to be true, and I was expecting it to be more complicated than the example video on Graco's website made it seem. However, I found it to be just as simple and efficient in person as it looked in the video! In fact, while everything about this travel system is incredibly well-designed and easy to use, the one-handed folding may be the easiest. A single arrow printed on the seat of the stroller makes it intuitive to grab the strap, which is partially hidden under a fold of fabric but still readily accessible, and just by lifting the strap the entire stroller smoothly folds and is ready to be stored. I appreciated how compact and lightweight the stroller is while I was traveling, which made it is easy to store on top of my luggage for easy access, without worrying that it may crush something. The car seat is great, with many standard features such as a generous sun canopy that can be folded back out of the way, chest straps which can be set up at different heights to ensure a proper fit as the child grows, and the ability to easily tighten or loosen the straps when getting the baby in and out. While I like the car seat, the real selling point for me is the stroller, which seems very thoughtfully designed. Some of my favorite features are the double cup holders and the shallow handle tray which is the perfect place to toss my keys or phone. The mesh basket below the stroller isn't huge, and is not a particularly convenient spot for a diaper bag, but does work great for coats, blankets, and all those extra things I seem to find myself grabbing out of the car at the last minute "just in case". I also love the fact that this stroller so easily and securely works with my baby's car seat, AND can be used as an independent stroller when she gets older! This travel system makes it easy to take my daughter into coffee shops for a quick stop, without needing to carry a heavy car seat or move her to a separate carrier. I am so grateful that I was given this Travel System to try as part of the weeSpring Parent Panel- it's a system I'd easily recommend to new parents because of it's thoughtful and functional design, compact fold, and versatility.
Date published: 2019-04-24
Rated

5

out of

5
by
FitMomofOne
from
Great travel system at a great price!
Thanks to the weeSpring Parent Panel for providing me with this Travel System to try. When we removed it from the box, my husband found it very quick and easy to assemble. It collapses easily allowing for it to remain very portable and easy to put away for transport. It is not heavy, so it can be put into or taken out of the trunk quite easily. The stroller is very functional with shoulder straps that allow the child to be securely fastened into the seat. My favorite part is not only the stroller harness, but also the very sleek roll of the stroller wheels, which make it glide easily across the rolling surface with minimal effort. It is a great travel system at this price point.
Date published: 2019-04-24
Rated

2

out of

5
by
LWILL16
from
Lightweight and Compact
Our 9 month old baby boy absolutely loves all things outside. He will stare out the window for hours, try to quickly follow close behind when either of us open a door, and excitedly sit on the front porch to take in all of the sights. We love to take daily walks with him around our neighborhood (sometimes two or three!) and have been searching for a travel system that can be easily stored away after each use. I was given the opportunity to try the Graco FastAction SE Travel System as part of the weeSpring Parent Panel. I was very excited to see that it was such a neutral color making it perfect for any baby! The car seat base was extremely easy to install in our vehicle and the car seat was easy to lock securely into place and remove from the base. The instructions for putting the stroller together were very clear, making assembly a breeze! I love that the stroller can easily be collapsed using only one hand by pulling the straps that are located in the seat. However, I found opening the stroller to be more challenging while holding my baby because it requires you to pull the straps in the seat while simultaneously pulling up on the handle to unfold the stroller. The best part of the Graco FastAction stroller is that it is amazingly lightweight and compact! I haven't come across another stroller that can be easily lifted with one hand and when folded up takes up such little space. Like the stroller, the car seat is extremely lightweight. The car seat comes with a simple cushion that the baby's back rests on. The material of the car seat is not very soft, but it seems like it would be easy to clean. Unfortunately, the canopy on the car seat makes an obnoxiously loud clicking noise when you open and close it – so obnoxiously loud that I imagine it would easily wake a sleeping baby. Also, it seems to me that the canopy on the car seat is rather small. When using the canopy on the car seat with the canopy on the stroller, sunlight is able to easily be blocked from shining in the baby's face, but when used alone, it does not come down far enough to block sunlight from the baby very well. While the car seat and stroller adequately functioned separately, I was not impressed with how they functioned together as a travel system. I found it very difficult to connect the car seat to the stroller. It took me several minutes to make sure that both sides of the car seat were properly clicked into the stroller and it was just as difficult to unlatch the car seat from the stroller. Overall, I was very disappointed in the quality and design of the the Graco FastAction SE Travel System. I feel that baby products that will be used frequently should make the lives of parents easier and not more stressful. If you do not have a lot of extra storage space and are looking for a travel system that is lightweight and compact, this is the travel system for you! If storage is not an issue for you, I would strongly recommend finding a product that is easier to use while juggling a squirming baby in your arms. Thanks again to the weeSpring Parent Panel for providing us with this travel system to try!
Date published: 2019-04-24