Graco® DuetSway™ LX Swing + Rocker in Maxton™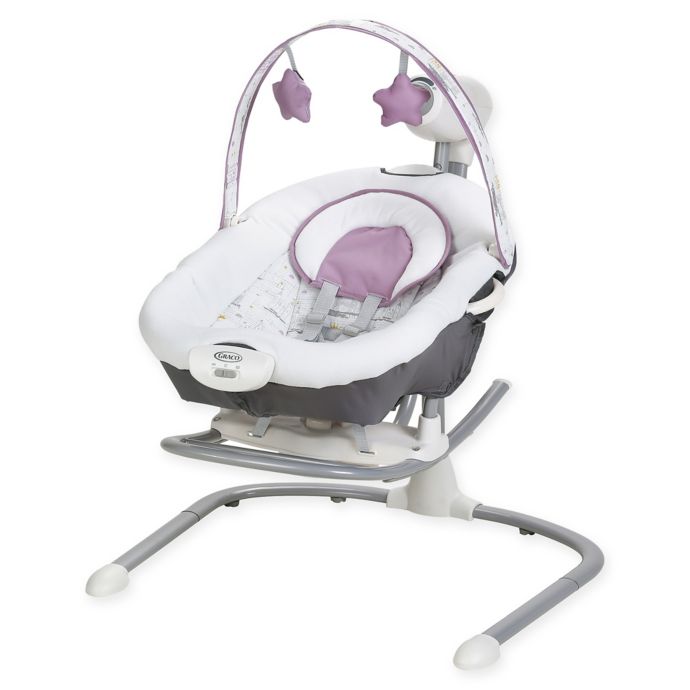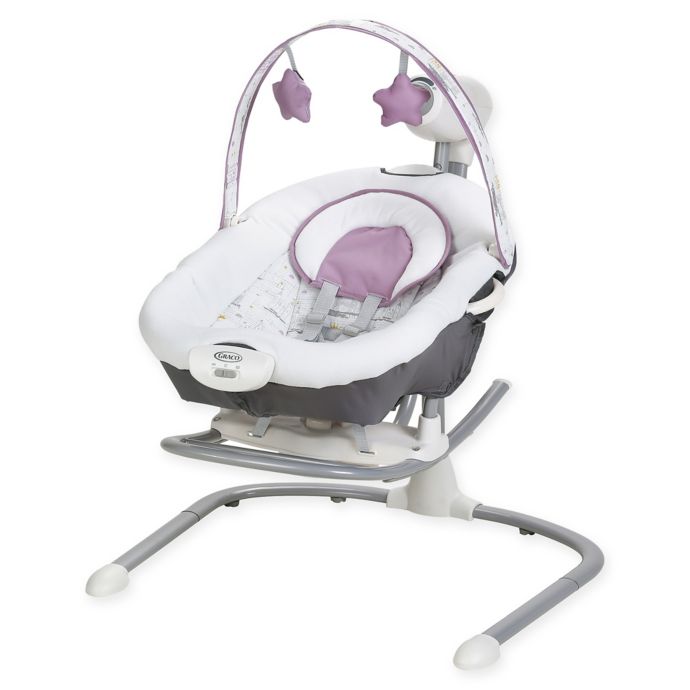 Graco
Graco® DuetSway™ LX Swing + Rocker in Maxton™
Current Location pathname : undefined and pageIdentifier PDP
Previous Location pathname : undefined and pageIdentifier
Recently Viewed cookies : undefined
Graco® DuetSway™ LX Swing + Rocker in Maxton™
is rated out of
5
by
73
.
Rated

1

out of

5
by
jaimek
from
Low swing setting doesn't work
I bought this from target and the low swing setting does not work. The swing acts like it is on high and swings too aggresively for an infant.
Date published: 2019-10-21
Rated

2

out of

5
by
Anonymous
from
DON'T buy this swing
We've had this swing for two months and it's already completely broken. My husband tried to take the motor housing off the check it out and it was so difficult to remove that he accidentally broke it. The gears are completely ground down and it isn't fixable. I wouldn't recommend buying this swing.
Date published: 2019-09-19
Rated

1

out of

5
by
Momoh3
from
Complete disappointment
Got this swing as a gift for my newborn a month ago. It doesn't swing for more than 2 minutes without stopping and the light blinking blue. This makes for a super unhappy baby who loves the swing motion. Unhappy baby = unhappy mommy.
Date published: 2019-09-02
Rated

4

out of

5
by
MelanieG
from
Received as a baby shower gift..
I received this as a gift and absolutely fell in love with it until recently the light kept on blinking and now it won't even turn on/move. I would like to know why since that's the only way my baby falls asleep during the day.. I just want to know why it doesn't turn on/move .
Date published: 2019-08-22
Rated

1

out of

5
by
ndunlop21
from
Not great!
I bought this because I was interested in the dual feature of the swing and vibrating chair. However I am extremely disappointed in both. The swing when turned on, goes very fast and then slows down to almost a stop. The batteries in the chair keep dislodging which causes the vibrating feature to be ineffective and unusable. We have to keep popping the batteries back in. The belt that goes between the baby's legs is very small in length and unadjustable. I usually swear by anything and all things Graco... but not this product unfortunately.
Date published: 2019-08-17
Rated

1

out of

5
by
MO2MI mom
from
Terrible swing
I wish I would have read the reviews. I put this swing on my registry because it was a Graco. The strap between his legs is barely long enough to fasten. Makes it extremely hard to fasten a baby in. Then you turn the swing on finally get it set to a smooth speed then it just takes off and swings at a very fast pace. Adjust it then it comes to a stop. Very poor quality
Date published: 2019-08-14
Rated

3

out of

5
by
Adrianeb86
from
Loved this swing
I loved this swing at first. After having it about a week it just randomly stops and starts back up. Very disappointed.
Date published: 2019-08-04
Rated

5

out of

5
by
kalim90
from
Does NOT work!!
The blue light kept blinking and I had to turn the dial off and on every thirty seconds or so for it to work. The manual says the blue light will blink if the weight on the swing is more than 25 pounds, but it would not work even with its own rocker alone. The light does not blink if the swing is missing the rocker on top; but then it is pointless that you call this a workable swing for your baby. As I began googling about this product, I noticed that there were many reviewers who experienced the same problem. It seems like Graco does not do quality check before they box their item? I am so disappointed and frustrated about this, and that I had to find time to write this review between breast feeding my newborn and cooking dinner as if my life is not complicated already. Ugh!
Date published: 2019-07-28