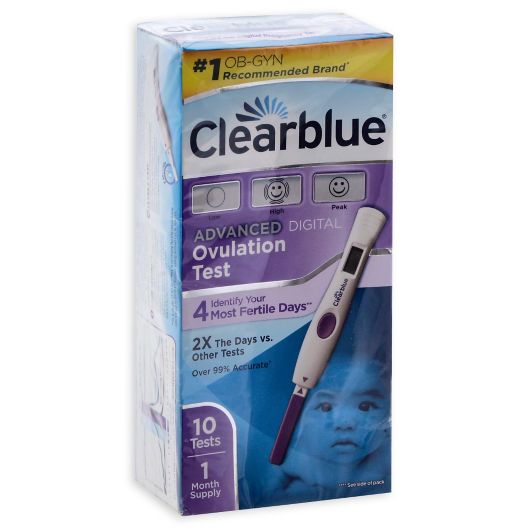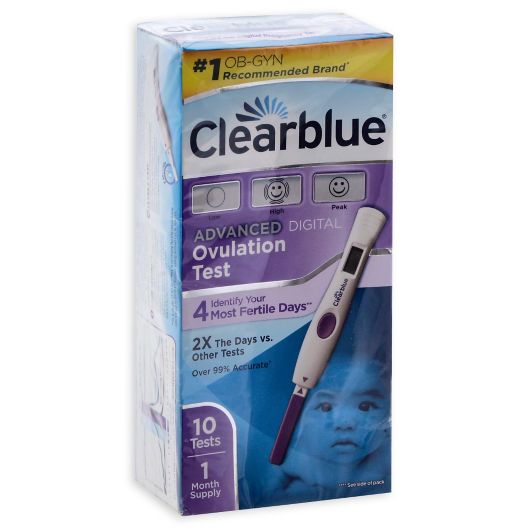 Clearblue
Clearblue® 10-Count Advanced Digital Ovulation Test
Details
Clearblue Advanced Digital Ovulation Test identifies 4 fertile days, increasing your window of opportunity to get pregnant. It detects the rise of hormone (LH) 24 - 36 hours prior to ovulation, identifying the 2 best days to get pregnant.
Clearblue Advanced Digital Ovulation Test detects your personal 4 most fertile days
Over 99% accurate (Clearblue is over 99% accurate at detecting the LH surge)
Get pregnant faster
No. 1 OB-GYN recommended brand
Clearblue detects estrogen and luteinizing hormone (LH) in urine
A surge in LH occurs just before ovulation and indicates you are at your most fertile time (peak fertility)
A rise in estrogen occurs a few days before this and indicates you are at high fertility
Make love on high and peak fertility days to maximize the chance of getting pregnant naturally
It is the only ovulation test that typically identifies 4 fertile days, that's 2 more than other ovulation tests (urinary LH only tests)
Using this test to identify your most fertile days can help you get pregnant faster than not using any method
Clear & easy: Insert the test stick into the holder then simply hold the absorbent tip downwards in your urine stream for 5 seconds
Unmistakably clear digital results are displayed within 5 minutes
It's the only ovulation test with a digital reader that you can use for more than one month
10-Count
Manufacturer
P & G
Cincinnati, OH 45202
800-3M-HELPS
Directions
Read instructions before use. Store at 36-86 degrees F (2-30 degrees C). Do not freeze. For in vitro diagnostic use. Not for internal use.
Warnings
Keep out of the reach of children.