Chicco® Viaro Travel System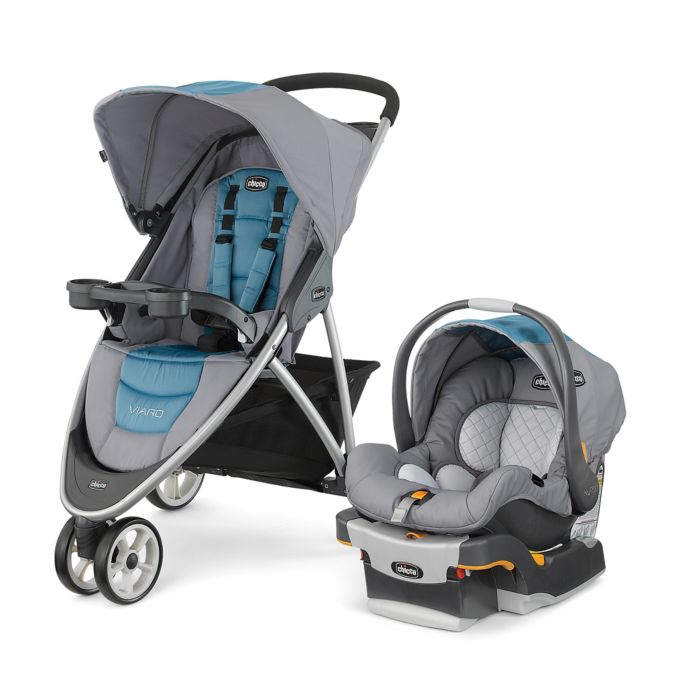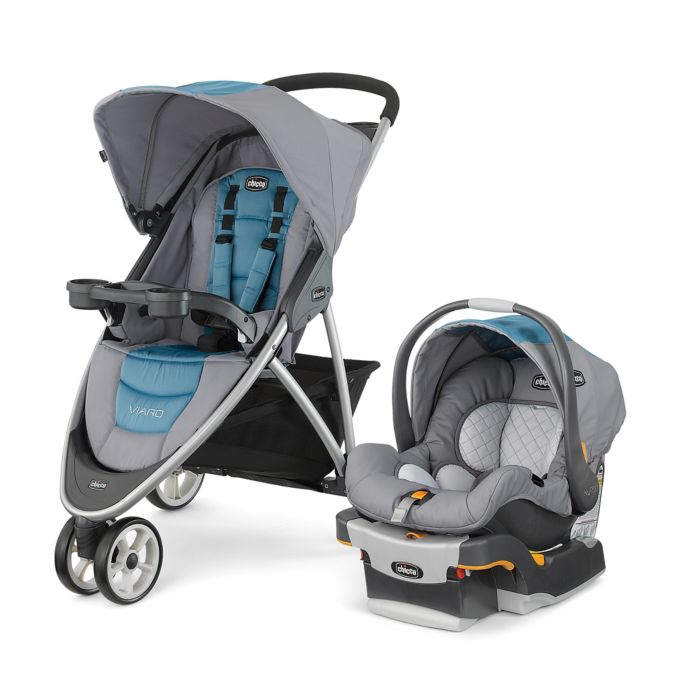 Chicco
Chicco® Viaro Travel System
Current Location pathname : undefined and pageIdentifier PDP
Previous Location pathname : undefined and pageIdentifier
Recently Viewed cookies : undefined
258 people have this in their cart
Chicco® Viaro Travel System
is rated out of
5
by
79
.
Rated

5

out of

5
by
kelsifique
from
Excellent car seat/stroller system!
We've really enjoyed the quality and ease of use of this stroller and car seat - we have a 2 3/4 year old and a 5 month old, and it's great for both of them (just not at the same time!) The 2 year old loves the stroller because of her own cup holder and snack tray. We had another stroller previous to this one that she was constantly itching to get out of, but this one she was perfectly content to ride in for long stretches. The car seat is perfect for our 5 month old, and the system with the base makes it really easy to click him into the car, then pop him out and put him in the stroller without having to take him out of his seat. We also liked the wheels on the stroller, they didn't seem to get stuck on uneven sidewalks and stuff as much as our 4-wheeled stroller did. If we had one criticism to give, it would be that there is not a lot of finger room next to the adult cup holder - so if you have drinks in the cup holders and are pushing the stroller, your hands don't have a lot of room to move around. But more of a minor annoyance, not an actual problem.
Date published: 2019-10-24
Rated

5

out of

5
by
dawalsh15
from
Amazing Quality and Weight
I received this two weeks ago and I love it. The seat is light and easy to handle and the stroller is easy to fold and unfold. The stroller fits in my trunk so easily and the quick folding and unfolding is very convenient!. The stroller has so much space and my daughter loves the comfort of the seat itself and the three wheel architecture makes it so much easier to turn and allows a lot of maneuverability. I would recommend this to anyone that is looking for a car seat that is light and a stroller that is so convenient!
Date published: 2019-10-23
Rated

5

out of

5
by
NewMamaBear
from
Very user friendly and easy to assemble!
I was so impressed with how fast and easy this system was to assemble! In 5 to 10 minutes max the stroller is ready to use by itself or with the car seat. Once assembled from the box, using the stoller independently or with the car seat takes a matter of seconds. It has a sleek design with what appears to be durable fabrics. The one-push button and pull strap to fold the stroller in-half can truly be done with one hand and with ease. The wheels roll nicely and the front swivel maneuvers around tight spaces well. When folded up, the stoller is compact and fits into the trunk of a car or back of an SUV. The extra features like 4 cup holders, sun shade, and bottom basket are all very useful for child and parent and the wheel locks are really convenient when child is in the stroller or when folding the stoller up to put away so it won't roll away on you. The car seat is so easy to use both with the stoller and as a stand alone. The instructions are clear and the one button push to unlatch from the base or from the stroller is easy to use. I am super impressed with this travel system and would highly recommend it to anyone in need of this type of combo!
Date published: 2019-10-15
Rated

5

out of

5
by
SamanthaJoy87
from
The best travel system I've ever had!
This stroller and car seat is amazing! I had a preterm baby and the occupational therapist that did the car seat test for my baby before we left the hospital said that this car seat is by far her favorite for small babies. It is the best safety wise and for good positioning of the baby. Our baby passed her 90 minute car seat test with flying colors. The ease of use with this seat is amazing also, my fiancé was able to put the base in very quickly and with such ease. Super easy to install. The stroller is another amazing part! Such a smooth ride for baby and easy to push. And I was able to put the entire system together by myself at 36 weeks pregnant. I'm a midwife and will recommend this product to all of the first time parents we see with questions regarding car seats! I used to be a fan of the Eddie Baurer travel systems, and purchased them for all 4 of my other children, but this car seat has easily made me change my mind and become a loyal customer to Chicco!
Date published: 2019-10-15
Rated

5

out of

5
by
Shankfam
from
Family on the Go
Our family is consistently on the move. As two business owners we're always having to pack up and go! First the The KeyFit® 30 Infant Car Seat easy click in system helps us transport our newborn without the stress of strapping a car seat in and out on every trip. We had our base installed in both cars weeks prior to due date and post birth the light weight frame doesn't put stress on my wife's body after having a C-section. An added bonus is our son tends to sleep soundly in his seat even after removing it from the car! The ViaroTM Stroller adds to the convenience. A quick click and we're off. The maneuverable design and the quick fold for easy load in and out helps us to save time and effort. The only feedback we might give is combining these two into one convenient apparatus! Overall, it's nice to know we have a one stop stroller for the time we need convenience and comfort most for our little man!
Date published: 2019-10-09
Rated

5

out of

5
by
Jacesdad
from
Lightweight, practical and easy to use
This is exactly what I needed as it is lightweight, easy to transport, attractive with easy open/close on stroller and install for car seat. Easy to clean too. We love CHICCO products! They are top of the line.
Date published: 2019-10-09
Rated

5

out of

5
by
Alan
from
Easy, lighter and built well
This is an amazing stroller and worth the investment. We have been using the combo for all 3 uses, including strolls outside. The base is simple to install in any vehicle - I've installed this in a 2019 Legacy as well as a small SUV. The carrier is great, though can be slightly heavy like every other carrier. It clicks safely and easily into and out of the stroller and car seat base. The cover provides excellent shade and is easy to use. My baby is confortable with the adjustable straps that come with the cushions so no need to get them for the straps. As for the stroller, this is built well. The carrier easily clicks in and out of the stroller and the stroller's shade covers pretty much the rest of your child the carrier doesn't. Aside from the long walks in the streets of NY, it was easy to collapse and take while walking many flights of steps on the subway.
Date published: 2019-09-10
Rated

4

out of

5
by
Kristi
from
Love the car seat!
We absolutely love this car seat. The stroller however, is not the best quality. It doesn't click properly, and it tends to move to the right. It's fine for walking/jogging outside but I'm looking for a replacement stroller.
Date published: 2019-09-02