BabyDan® Guard Me™ Auto-Retractable Safety Gate in White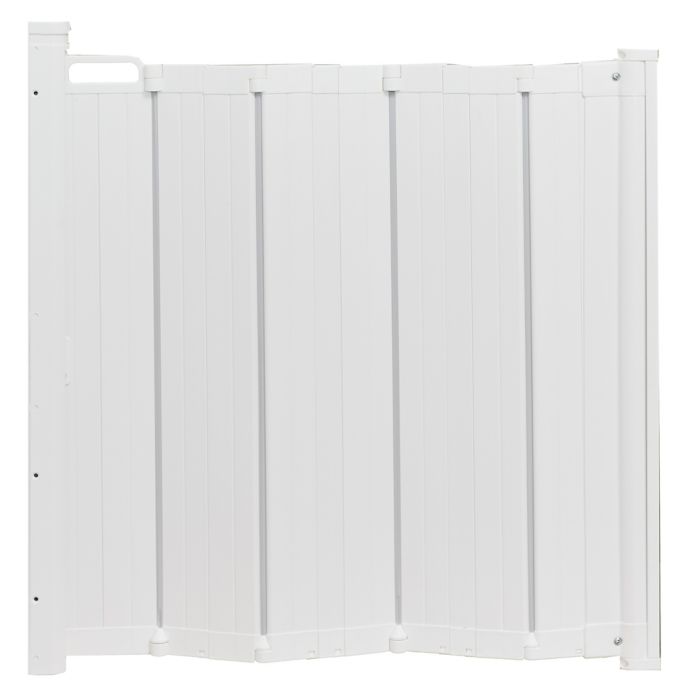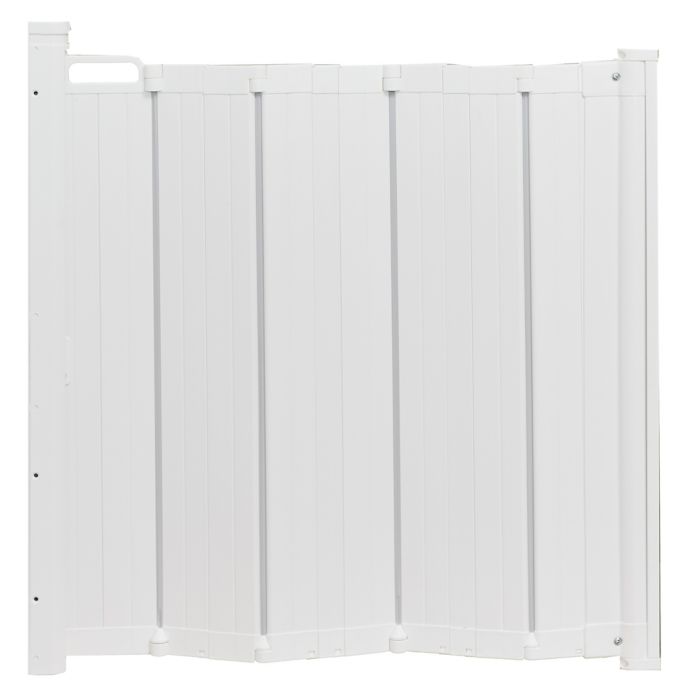 BabyDan
BabyDan® Guard Me™ Auto-Retractable Safety Gate in White
Current Location pathname : undefined and pageIdentifier PDP
Previous Location pathname : undefined and pageIdentifier
Recently Viewed cookies : undefined
5 people have this in their cart
BabyDan® Guard Me™ Auto-Retractable Safety Gate in White
is rated out of
5
by
7
.
Rated

5

out of

5
by
Grandma R
from
Sturdy and convenient
We originally had a mesh all in on gate but it was inconvenient to put up and take down multiple times a day to get to the downstairs. It damaged the wall with the tension rods and if you didn't align it or tighten it just right it was not secure. With all that said, that is why we opted to purchase this more expensive gate. My daughter has two for her house and loves them. I agree. It's convenient to open and close, it's sturdy, and it's permanent so we don't have to be putting it up and taking it down. If you don't want the holes in your wall, this is not the gate you want. If you don't mind the screws in the wall for the safety and security of your child, this is the right gate for you.
Date published: 2019-09-19
Rated

4

out of

5
by
GrammaBuggy
from
Pretty Cool
I needed a gate for our grandaughter that did not have a bottom "rail" on the floor, because the gate has to be installed on the first bottom step. It has a good design. It looks nice, it gets all the way out of the way, is not flimsy, but i gave it 4 stars because I wish it was wood and not plastic, and it is really hard to open. Which is good, you just have to get the "knack". Be sure not to install the end piece upside down the first time! Ha.
Date published: 2019-07-25
Rated

4

out of

5
by
KristaLynn
from
It's what we needed
This is the kind of gate we needed to put at the bottom of our stairs. We had to make sure the gate was out of the way when it was open. We only use it to keep our baby from going up the stairs. I feel like it could be more attractive. But it does the job and it's out of the way.
Date published: 2019-05-28
Rated

5

out of

5
by
Mamato4z
from
Yep. This is the best baby gate everrrrr
I was looking for a baby gate that 1) fit the opening in my house I needed to close up 2) was strong and not easy to climb over 3) wouldn't fall over a million times 4) was easy to use 5) was easy to install 6) wasn't hideous with my home decor This one nailed it. Hits all my requirements! Worth it. Great quality. It took me a second to learn how to open and close it with just one hand, but it was a total "duh" moment once I figured it out. Super easy!!
Date published: 2019-04-25
Rated

4

out of

5
by
DeclansMom
from
BabyDan
I just installed about 10 mins ago. It was super easy and seems really sturdy. It is just like the old Ikea gate back in like 2016 that I have been looking for forever. I have a 31" ish doorway and did have to add an extender piece, but it comes with a few. I didn't know I had to use one until I went to close it after I was finished. It was simple to take gate off and add that extra piece. There is also no gaps to get little fingers caught in. I highly recommend. I would have given 5 stars, but like I said I just installed it 10 mins ago.
Date published: 2019-01-17
Rated

5

out of

5
by
Lara
from
Haven't seen another gate like this one! Must buy!
I just love this gate! I bought this gate for the top of our stairs. It has a very clever design by retracting when it is not in use, so it is almost unnoticeable when it is open. I can even open it with one hand while I am holding my baby with the other. My husband installed this gate easily with the help of some Youtube instructional videos. The regular instructions are clear with lots of pictures but he is stubborn and wanted to figure it out for himself lol. I highly recommend this gate and it is worth every penny I spent on it. I am getting another one for the bottom of our stairs too!
Date published: 2018-10-27