The key to designing a great nursery is decorating it with furniture you love. While a crib should be top on your list, there are a few other important pieces you'll need to make your newborn's room feel like home.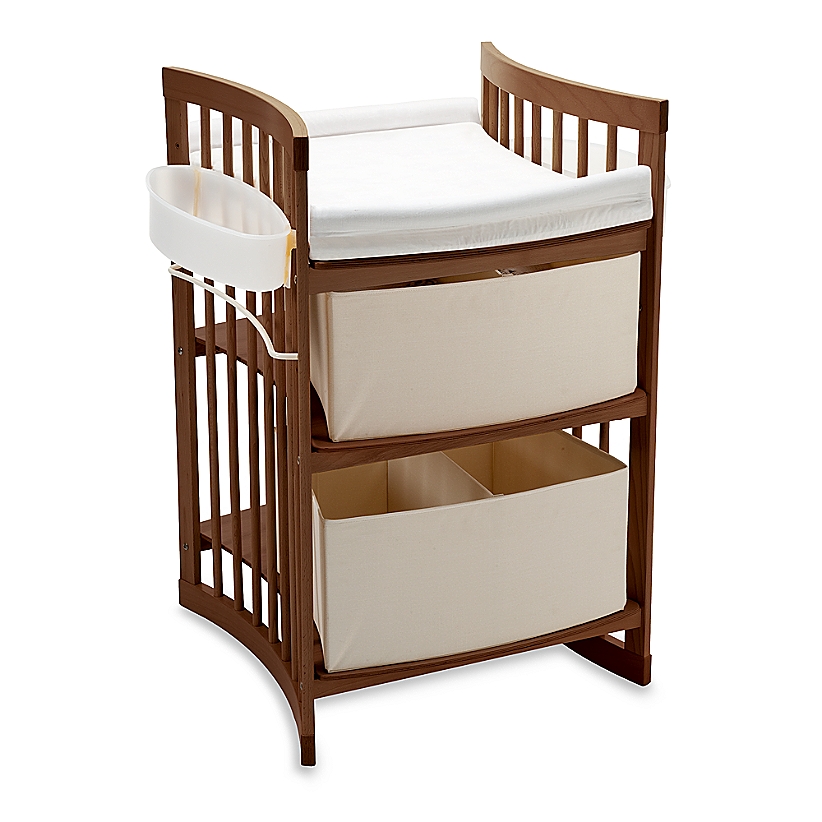 You had a hard enough time picking out furniture for your own bedroom, how are you supposed to decide what pieces you'll need for a newborn when there are so many cute options out there?
What are the basic pieces you should have in the nursery?
Crib
Double Dresser or Changer/Dresser
5 Drawer Chest
Hutch
Glider
Armoire
Nightstand
The following questions will help you narrow down which of these items to invest in.
How big is the room?
Square footage is probably going to be the biggest factor in determining which furniture pieces you end up investing in. If you have the space, go ahead and get a nightstand, a changing table, a dresser and maybe even an extra set of drawers or a toy box. If space is limited, look for a changing table and dresser combination unit.
Do you have adequate closet space?
They may be tiny, but babies have a ton of toys, clothes and little extras to contend with. Closet space is a must. That said, not every home is blessed with a walk-in closet in every room. If this is the case, consider investing in an armoire -- a two-door cabinet that provides drawer space, shelving and a spot to hang clothes. This piece will serve you well throughout your baby's childhood and teen years.
Do you want to change diapers on the floor or on the bed?
Yes, is possible to use a portable mat to change your little one's diapers on the floor or even on the bed. However, a changing table provides a convenient space at a comfortable height to change or dress your baby. This is especially great for moms who've had a C-section, or parents with back problems who find bending over to be uncomfortable. Invest in a changing table combo unit and you'll also get plenty of extra storage. Never leave any child unattended on a changing table even if it comes equipped with a guard rail or safety belt.
Do you want a place to sit?
Think about investing in a glider chair. This modern take on a rocker is a favorite of moms everywhere as a relaxing and soothing spot to sit for feeding times or just cuddle time.
Are you looking for furniture to grow with?
Want a dresser that's going to last? Children's furniture tends to take a beating -- especially during the toddler years when children like to explore their mechanical and ... artistic skills. Invest in pieces made of premium solid wood or an engineered wood known for having sound structural integrity. Check to see that the drawers have reinforced corners that interlock and glides that aren't going to slip off of their track after repeated use. You'll also want cabinet doors with solid hinges and pulls or knobs that aren't going to pop off easily.
Don't forget to secure your dresser and chest to the wall to prevent tipping!
All of our dressers and chests 30' and above will include anti-tip kits from the manufacturer. However, in case you're using a piece of furniture that did not come with a kit, anti-tip kits can be purchased in-store in our safety department or online under baby proofing/locks and levers.
Unless specifically designed, do not place heavy items such as TV's on top of dressers or chests. TV's should also be anchored to the wall or the furniture.
Keep remote controls, toys, and other items that might attract children off of TV stands or furniture.
Keep TVs and/or cable cords out of reach of children.
Do you want solid wood furniture?
Know that it can be heavy. If you're looking for something lighter try furniture pieces with a solid wood base that's covered in engineered wood.
Do you want to assemble it yourself?
If you're a die-hard do-it-yourselfer, then assembling furniture should be a breeze. If you're not, purchase pre-assembled furniture or hire a professional since you want it correctly -- and safely -- assembled for your child's use.
What is your design aesthetic?
Love dark wood? Prefer something painted? The sky's the limit with baby furniture. You can outfit your little one's room in sleek modern pieces with simple lines. Or indulge in ornate items that have carved detailing and colorful trim. It's all up to your personal design preference.
Do you want knobs or pulls on the cabinets and drawers?
You're in luck: baby furniture comes with both options. Typically what you see on the floor model is what you get. However, some manufacturers do offer customers a choice of styles and/or material (metal or wood), or provide two sets that are interchangeable.
Before you make a purchase, practice opening and closing the drawers. Yes, your decision is going to be based on aesthetic, but you also want to choose a knob or pull that feels good in your hand.
How far in advance should you order your furniture?
Ordering as early as feasible will give you one less thing to think about as your baby's birth approaches.