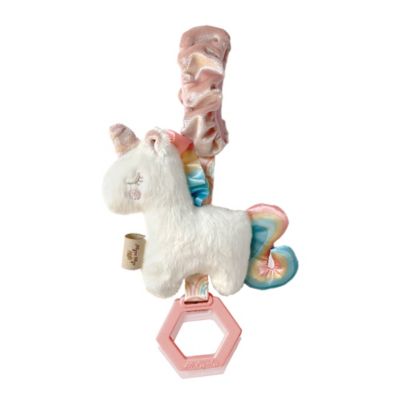 Itzy Ritzy
In stock
for standard shipping
Itzy Ritzy
In stock
for standard shipping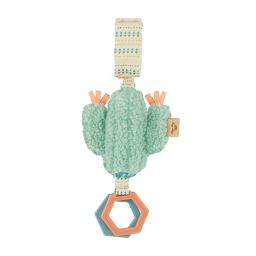 Itzy Ritzy Stuffed Animal
Planning a long car trip with your baby? At buybuy BABY, we have a great selection of car seat toys that will keep your little one happily occupied. Most baby stroller toys and car seat toys are inexpensive, so you can change them as your baby grows through different stages. They come in the same types as other baby toys: plush animals, rattles, fabric "books," and teething toys. The important difference is that they have a strap or sturdy plastic clip so you can attach them to the stroller or car seat bar. That way, even if your baby drops them, they'll be able to retrieve them easily. Nothing gets lost. You can attach more than one toy to the car seat or change them around for variety.
In baby's first months, you'll want a simple toy such as a single plush animal with gentle chimes inside. Carter's®, famous for their baby clothes, has a line of toys perfect for the younger baby. It won't be long before your baby will be ready for something a little more exciting. If you still want to keep things simple, there are brightly colored hanging rattles and soft "books" with stuffed cloth pages. Choose from amusing animals, caterpillars, and even a stuffed avocado. Babies get their first real sense of accomplishment when they realize that they can make the toy rattle or chime.
Is your baby starting to teethe? buybuy BABY has a solution — car seat toys with built-in teething toys. Don't overlook our selection of the classic stroller toy teether — chains of brightly colored rings for your baby to gum. If you want something more imaginative, look for elephants, unicorns, and llamas with teething toys attached. The ones made by SKIP*HOP® include chimes to help distract babies who suffer from sore mouths.
The best baby toys are not only fun, but they also encourage your child's mental development. buybuy BABY's line of educational toys includes multi-activity car toys that are perfect for older babies. Toys covered in multiple textures advance the growth of sensory skills. Disney Baby® activity toys include old friends Mickey Mouse, Minnie Mouse, and Winnie the Pooh. Each one is covered with crinkly, fun-to-feel textures, chimes, and teething pieces. There are other features, too, such as rattles, mirrors, and rings in assorted shapes. Babies are delighted and mystified by mirrors, so many activity toys include them. If you think your little one would enjoy a larger mirror, we carry a hanging car seat toy in the shape of a cellphone. It has a mirror on its face plus buttons that play songs and make silly sounds. As your baby gets older, she'll be able to make "phone calls" just like Mommy or Daddy.
We know that it can be hard to run errands when you have to watch babies and small children. To make things as easy as possible for busy parents, buybuy BABY offers free shipping on orders over $39 as well as free Store Pickup and Curbside Pickup. When you can't get out, take advantage of our convenient Same Day Delivery. A flat fee of $9.99 will bring your order to your door.