Free Shipping on Orders Over $39
Free Shipping on Orders Over $39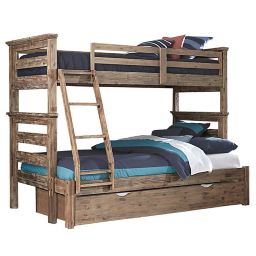 Bunk Beds - Price: $1,001 - $1,500 - Color: COCOA
Have small bedrooms and a growing family? Whatever the size of your home, there never seems to be enough space for kids, toys, sports gear and everything else, especially when one or more siblings share a bedroom.
twin
and
full-size
bunk beds offer a popular sleep solution for kids of all ages, plus they are useful for sleepovers, slumber parties and family visits. Browse our bunk bed selection any time for ideas, information and versatile sleep, study and storage solutions designed to accommodate your growing family; arrange for convenient delivery direct to your door using your favorite smart device.
While twin bunks are the most popular option, twin over full bunk beds offer versatility and are a perfect solution for shared spaces; this timeless style will grow with your child. Most bunk sets, including twin bunk beds, may be reconfigured to be used as stand-alone beds when a bunk set is no longer needed, and certain models feature a nightstand shelf for the top bunk. A loft bunk bed with a bookcase, desk or storage shelves is the smart solution when space is at a premium. Portable bunk sets are great for kids on the go, camping, sleepovers and family visits.
Fun And Practical
Compare bunk for kids including
twin-over-twin
loft bunk beds,
twin-over-full-size
bunk beds, bunk bed and bookcase combinations, full-over-full bunk bed sets, portable bunk beds and more. Perhaps you have a vacation home or cabin – hosting friends and family is easy when you outfit one or more bedrooms with bunk beds – think dormitory style bunk rooms and family bonding; a bunk set can help to make lasting memories and promote sharing, consideration and comradery. When shopping for bunk beds you'll want to measure your ceiling height and floor plan; take all windows, doors, overhead light fixtures and ceiling fans into consideration as well.