Truck Delivery
Exclusively Ours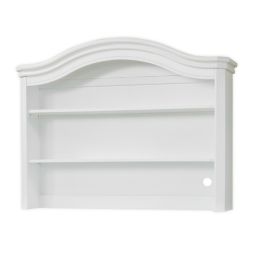 Hutches
Outfitting your nursery is an opportunity to consider the future – with a baby on the way, you want everything to be just right, both now and forever. It can be challenging to select the perfect nursery furnishings, especially if this is your first child. Relax – the helpful sales associate at buybuy BABY are chockfull of baby know-how, and one thing is certain – versatility is key. Life with a new baby is all about flexibility and change, which is one reason a hutch is a great addition to any nursery.
Whether you are working in a small space or have plenty of room to spare, your nursery needs some basic elements to make baby safe and comfortable, starting with a crib. Once you've selected the crib, you will want to add a dresser, comfortable chair such as a glider rocker, and a small table for a lamp. Many baby dressers are designed to be used as changing tables, while others can accept a bookcase or hutch on top. Keeping items at eye level is helpful, which is why a bookcase/hutch is a good choice. Mix and match to suit your personal style, or if you prefer a more coordinated look, consider nursery furniture collections that offer accessory pieces such as a hutch or bookcase.
Nursery Furniture Essentials
Whether you call it a sideboard, a dresser, a chest of drawers or a cabinet, you need a place to store all things baby. That can include changing necessities, books, toys, keepsakes, family photos, nightlights, sound machines and so on – the point is you've already got your hands full with a new baby, so it's important to keep everything you need within easy reach. A baby hutch makes the most of your available space by going vertical; choose from a baby dresser with hutch or a standalone nursery hutch.