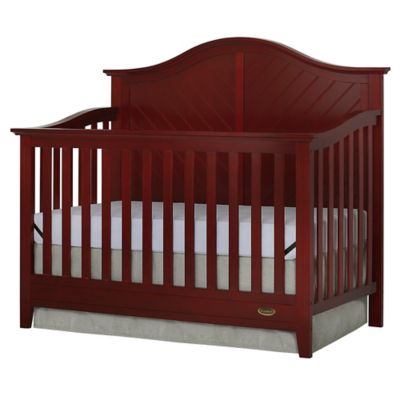 Dream On Me
Online Only
In stock
for standard shipping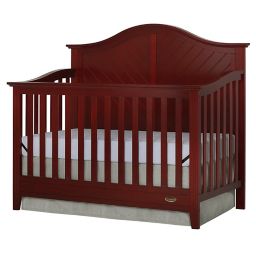 Cribs - Furniture Finish: Cherry
When you're browsing our great nursery furniture collections, be sure to pick the basics your baby needs. These include a nursery dresser to help store all your baby's things. You will also need a changing table to make it easy to change your baby's diapers. Finally, you need a crib that's designed to give your baby the best rest possible.
When you're shopping for cribs, you have a few options. A full size crib is great for the nursery. These large pieces can last for years and continue to hold your baby as he or she grows. A solid full size crib can also last a long time in case you have more children. You can buy one and keep it in your family until your children have children! This makes cribs smart investments. If you want a crib that will grow with your child, a convertible crib is perfect. You can easily convert the crib to the next bed as your child gets bigger. Serving as newborn cribs and all the way to toddler beds, convertible cribs can last your kids for many years to come. At buybuy BABY, we also have a selection of other crib styles such as pieces that also include a changing table or drawers for storage. We also offer choices like mini cribs that are ideal for small spaces and folding cribs that are perfect for the family's first road trip.
No matter what style of nursery you have, we have a crib to fit right in. You can opt for wood in multiple finishes to match your furniture. There are also attractive metal frames if you prefer that look. You can easily find an option that you will love for years to come. We have a wide selection of brands to match your style. Davinci offers cribs with a choice of styles and finishes. The traditional shapes match many nursery styles, and you can easily decorate your nursery without worrying that the crib might clash with your decor. Delta Children offers a selection of traditional cribs along with unique options that will look good in your nursery and help your baby sleep soundly and safely. Babyletto has sophisticated and stylish cribs. If you love a fresh, minimalist look, Babyletto has a hip selection of cribs to suit your style.
Once you have found the perfect crib for your child online, buybuy BABY has great shipping options to help you receive it quickly. If you need your crib in a hurry, many are available for Same Day Delivery. You can also opt for Store Pickup or Curbside Pickup. If you prefer, stop into a store near you to take a closer look at all the cribs and other baby supplies we offer. When you buy a crib, you can earn up to $150 in My Funds rewards.