Crib & Changer Combo
Showing 1 - 2 of 2 products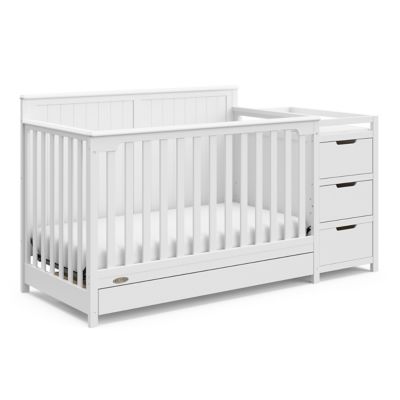 Graco
Out of stock at
Dulles Landing
In stock
for standard shipping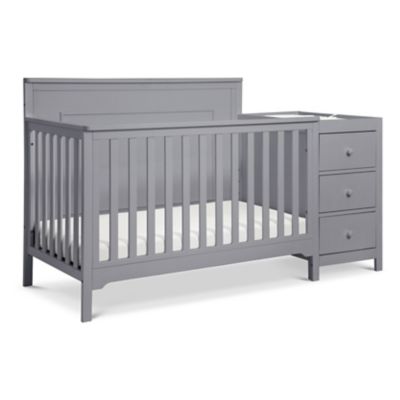 carter's by DaVinci
Online Only
In stock
for standard shipping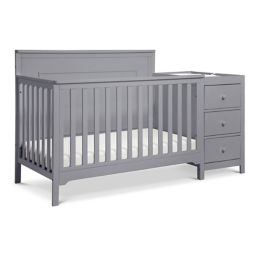 Crib Changing Tables
Once you bring your newborn home, you'll quickly discover that a combination crib and changing table makes the most sense. Not only does it mean diaper duty is easier and more fun, but a crib changing table combo is like a convenient baby care center. Quick diaper change at 2 a.m.? Nothing could be easier than whisking your baby from the crib to the adjoining changing table, where all your diapering supplies are within easy reach. Interrupted during diapering? Simply place your child safely in the crib while you answer the phone or doorbell.Baby cribs with changing tables are also space savers, leaving room in your nursery for such essentials as a rocking chair and a chest of drawers for those cute, tiny clothes. Shop buybuy BABY's great selection of high-quality cribs with changing table options for the latest in convenient nursery couture.
If you aren't quite sure whether you'd rather go traditional or on-trend, you'll find that several of our upscale baby furniture suppliers offer a bit of both. Take our eclectic yet practical selection from Dream on Me, for example. It includes both separate crib and changing tables in addition to the popular crib with changing table sets. Or try a convertible crib with changing table. It converts from a crib to a bed to keep pace with your child's growth. You'll love the clean lines and decorative detail of these nursery furnishings.
Convertible cribs are a great value for parents because you can reconfigure them into a toddler bed and, in many cases, a full-size bed when your child is ready. That means you won't have to spend money or exert muscle power on new furniture at each stage of your baby's growth. Instead, trusted brands like Graco® offer ingenious designs in convertible nursery sets that will see your baby through toddlerhood and beyond. Safety features such as guard rails for toddler beds keep kids safe as they navigate the transition. Graco offers a choice of classic styles like modern farmhouse and contemporary. This makes it easy to select a convertible crib with changing table that will still look good in the years ahead. Many styles provide you with a choice of neutral colors that coordinate seamlessly, too. That way, you'll be able to keep up with the home decorating trends to come.
As you search for the ideal baby furnishings, be sure to browse our collection from Sorelle, too. You'll find rugged features cleverly concealed with charming style. From full-sized cribs to nursery sets, you can count on these baby essentials to look right at home in your well-coordinated nursery. Once you've chosen the ideal crib changing table combo from buybuy BABY, explore further to find the crib sheets, receiving blankets, and nursery accessories that add personality and pizzazz to your baby's room. We offer Free Store Pickup and Same Day Delivery because we know how busy you are getting ready for a new baby. Let us help by supplying the essentials you need to welcome your newborn home.