More Options Available
Free Shipping on Orders Over $39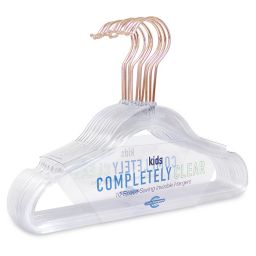 Rose Gold Hangers
Got baby clothes? If you're like most busy parents, you've got plenty of baby and kid's clothes in every size, color and configuration imaginable. The good news: your little one can dress in style for any occasion. The not so good news: if you can't find the outfit, baby's got no clothes. Clean up your act and take control of your child's wardrobe – hangers make all the difference, keeping garments front and center so you can see them, plus savvy parents know you don't necessarily have to iron clothing when you pull it from the dryer and let it hang dry while still a bit damp. Say good-bye to your iron and hello to organization and a new wardrobe when you invest in baby and kids hangers – you'll find a comprehensive selection at buybuy BABY. Browse any time for information and solutions; when you find the perfect baby clothing hangers, use your smart phone or tablet to order and enjoy convenient delivery direct to your door.
Like so many things, there's no one right answer as to which hanger is best, in fact most folks prefer a variety of hangers to suit the wide variety of garments they own. Baby clothes need to be hung on tiny hangers – compare plastic baby hangers, padded hangers, children's clothes hangers with clips, velvet hangers, flocked children hangers, wood hangers, scarf hangers, hangers with grips and more. Winter coats and heavy garments are best hung on wooden hangers because plastic can break, and wire hangers may bend; plastic is great choice when you are hanging lightweight or damp articles of clothing.
Closet Organization Tips
Hang clothing by size and by color – this makes it easy to put together an outfit in a hurry; use hanger extenders to double up on closet space. Hang off-season clothing in a less accessible location so you have easy access to the right garments at the right time.