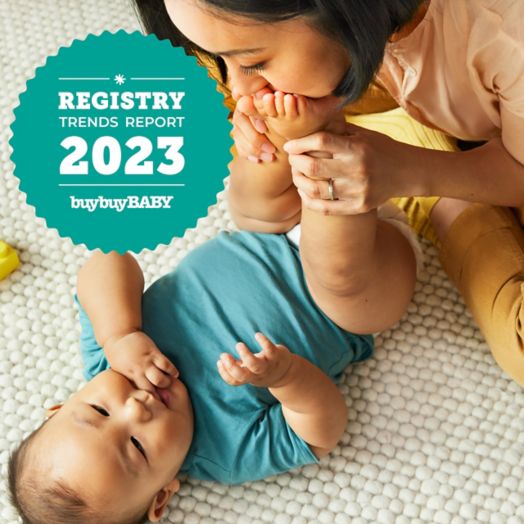 the latest baby registry trends that parents and gift givers need to know about
Before you register or wrap up a baby gift, find out what matters most to new parents in the 2023 buybuy BABY Registry Trends Report.
Building a baby registry is an exciting first step for expecting families, but scrolling through baby products (and let's be real, all those TikTok videos at 10pm) quickly leads to questions on questions on questions. What will I need when I bring my baby home from the hospital? What are the baby items I'll use every day? Is this the baby gear we need for our lifestyle?
Here to help are our registry experts. They're tapped into all the latest registry trends plus the best new products–because like babies, they're always changing! With buybuy BABY's tips and picks, parents and gift givers can prepare their family for every little step of the parenting journey.
the trend: supporting supermom
---
A welcome surge of prenatal and postpartum support is making it possible for moms to better prioritize their health, recovery, and self care.
---
We all know getting pregnant, delivering, and raising a baby isn't always easy. Yet the physical and emotional effects of pregnancy, childbirth, and parenting on moms were practically invisible, even taboo, for far too long. But times are finally changing! Self care has made its mark and new and expecting moms are now first in line for the TLC they so deserve.
Today's moms are not only leaning on their own family and friends for extra help at home when they need their own time out, they're creating cash funds as part of their baby registry to use for meal deliveries, doula sessions, and custom experiences. Some moms are even saving up for postnatal retreats that help make the adjustment to parenthood easier! They're also snagging their share of made-for-mom secret weapons, like prenatal skincare sets and postpartum recovery kits, for help with recuperating and recharging that's inevitably needed.
shop the trend
the trend: flexibility for families
---
Thanks to innovative gear and accessories, parents (and little ones) are benefiting from much-needed mobility and the ability to multitask at home and on the go.
---
When you've got kids, you've just gotta have flexibility. Schedules are a mere suggestion when you've got a fussy baby on your hip, yet there's always tons of things to do and places to go–and usually that's just before noon! Thankfully, the latest problem-solving gear and accessories are just what parents need to better juggle all that comes with kids, work, and a busy household.
How's this for innovation? Hands-free carriers are now designed for newborns all the way to toddlers so parents can do more with their little (and not-so-little) ones in tow, while the ingenious stroller wagon makes it simple and more fun to bring babies along on family adventures. Then there's rotating car seats with increased safety features that are also changing the game for getting kids in and out of the car fuss-free (searches for these have increased by 425% in the past year on buybuybaby.com!). Meanwhile, feeding baby is more seamless with high-tech solutions like programmable formula dispensers, set it and forget it bottle sterilizers/dryers, plus ever-popular wearable breast pumps.
shop the trend
the trend: mindful of milestones
---
As awareness increases, parenting styles are consciously shifting to reflect the importance of early childhood development.
---
Top of mind for the next generation of parents is actively helping their children meet their developmental milestones. While this has long been a parental priority, the pandemic's impact on young children has made child development a trending topic, and it's one that's prompting new parents to be proactive.
Parents are engaging in intentional or purposeful play, while consciously choosing toys and books that promote gross and fine motor skills, language acquisition, cognitive skills, and social-emotional learning. Montessori-style toys, which are designed to help kids explore and understand the world around them, are growing in popularity too.
shop the trend
the trend: investing in basics
---
Parents are opting for well-made baby essentials and brands that deliver simple, reliable solutions in response to economic uncertainties.
---
From diapers to bottles and all the basics in between, new and expecting parents are taking a closer look at their needs. Parents are registering for 27% less products than in years past and in turn are leaning into essentials and value driven must-haves.
With quality and value trumping quantity, it's the reliable brands and everyday basics that are winning their way onto baby registries and into nurseries across the nation. We're talking clothing multi-packs, safe-for-sleep swaddles and sleepsacks, leak-proof diapers, quick-dry bath towels, easy-to-clean bottles, and all the other worth-every-penny baby things parents rely on all day, every day.
shop the trend
the trend: mixing old and new
---
In the nursery, parents are bridging the gap between past and present by embracing furniture and decor that's traditional, but with a twist.
---
Since parents spend so much time in the nursery with their little ones, creating a space that's stylish and comfortable is a modern-day must. Beyond supersoft fabrics and cozy accessories, more and more parents are adding the feeling of comfort by infusing design elements that are inspired by their own childhood.
With this, traditional furniture silhouettes, timeless colors and finishes, as well as classic characters and prints are making a comeback, but for every nostalgic nod (hand me downs included) parents are balancing the room with one or two of-the-moment decor elements.
shop the trend
Ready to build your own baby wish list? Check out buybuy BABY's amazing registry benefits and click here to set up an appointment with a registry consultant in-store or online today!