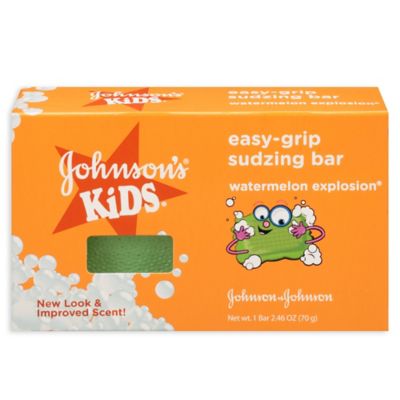 Johnson & Johnson® Buddies™ Easy-Grip Sudzing Bar
Alternate image 1 for Johnson & Johnson® Buddies™ Easy-Grip Sudzing Bar
Alternate image 2 for Johnson & Johnson® Buddies™ Easy-Grip Sudzing Bar
Alternate image 3 for Johnson & Johnson® Buddies™ Easy-Grip Sudzing Bar
Alternate image 4 for Johnson & Johnson® Buddies™ Easy-Grip Sudzing Bar
Johnson & Johnson® Buddies™ Easy-Grip Sudzing Bar has a new look and improved scent
Johnson's Kids easy-grip sudzing bar helps children learn healthy personal cleansing habits
It's great for little hands because its patented soft pouch doesn't slip and it helps product a rich lather
The soap effectively cleanses skin and the bold color of the sudzer bar makes it easy to find anywhere in the tub
And the special pouch makes the sudzer bar less messy
The Johnson & Johnson kids easy-grip sudzing bar - a fun way for your child to learn healthy personal cleansing habits and give you the confidence that the cleansing job will be done well
Manufacturer
Johnson & Johnson
Skillman, NJ 08558-9418
866-JUSTKIDS
SKU # 14002928
Directions
Remove easy-grip sudzing bar from clear plastic overwrap. Wet bar, lather, rinse.
Ingredients
Sodium Cocoate or Sodium Palm Kernelate, Sodium Palmate, Water, Glycerin, Fragrance, Sodium Chloride, Disodium EDTA, Pentasodium Pentetate, Tetrasodium Etidronate.
Warnings
Safety Tips: This is not a toy. Pouch may separate into small pieces if chewed or torn, which may present a choking hazard. Keep container out of reach of infants.
searches related to Johnson & Johnson® Buddies™ Easy-Grip Sudzing Bar:
products similar to Johnson & Johnson® Buddies™ Easy-Grip Sudzing Bar: