Gift Card Policy
Our Gift Cards can be purchased online in denominations of $25, $50, $100, and $200. Or, you can purchase a Gift Card in any denomination. Call 1-877-3-BUY-BABY (1-877-328-9222), for the location nearest you (or click here to see our store locations) or purchase an electronic gift card online at www.buybuyBaby.com.
Gift Card Ordering and Shipping
Orders containing traditional plastic Gift Cards and no other merchandise will be shipped at no charge via USPS. Expedited Service is available (excluding APO/FPO addresses where Gift Card-only orders will be shipped via Standard Service) for a flat rate of $5.00. If you purchase a Gift Card(s) along with other items, the shipping charge related to the Gift Card(s) will be waived for Expedited Service. Electronic gift cards are delivered by email and can be printed at home for hand delivery.
Using your Gift Card
Gift Cards are redeemable in store or online. To use your card online, it must have an 8 digit pin number that is located on the back of the traditional plastic card or in the email that delivers the electronic gift card. On traditional plastic cards, the PIN is covered by a scratch-off surface for your protection. If your card does not have this security feature, you may visit any store and transfer your balance to an online enabled card.
Gift Cards are redeemable for merchandise only and are not redeemable for cash, except where required by law. In California, you can redeem Gift Cards in store for a cash refund if the remaining balance is $10.00 or less.
Any refunds, order cancellations or modifications to an order purchased on a Gift Card, resulting in an adjustment of the amount due to buybuy BABY, will be applied to the original Gift Card.
Gift Card Balance
To obtain a Gift Card balance online, please have your Gift Card number and 8 digit pin number available and click here. If your card does not have an 8 digit pin, you can call 1-877-3-BUY-BABY (1-877-328-9222) to get your available balance.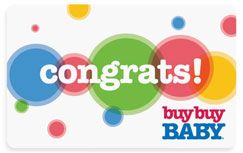 Expiration
buybuy BABY Gift Cards do not expire and we do not assess any service fees for non-use.
Lost or Stolen Gift Cards
To report a lost or stolen Gift Card call 1-877-3-BUY-BABY (1-877-328-9222) or visit any of our stores. The original sales receipt is required to replace the remaining balance on a lost or stolen Gift Card.
Corporate Gifts & Incentives
If you are looking to purchase a large quantity of traditional plastic buybuy BABY Gift Cards, please email us at customer.service@buybuybaby.com or call 1-877-3-BUY-BABY (1-877-328-9222) for further assistance.
buybuy BABY MAKES NO WARRANTIES EXPRESS OR IMPLIED WITH RESPECT TO GIFT CARDS, INCLUDING WITHOUT LIMITATION, ANY EXPRESS OR IMPLIED WARRANTY OF MERCHANTABILITY OR FITNESS FOR A PARTICULAR PURPOSE. IN THE EVENT A CARD NUMBER OR PIN IS NON-FUNCTIONAL, YOUR SOLE REMEDY AND OUR SOLE LIABILITY SHALL BE THE REPLACEMENT OF SUCH CARD. CERTAIN STATE LAWS DO NOT ALLOW LIMITATONS ON IMPLIED WARRANTIES OR THE EXCLUSION OR LIMITATION OF CERTAIN DAMAGES. IF THESE LAWS APPLY TO YOU, SOME OR ALL OF THE ABOVE DISCLAIMERS, EXCLUSIONS OR LIMITATIONS MAY NOT APPLY TO YOU AND YOU MAY HAVE ADDITIONAL RIGHTS.
Your purchase or use of a Gift Card constitutes acceptance of these Terms and Conditions. These Terms and Conditions are subject to change without notice.
Gift Cards and their use on the buybuy BABY website are subject to the Privacy and Legal Notices links on our website.